Need a break from isolation? A magical circus, a laboratory in Belle Époque France and the Airbnb of your dreams are all on the cards this week if you are looking for escapist films.
Each week, YouGov Direct asks a group of its members to watch movie trailers. We then report on what they say. YouGov Direct's surveys investigate how effective movie trailers are in persuading people to consider seeing a film, what they think about the content of the trailer, and how good or bad they expect the movie to be. Thousands of people provide immediate feedback on movie trailers using the YouGov Direct platform.
The most effective trailer of the week was for Amazon Studios period drama "Radioactive." Starring Rosamund Pike, this moving biopic tells the true story of Marie Curie, the Nobel Prize-winning scientist and discoverer of radioactivity.
The trailer for "Radioactive" was also the most popular with users both before and after viewing. Prior to seeing the trailer, 16 percent of YouGov Direct respondents said they were likely to see this biopic. But after viewing the trailer on the YouGov Direct App, 46 percent said they were now likely to see it. That's a lift of 30 percentage points in intent, the highest lift this week.
"Radioactive" has been making waves for its unusual take on the biopic and this innovative approach to Curie's life appeared to be the biggest draw to users. When we asked respondents to tell us what they liked best about the trailer, over half (55%) said it was the trailer's experimental story or themes. A further 28 percent said they liked one or more of the characters.
YouGov Direct also asks respondents to tell us how good or bad they think a movie will be, based on the trailer. Users gave "Radioactive" a 3.9, the highest this week.This is out of a possible 5.0 and compared to a median score of 3.5 for all trailers tested to date. The second highest score of the week - 3.7 - went to the Netflix animation "Animal Crackers".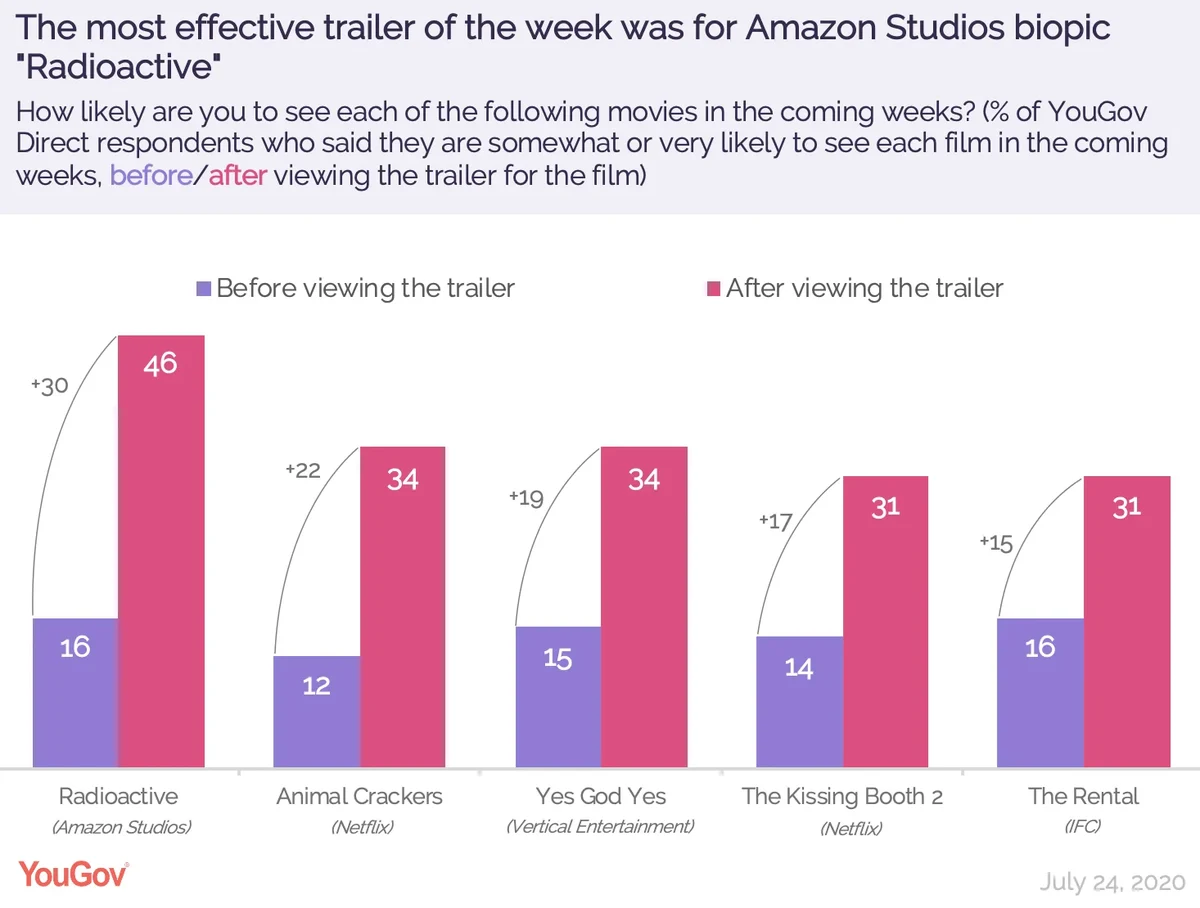 In "Animal Crackers" a family must use a magical box of Animal Crackers to save a rundown circus from being taken over by their evil uncle. It features an A-list cast of voices including real life husband and wife duo John Krasinski and Emily Blunt.
Pre-trailer, 12 percent said they were likely to see this circus-set comedy. Post-trailer, that number rose to 34 percent. Users with young children were especially excited about Netflix's new animation. About seven in 10 (72%) respondents with three children in their household under the age of 18, for example, said they were likely to stream the movie after watching the trailer. That figure was 29 percent for users who had no children in their household under 18.
What did respondents like most about the trailer for "Animal Crackers"? Roughly two in five (37%) said it was the jolly 'look of the trailer'. Most major film critics, however, were less enthusiastic about the animation. Indiewire film critic David Erhlich writes "Imagine the spirit of "The Greatest Showman" with the graphics of "Mario Kart 64" and you'll be on the right track."
While the trailer for "Animal Crackers" may not have been as effective as "Radioactive" in terms of persuading people to consider seeing a film, it was the most effective at persuading people to consider subscribing to its streaming service. There was an increase of 5 percentage points in intent to subscribe to Netflix after users watched the trailer for "Animal Crackers", 4 percentage points higher than Amazon's "Radioactive".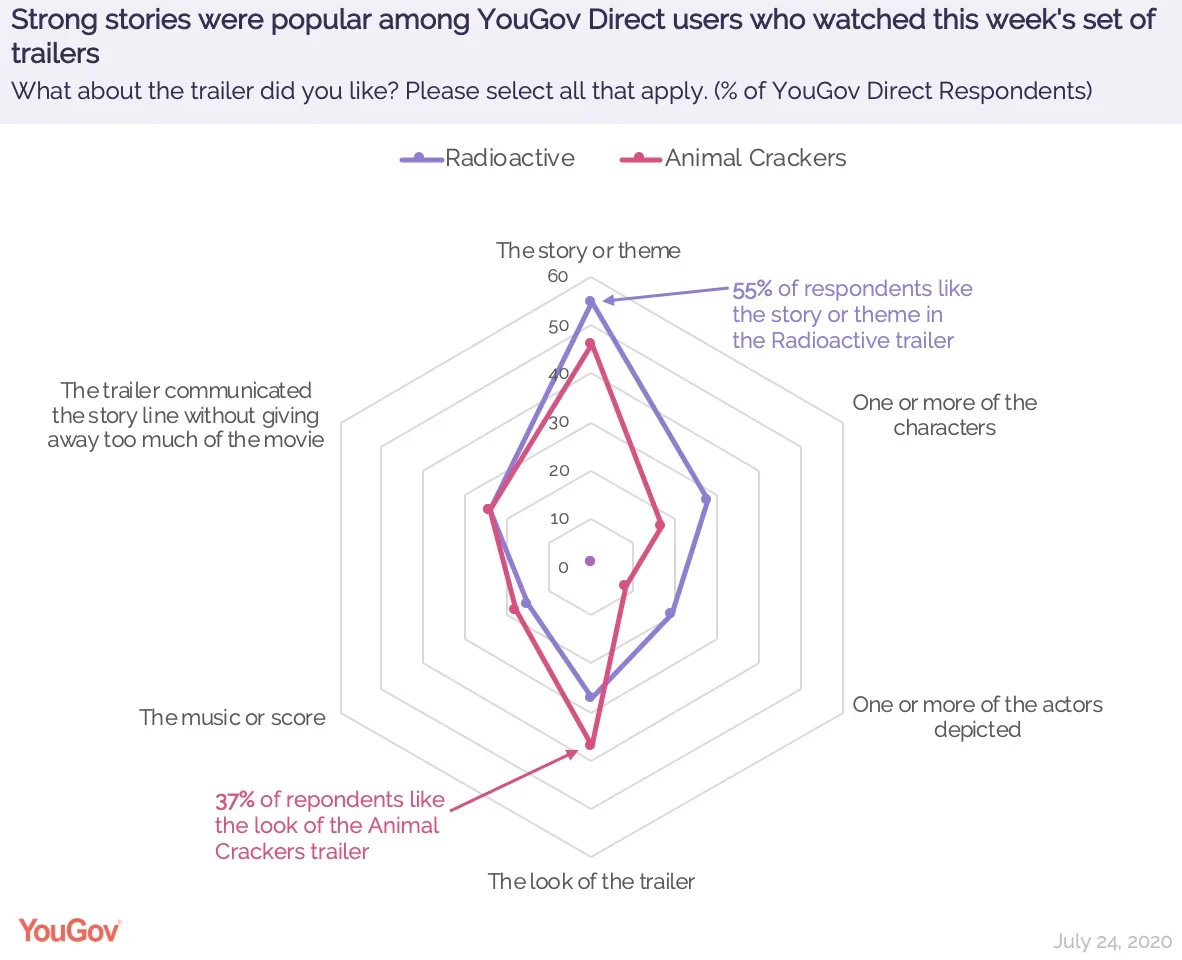 On the other end of the spectrum this week is "The Rental", the directorial debut of actor Dave Franco. This dark thriller follows two couples who rent a dream vacation home for what should be a celebratory weekend get-away before things go awry.
The trailer for "The Rental" was the least effective at persuading users to consider watching a film. Before viewing, 16 percent of respondents said they were likely or somewhat likely to see this inventive comedy. After watching the trailer, that number increased to just 31 percent.
Users did like that the mysterious trailer kept its cards close to its chest. When we asked what they enjoyed most about the trailer, 28 percent said 'the trailer communicated the story line without giving away too much of the plot. On the other hand, a further 19 percent also said 'I didn't like anything about the trailer'.
Related:
Image: Getty
Methodology: Data is based on 4,000 interviews, including a minimum of 400 responses for each movie trailer tested. Surveys were conducted online on July 23, 2020.