With movie trailers costing up into the millions to make nowadays, you can bet that film studios are banking on them being good. But not every trailer is effective at persuading viewers to watch rather than to skip a film. This week the trailer for New Orleans set drama "Cut Throat City" was a hit with YouGov Direct users whereas the trailer for the political documentary "The Fight" floundered.
Each week, YouGov Direct asks a group of its members to watch movie trailers. We then report on what they say. YouGov Direct's surveys investigate how effective movie trailers are in persuading people to consider seeing a film, what they think about the content of the trailer, and how good or bad they expect the movie to be. Thousands of people provide immediate feedback on movie trailers using the YouGov Direct platform.
Directed by RZA, the film "Cut Throat City" follows four boyhood friends in New Orleans' Lower Ninth Ward who return home after Hurricane Katrina to find their lives decimated. When they receive no support from the government, the group reluctantly agrees to a dangerous heist in the heart of the city.
"Cut Throat City" received the lowest level of pre-trailer interest. Before watching the trailer just 7 percent of YouGov Direct users said they were somewhat or very likely to watch the film. However after users viewed the energetic trailer, that number increased to 36 percent. That's a lift of 29 percentage points in intent, the highest lift this week.
Fans of the thriller genre were particularly excited for RZAs sophomore effort (he previously directed 2012's "The Man with the Iron Fists"). Of those thriller genre fans who watched the trailer, 48 percent said they were somewhat or very likely to see this movie.
What made the trailer for "Cut Throat City" so effective? When we asked what viewers liked best about it, over a quarter (26%) of respondents said it was one or more of the actors depicted. The film is certainly packed with famous faces and in the trailer alone you can glimpse A list actors such as Terrence Howard, Ethan Hawke and Kat Graham. A further third (32%) of respondents said they liked that the trailer for this heist film communicated the story line "without giving away too much of the plot."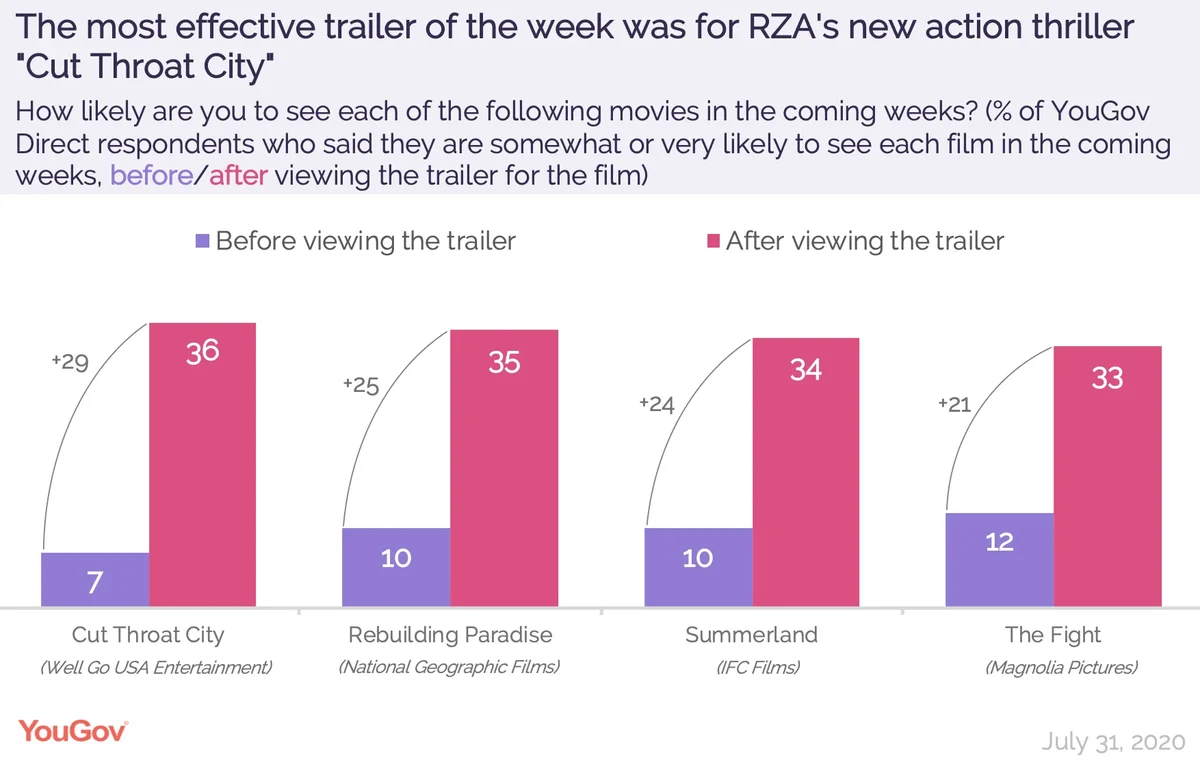 The other trailer turning heads this week was for "Rebuilding Paradise", a moving documentary about a community devastated by the 2018 California wildfires.
Prior to seeing the trailer, 10 percent of YouGov Direct respondents said they were likely to see this Ron Howard directed documentary. After viewing the clip on the YouGov Direct App, 35 percent said they were now likely to see it. "Rebuilding Paradise" appeared to have a particular appeal to female audiences: 41 percent of female YouGov Direct users who viewed the trailer said they were likely to see this film. This is compared with 28 percent of men.
The documentary's powerful, personal story about a small town struggling to recover from a disaster definitely reeled viewers in. When asked what they liked best about the trailer, over half (52%) of respondents said it was the 'story or theme'. A large number of viewers (29%) were also drawn to the striking visuals that filled the trailer.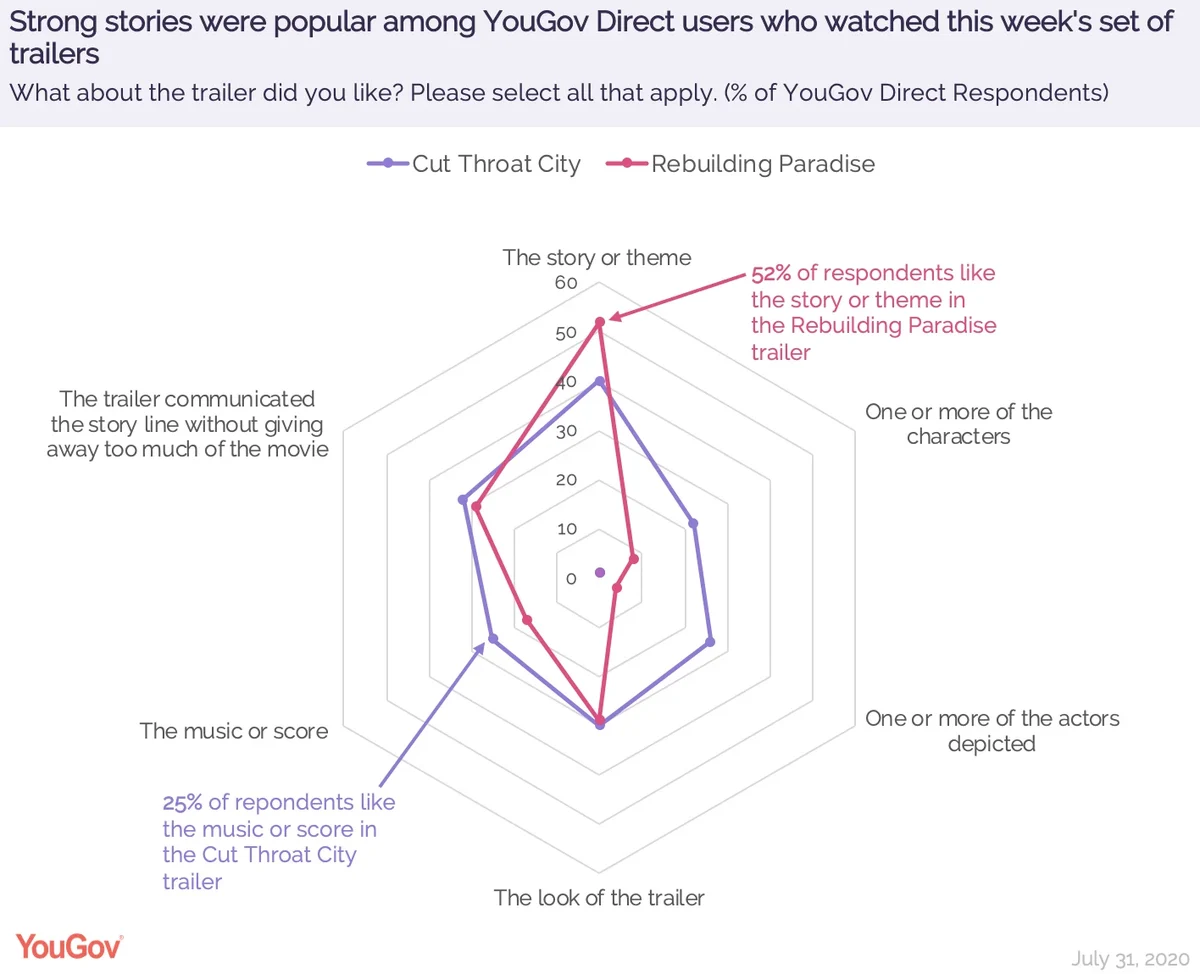 While the trailer for "Rebuilding Paradise" was not as effective as the one for "Cut Throat City" in terms of persuading people to consider seeing the film, it was the best at convincing YouGov Direct members that the movie will be good. YouGov Direct asks respondents to tell us how good or bad they think a movie will be, based on the trailer and this week they gave "Rebuilding Paradise" the top score of 3.9. This is out of a possible 5.0 and compared to a median score of 3.5 for all trailers tested to date.
The other documentary being released this Friday didn't fare so well with YouGov Direct users. They gave the political documentary "The Fight" a rating of 3.3 out of 5.0, the lowest score of the week.
Related:
Image: Getty
Methodology: Data is based on 4,000 interviews, including a minimum of 400 responses for each movie trailer tested. Surveys were conducted online on July 30, 2020.