Looking for some nostalgia? "The Secret Garden," a new film adaptation of Frances Hodgson Burnett's beloved 1911 novel arrives this Friday on itunes or wherever you pay to download your films, ready to sweep you away from these trying times. YouGov Direct users were certainly carried away by the trailer for this fantasy drama, crowning it the most effective and popular among this week's film trailer evaluation.
Each week, YouGov Direct asks a group of its members to watch movie trailers. We then report on what they say. YouGov Direct's surveys investigate how effective movie trailers are in persuading people to consider seeing a film, what they think about the content of the trailer, and how good or bad they expect the movie to be. Thousands of people provide immediate feedback on movie trailers using the YouGov Direct platform.
"The Secret Garden" follows an orphaned girl who discovers a magical garden hidden at her strict uncle's estate.
It was the most anticipated film this week among YouGov Direct users. Of those who took the survey, 77 percent were already aware of the film and 18 percent of users said they were already likely to see the movie before watching the trailer. After watching the trailer that number rose to 45 percent, the highest level of post trailer interest this week.
The Colin Firth led film appeared to appeal significantly more to female audiences: 60 percent of women say that they are likely to see this film, compared with 29 percent of men.
Burnett's beloved coming-of-age book first made its screen debut in 1919, and has been adapted several times since for film and TV since. YouGov Direct users - both men and women - may have been hungry for some childhood nostalgia. When asked what they liked best about the trailer, a quarter (25%) of respondents said it was one or more of the characters. A further 46 percent of users said they liked the magical look of this very English trailer.
YouGov Direct also asks respondents to tell us how good or bad they think a movie will be, based on the trailer. "The Secret Garden" once again came out on top with a rating of 3.8. This is out of a possible 5.0 and compared to a median score of 3.5 for all trailers tested to date. The lowest rating this week (3.3) was given to Shia LaBeouf's new film "The Tax Collector."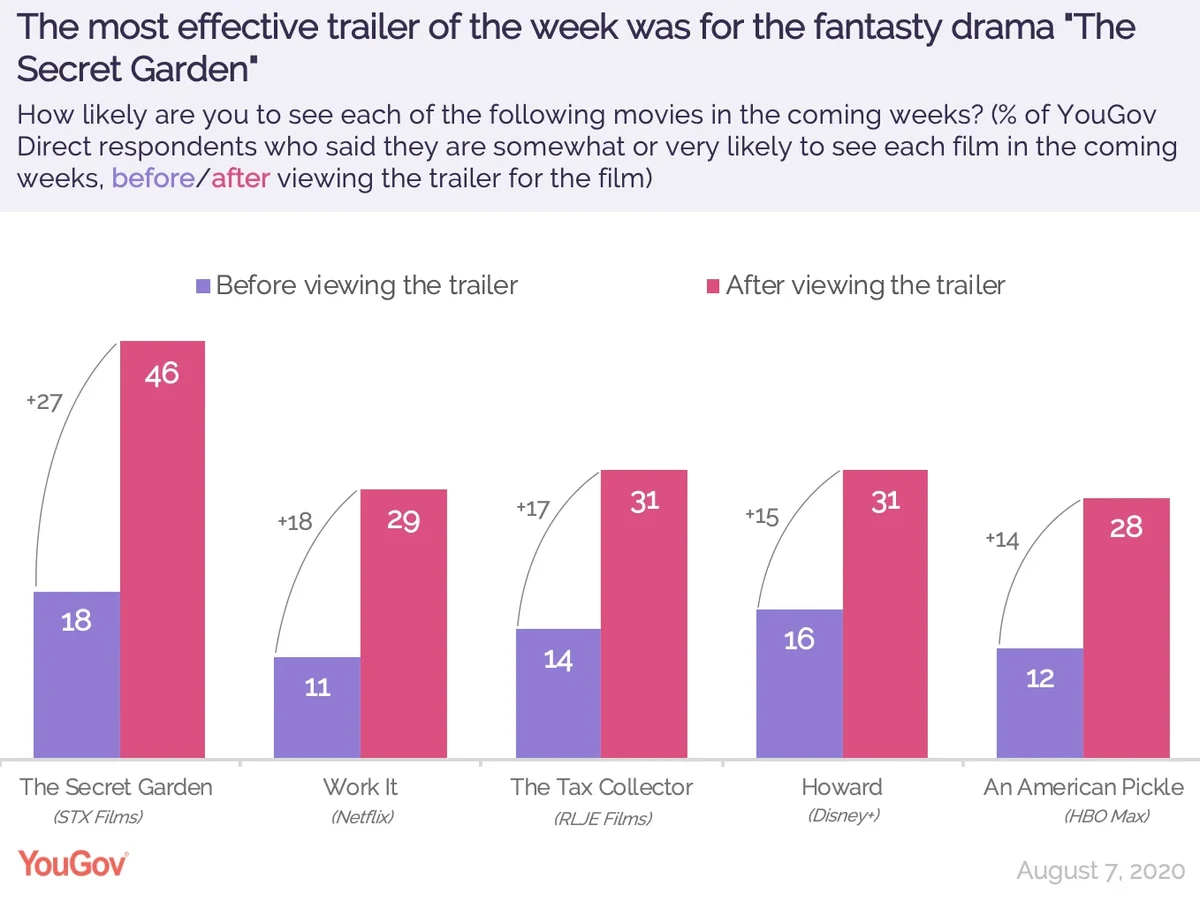 But where the "The Secret Garden" flourished, the trailer for "An American Pickle" floundered. Based on a short story by Simon Rich, Seth Rogen's latest comedy explores a different kind of nostalgia than "The Secret Garden." It tells the tale of an immigrant worker at a pickle factory who is accidentally preserved for 100 years and wakes up in modern day Brooklyn.
"An American Pickle" is one of HBO Max's first original films. The streaming service picked up the movie when its cinematic release was delayed because of the coronavirus pandemic.
HBO execs may have been hoping to cash in on the film's impressive comedy cast, which includes Rogen playing two roles (an old-world immigrant and his millennial great-grandson), Sarah snook and Jorma Taccone. Certainly when we asked YouGov direct users what they liked best about the film, one third (34%) said it was 'one or more of the actors' depicted.
But despite being packed with A-list comedy actors, the trailer failed to convince YouGov Direct users to consider seeing the film. Prior to seeing the trailer, 12 percent of YouGov Direct respondents said they were likely to see this time travel comedy. After viewing the clip on the YouGov Direct App, 28 percent said they were likely to see the movie. That's a lift of 14 percentage points in intent, the lowest lift this week.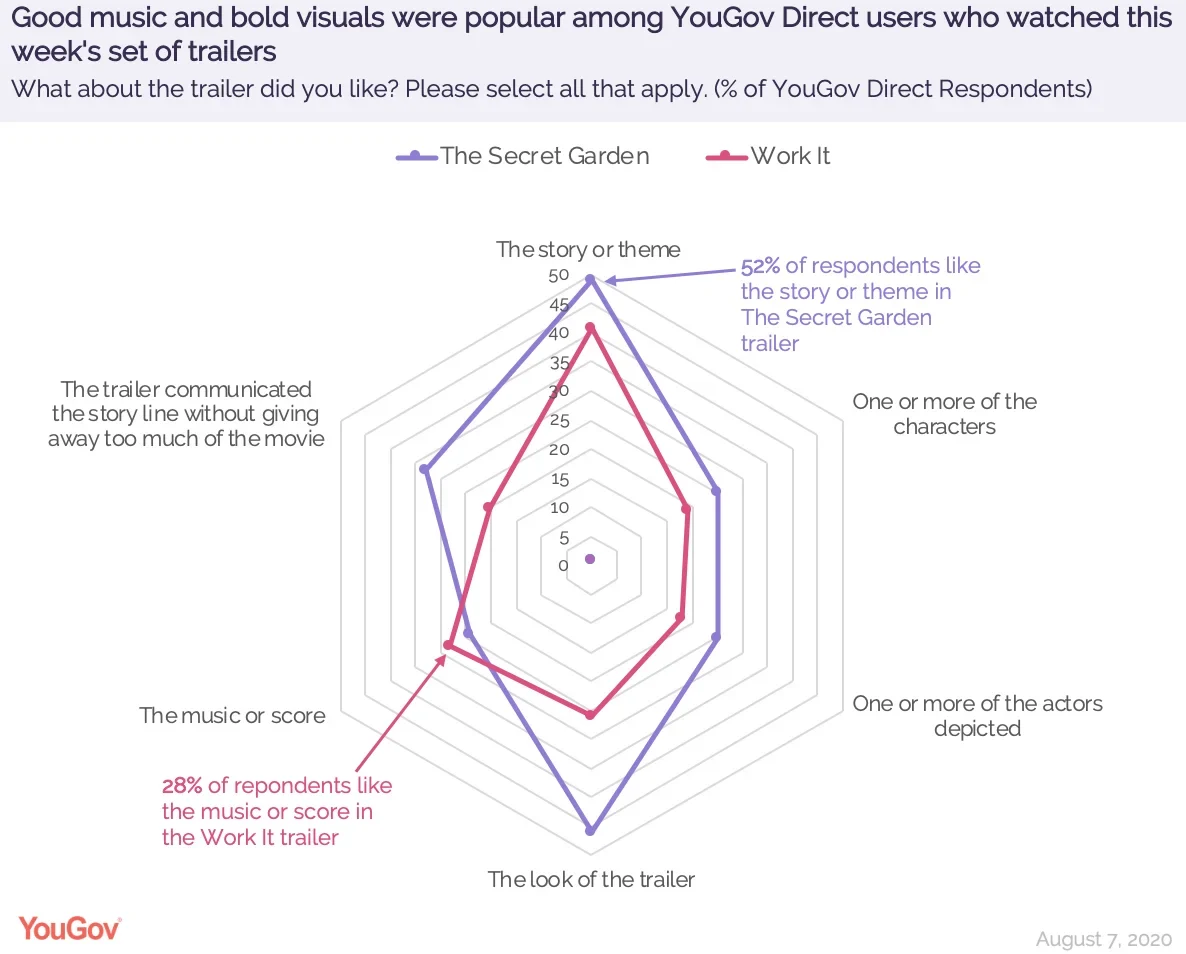 Comedy fans did not seem especially excited by the film. Nearly a third (30%) of those who said they were fans of the comedy genre said they were likely to see the movie after watching the trailer. Many film critics were also ambivalent towards the movie. Variety film critic Owen Gleiberman described it as "a comedy too contrived to be convincing and too formulaic to be funny."
The film was, however, the most successful at persuading users to consider subscribing to its streaming service.There was an increase of 5 percentage points in intent to subscribe to HBO Max after users watched the trailer for "An American Pickle." For a comparison, that figure was 1 percent for Netflix's teen dance film "Work It" and the Disney+ documentary "Howard".
Related:
Image: Getty
Methodology:
Data is based on 4,000 interviews, including a minimum of 400 responses for each movie trailer tested. Surveys were conducted online on August 6, 2020