Many of the celebrities in our survey have relationships with each other. There are famous families, friends, frenemies and straight-up foes. Here's how they fared when measured up against each other.
Feuds
Taylor Swift vs. Kanye West and Katy Perry
Taylor Swift has famously had bad blood with plenty of celebrities. There was that time Kanye West stole her time at 2009 MTV Video Music Awards, and those other rumors about her tiff with Katy Perry.
Perry is actually the big winner here. She's a nearly 50/50 bet to win a matchup (49%).
Swift comes in a little lower at 45 percent.
When asked which of these celebrities they'd like as their next celebrity president, Kanye West (29%) gets the worst of this head to head to head.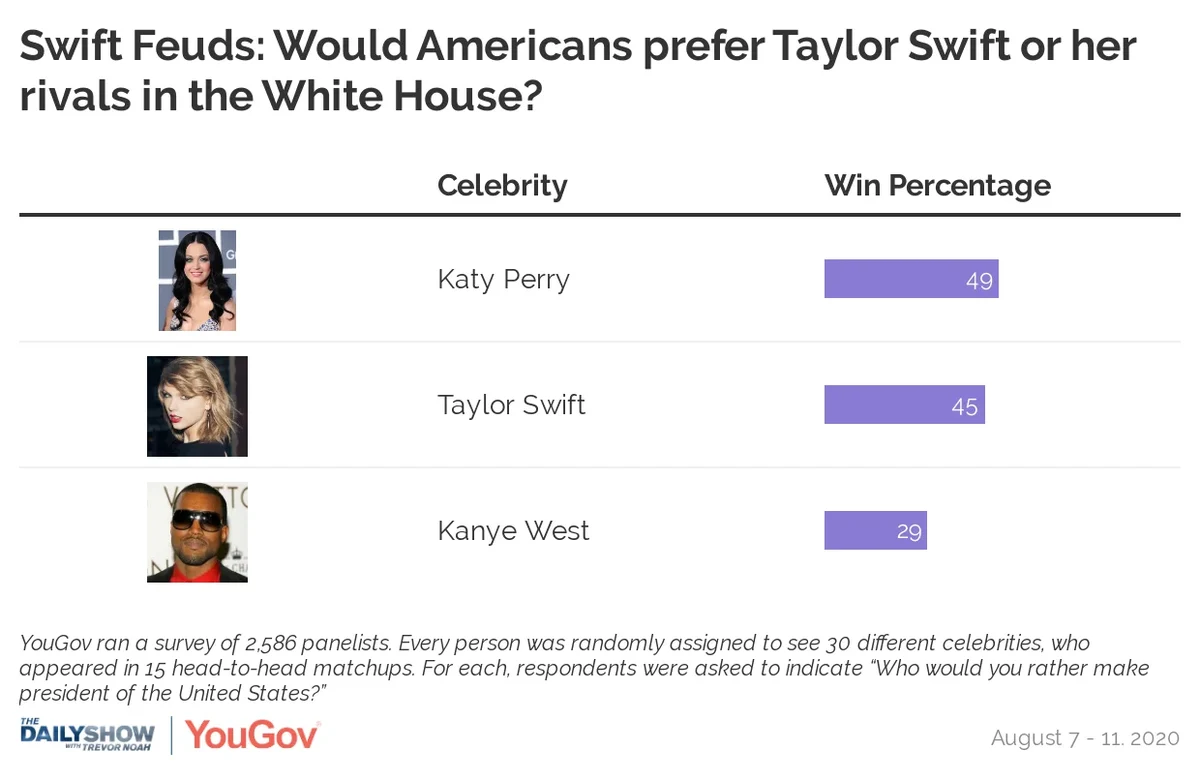 Azaela Banks vs. Cardi B, Rihanna, and Zayn Malik
Rapper Azaela Banks is no stranger to celebrity feuds. When compared to rival Cardi B, Banks virtually ties in win percentage (34% vs. 32%).
Banks falls behind when compared to Rihanna, though (44% vs. 34%). These two got political in 2017 via social media, over differing views on Trump's Muslim ban.
In 2016 Banks took to social media once again, this time claiming former One Direction member, Zayn Malik, stole her work. The Daily Show/YouGov data finds Malik wins his celebrity president match up over Banks (39% vs. 34%).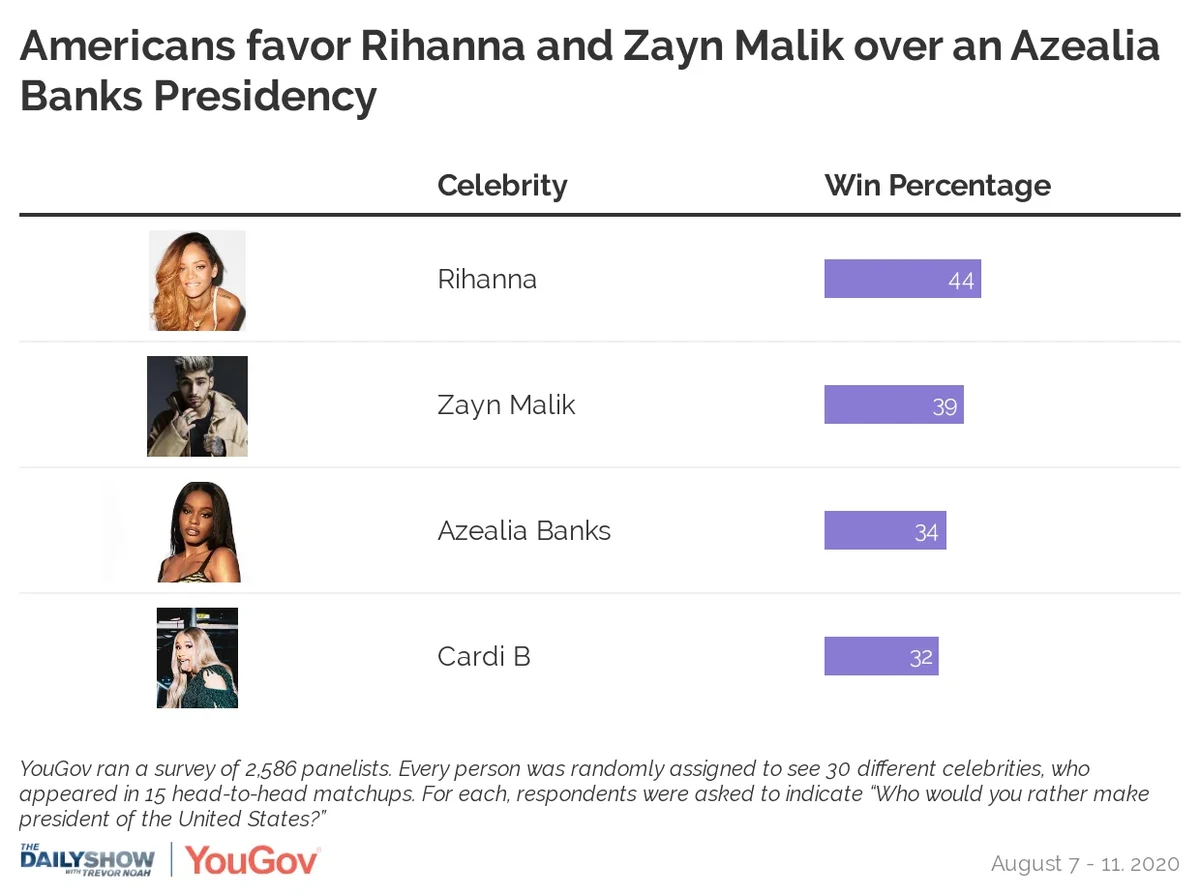 Families
From the Kardashians to the Cyrus', Hollywood has its fair share of celebrity families – but which family members would Americans want as their next celebrity president?
Billy Ray Cyrus's win percentage (53%) bests his daughter, Miley Cyrus (36%).
The data also finds Kris Jenner (31%) ranks above daughter, Kim Kardashian (26%). Kim Kardashian beats Caitlyn Jenner (24%), while her husband, Kanye West, is preferred over both her and Caitlyn Jenner (29%).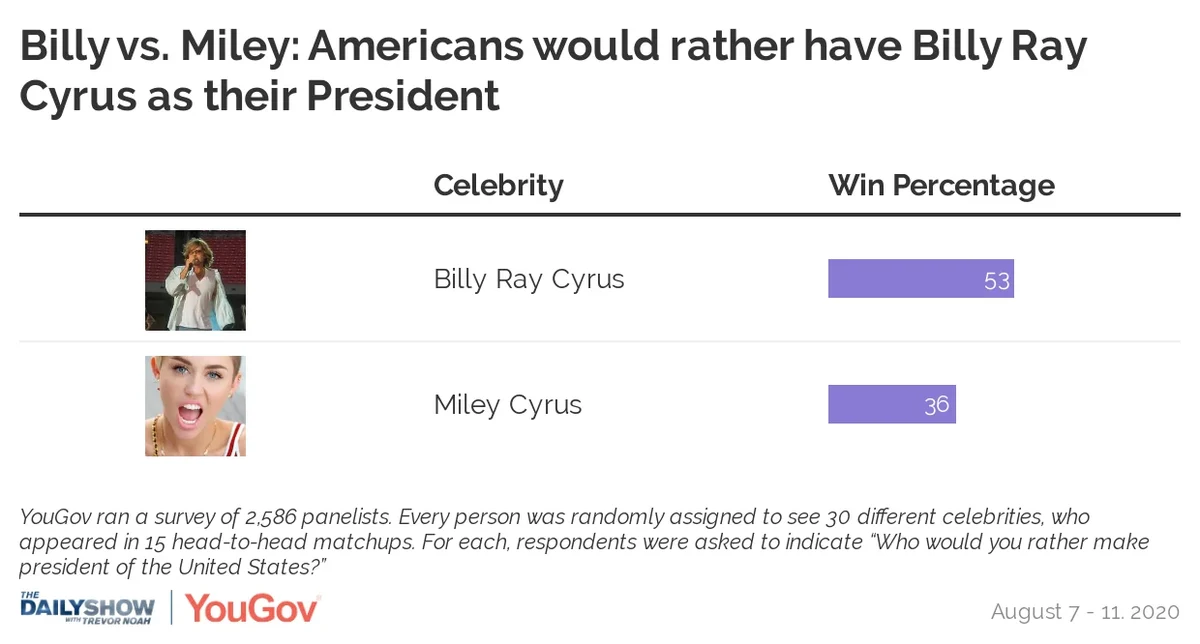 According to the data, Beyonce gets the better of husband Jay-Z (39% vs. 35%), while Solange virtually ties (38%) with her sister (39%).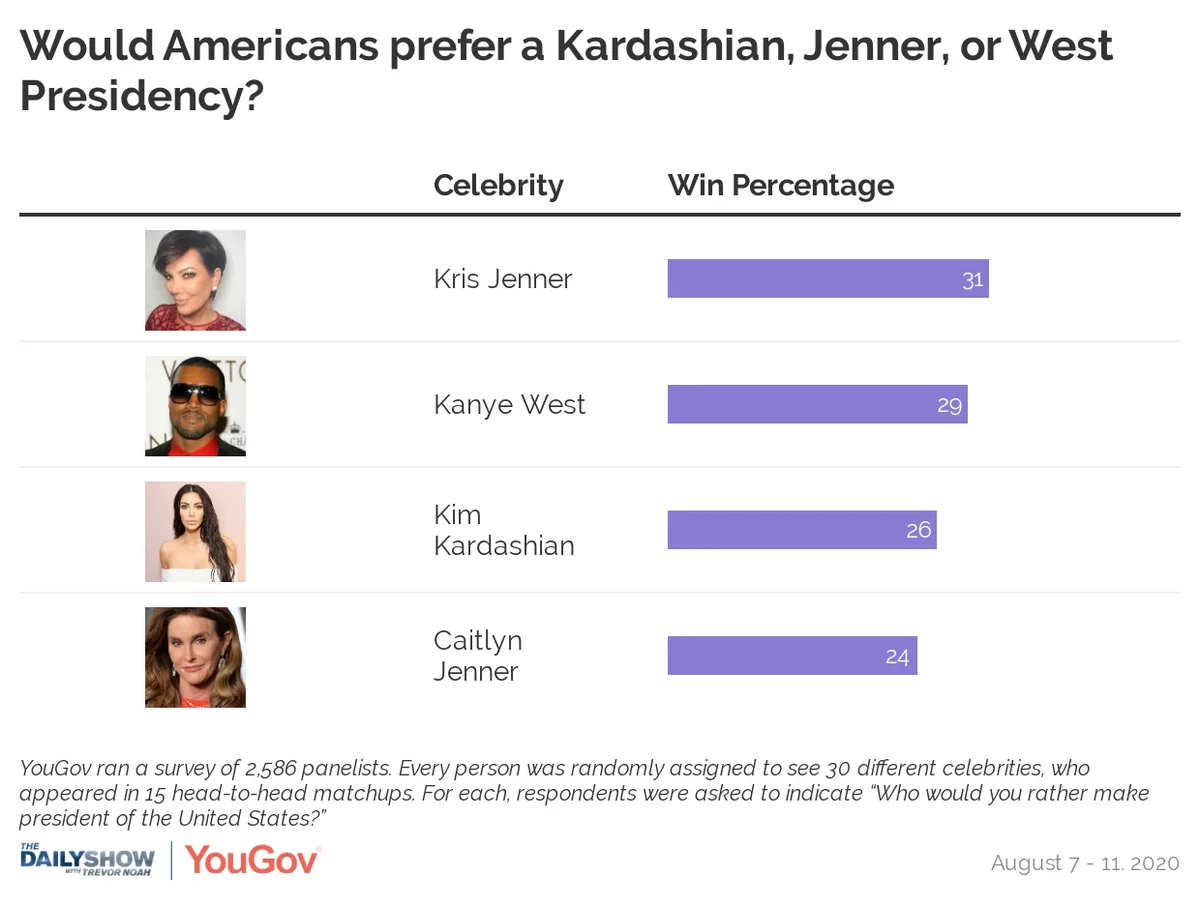 Beyonce isn't the only celebrity that is preferred over their partner. John Legend wins more battles for the oval office that his wife, Chrissy Teigen (62% vs. 44%).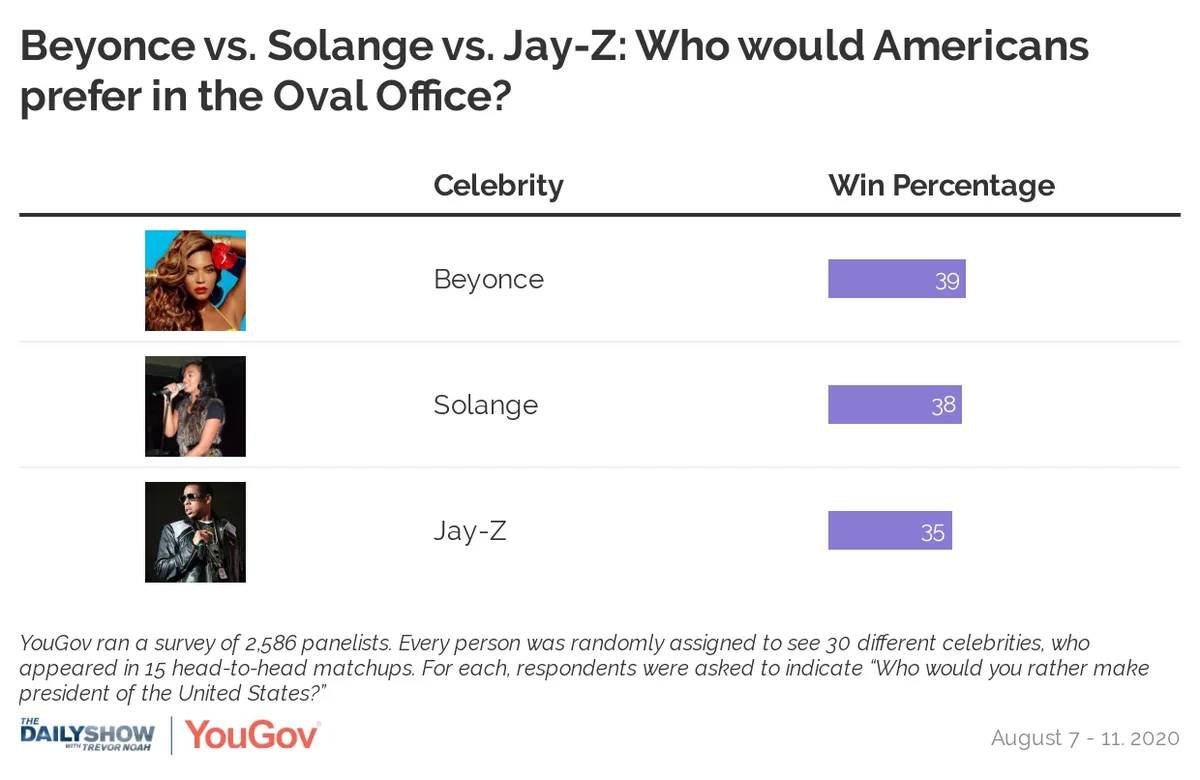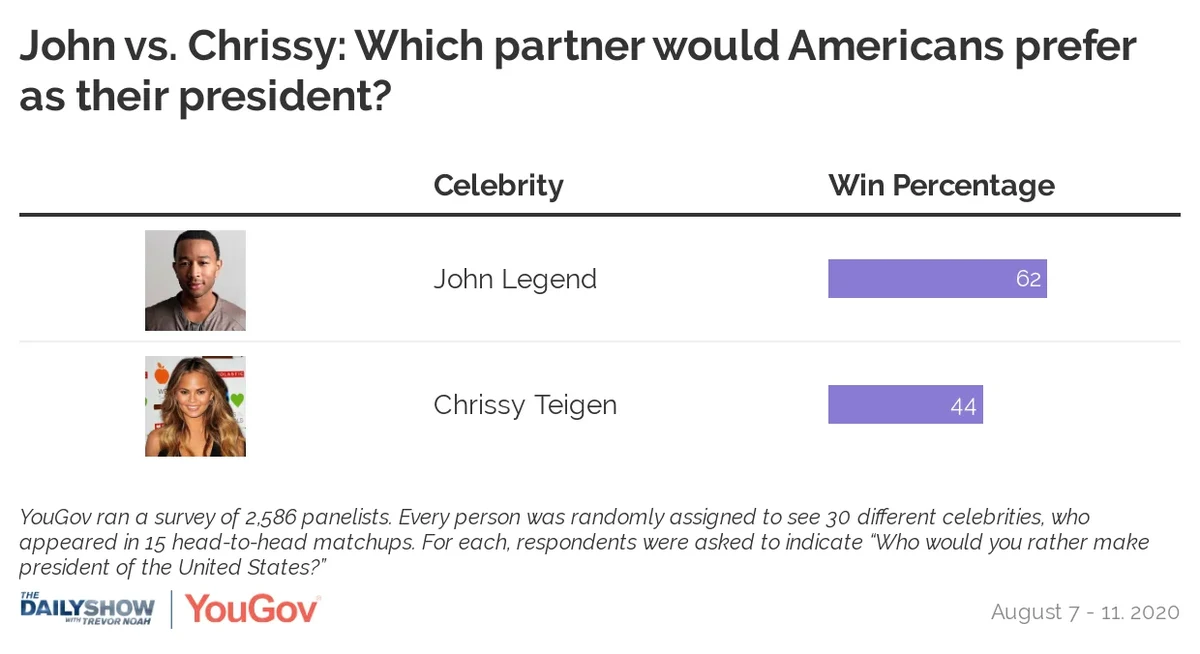 Friendships
Americans vote for Matt Damon (70%) as their next celebrity president at a higher rate than they do for longtime friend and fellow actor Ben Affleck (64%).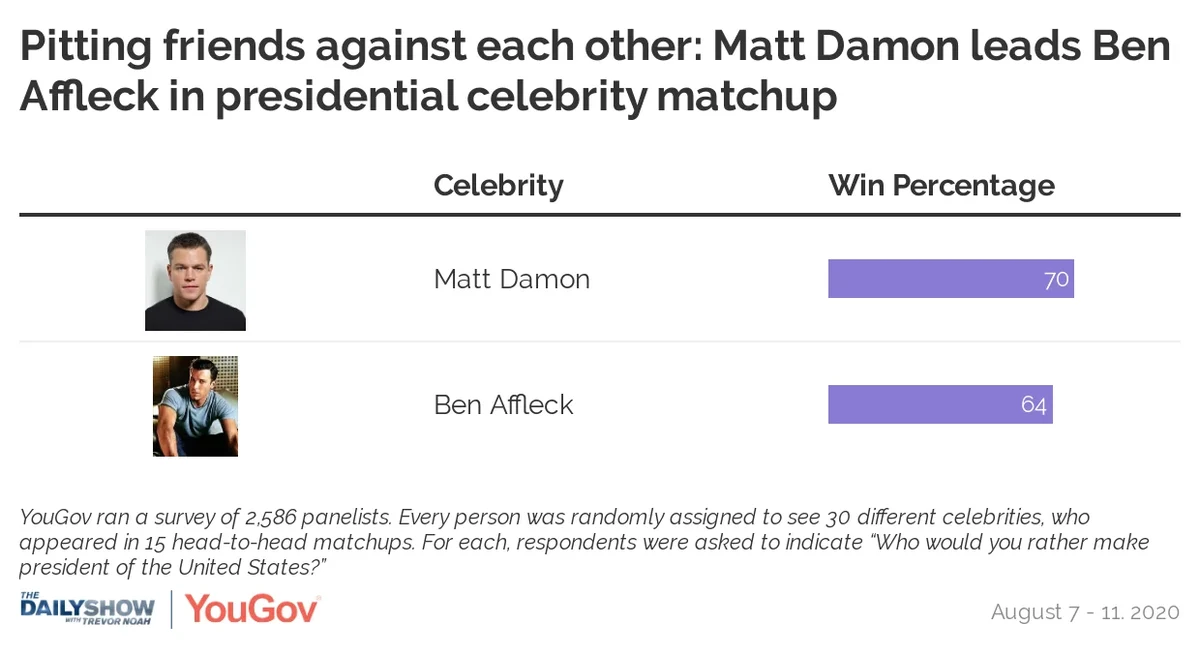 For friends Tina Fey and Amy Poehler, Fey leads with more Americans preferring her to be their next celebrity president (57% vs. 49%).
Although not necessarily friends – the co-hosts of The View are among the celebrities listed on the recent Daily Show/YouGov Poll. According to the data, Americans rather see Meghan McCain (54%) in the White House, compared to her co-hosts, Nicolle Wallace (53%), Whoopi Goldberg (50%), Sherri Shepherd (48%), Elisabeth Hasselbeck (46%), Joy Behar (39%), and Rosie O'Donnell (36%).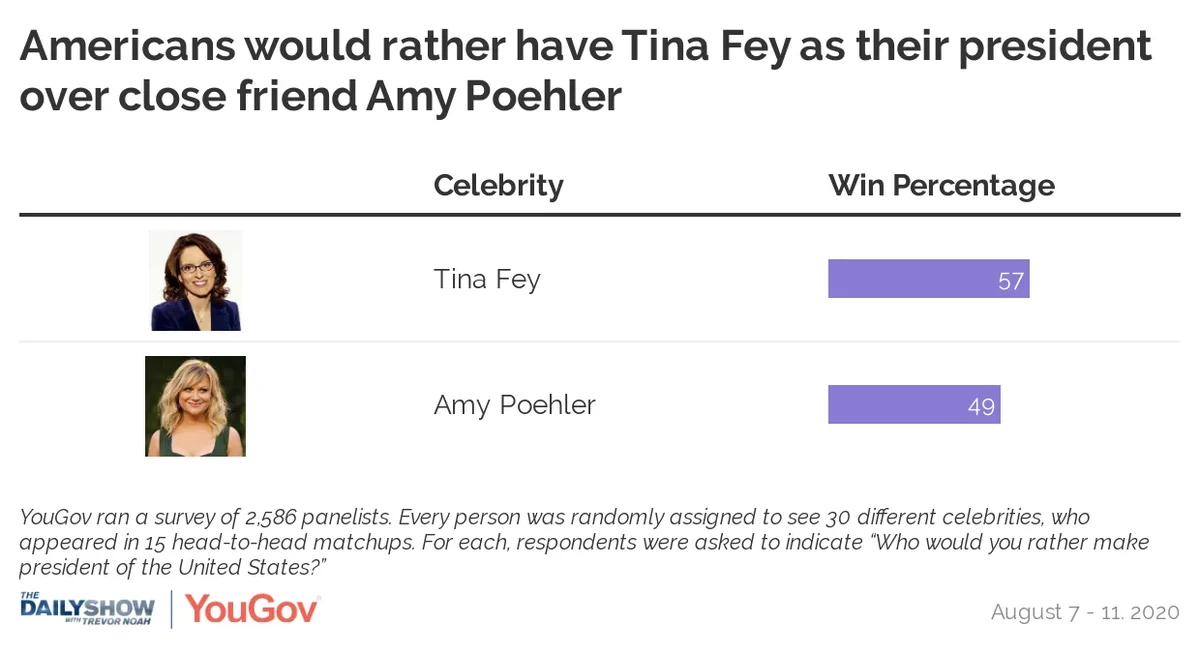 Methodology: The Daily Show/YouGov survey consisted of 2,586 panelists and ran between August 14 - 18. Every person was randomly assigned to see 30 celebrities, which appeared in 15 head-to-head matchups. For each, respondents were asked to indicate which of the celebrities in the head to head match up they would prefer as the next to become president. See the cross tabs here.