They're scoring on the court, in the field, and at the White House.
In the first ever The Daily Show/YouGov Next Celebrity President survey, Americans cast their votes on which celebrity they would like to see next in the oval office.
The list included several athletes, and although none of them made it to the championship celebrity list – some did a lot better than others. So, who are the top five athletes Americans would want to see off the court, and in the office?
Scoring the No. 1 spot is Peyton Manning, former Colts and Broncos quarterback, with 65 percent of the win percentage.
Tied for second place is retired basketball star and Lakers player, Magic Johnson, with a 63 percent of the win percentage. Magic ties with six-time Super Bowl winning quarterback Tom Brady, ranking No. 3. Brady holds 63 percent of the win percentage.
Coming in fourth place is none other than Serena Williams, former world number one in women's single tennis , with a win percentage of 61 percent.
Last but certainly not least, former professional basketball player and now Inside the NBA analyst, Charles Barkley, comes in fifth place among athletes American's would want as their next celebrity president, and with 61 percent of the win percentage.
Among Democrats, Serena Williams (69%) leads the way as their top athlete choice for next celebrity president, compared to Republicans who say they would prefer NASCAR driver, Dale Earnhardt Jr (79%).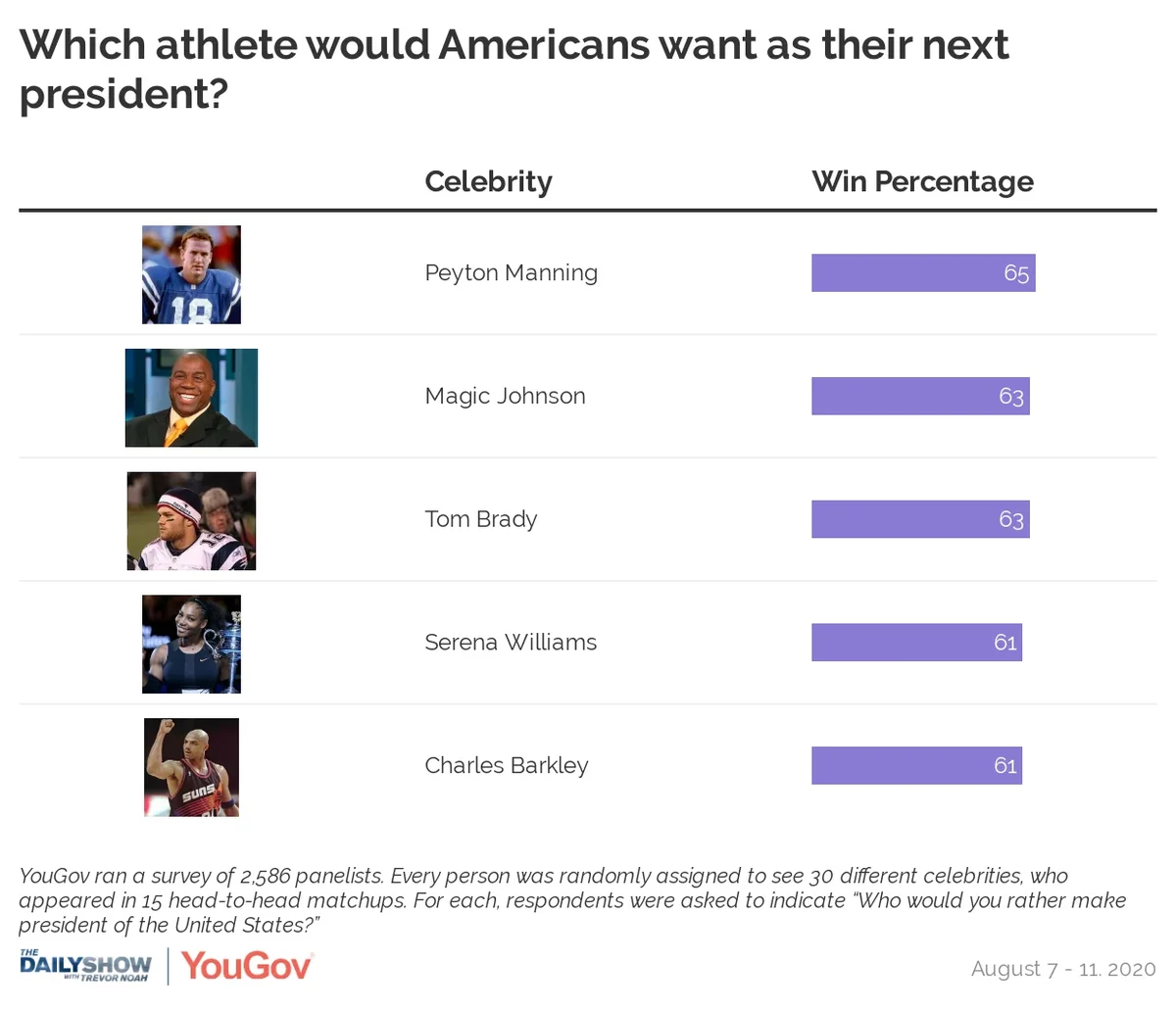 Methodology: The Daily Show/YouGov survey consisted of 2,586 panelists and ran between August 14 - 18. Every person was randomly assigned to see 30 celebrities, which appeared in 15 head-to-head matchups. For each, respondents were asked to indicate which of the celebrities in the head-to-head matchup they would prefer as the next to become president. For more information, see our methodology page and reach out to uspress@yougov.com. Or see the cross tabs here.
Image: Getty