In the first ever The Daily Show/YouGov Next Celebrity President survey, Americans cast their votes on which celebrity they would like to see next in the oval office. The list of candidates included a number of musicians.
So, when pitted against one another, which musician would conquer not only the charts – but the White House as well?
According to the data, country music artists reign supreme, with two of the most iconic country music stars as the top two presidential picks among musicians.
Here she comes again -- Dolly Parton takes the No. 1 spot when compared to other musicians, and with 67 percent of the win percentage.
In second place, Americans would also like to see fellow country music singer-songwriter and icon, Willie Nelson, as their president. Willie Nelson racks up 63 percent of the win percentage.
Ranking in third place is singer-songwriter, John Legend with 62 percent of the win percentage, followed by the lead singer of Maroon 5, Adam Levine, in fourth place. Bruce Springsteen lands in the fifth spot of musicians Americans would like as their next president.
Although Springsteen lands in the fifth spot, he is the top musician Democrats would like to see as their next celebrity president (73%). In contrast, Republicans would favor country music artist, Lee Greenwood (77%) as their next president.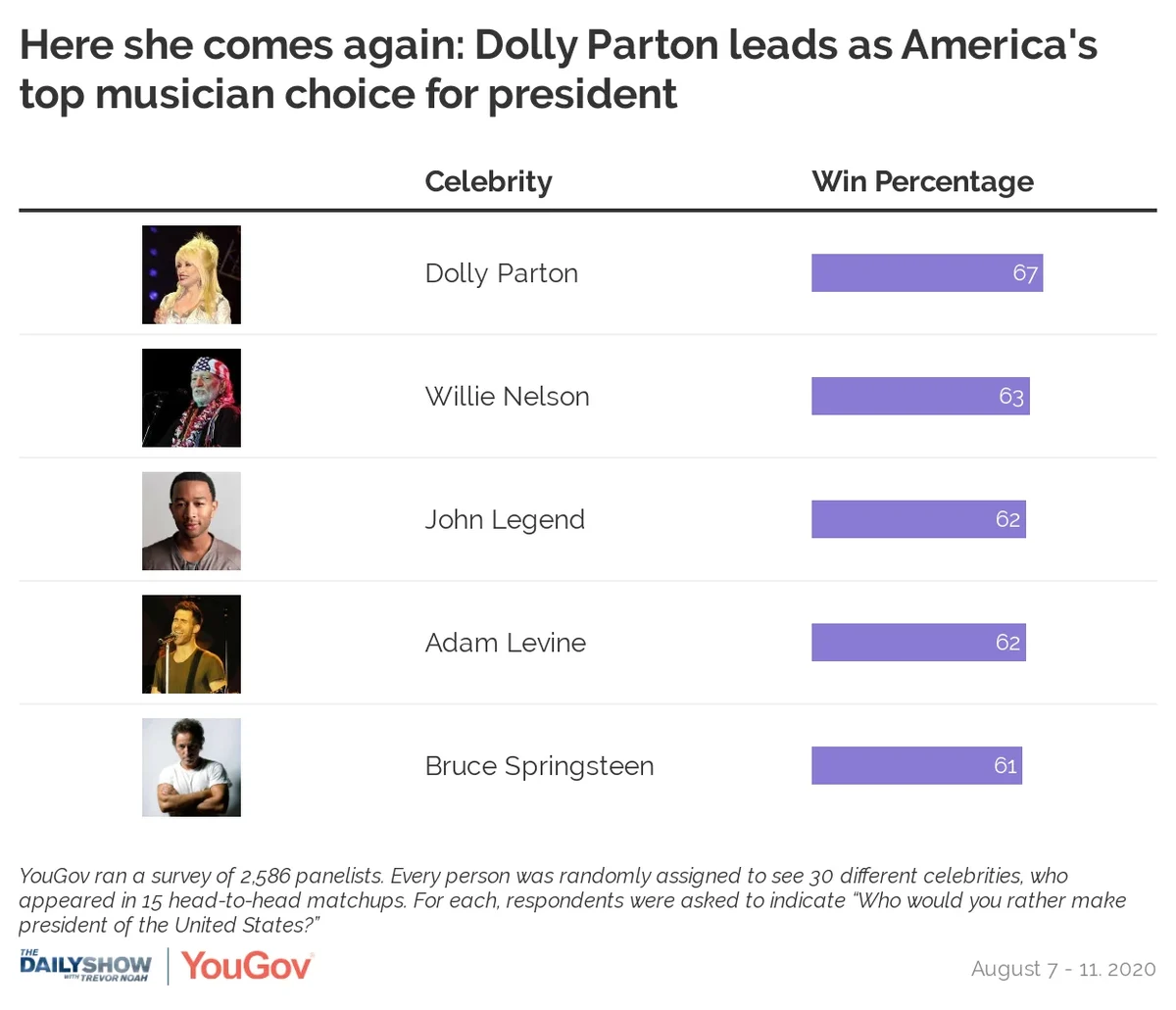 Methodology: The Daily Show/YouGov survey consisted of 2,586 panelists and ran between August 14 - 18. Every person was randomly assigned to see 30 celebrities, which appeared in 15 head-to-head matchups. For each, respondents were asked to indicate which of the celebrities in the head-to-head matchup they would prefer as the next to become president. For more information, see our methodology page and reach out to uspress@yougov.com. Or see the cross tabs here.
Image: Getty