Step right up to see the most effective trailer of the week. It belongs to "The One and Only Ivan," a star-studded CGI circus adventure from Disney Studios.
Each week, YouGov Direct asks a group of its members to watch movie trailers. We then report on what they say. YouGov Direct's surveys investigate how effective movie trailers are in persuading people to consider seeing a film, what they think about the content of the trailer, and how good or bad they expect the movie to be. Thousands of people provide immediate feedback on movie trailers using the YouGov Direct platform.
"The One and Only Ivan" is an adaptation of Katherine Applegate's bestselling children's book about a very special gorilla who hatches a plan to escape from the circus and find his true home. The film features the vocal talents of Sam Rockwell, Angelina Jolie, Danny Devito and Helen Mirren.
The trailer for "The One and Only Ivan" was the most effective at persuading users to consider seeing a film this week. Before viewing the trailer, 14 percent of respondents said they were likely or somewhat likely to see this family friendly film. After watching the trailer, that number rose to 40 percent. That's a lift of 26 percentage points in intent, the highest lift this week.
The trailer was also the most effective at persuading people to consider subscribing to its streaming service. There was an increase of 3 percentage points in intent to subscribe to Disney+ after users watched the trailer for the animal adventure, once again the highest increase this week.
So what made it such an effective trailer? When we asked users what they liked best about it, 52 percent said it was the trailer's heartwarming 'story or theme.' There is, in fact, something extra special about the film's story: it's based on a real life gorilla who spent 27 years in a shopping mall in Tacoma, Washington.
YouGov Direct also asks respondents to tell us how good or bad they think a movie will be, based on the trailer and this week they gave "The One and Only Ivan" the top score of 3.9. This is out of a possible 5.0 and compared to a median score of 3.5 for all trailers tested to date.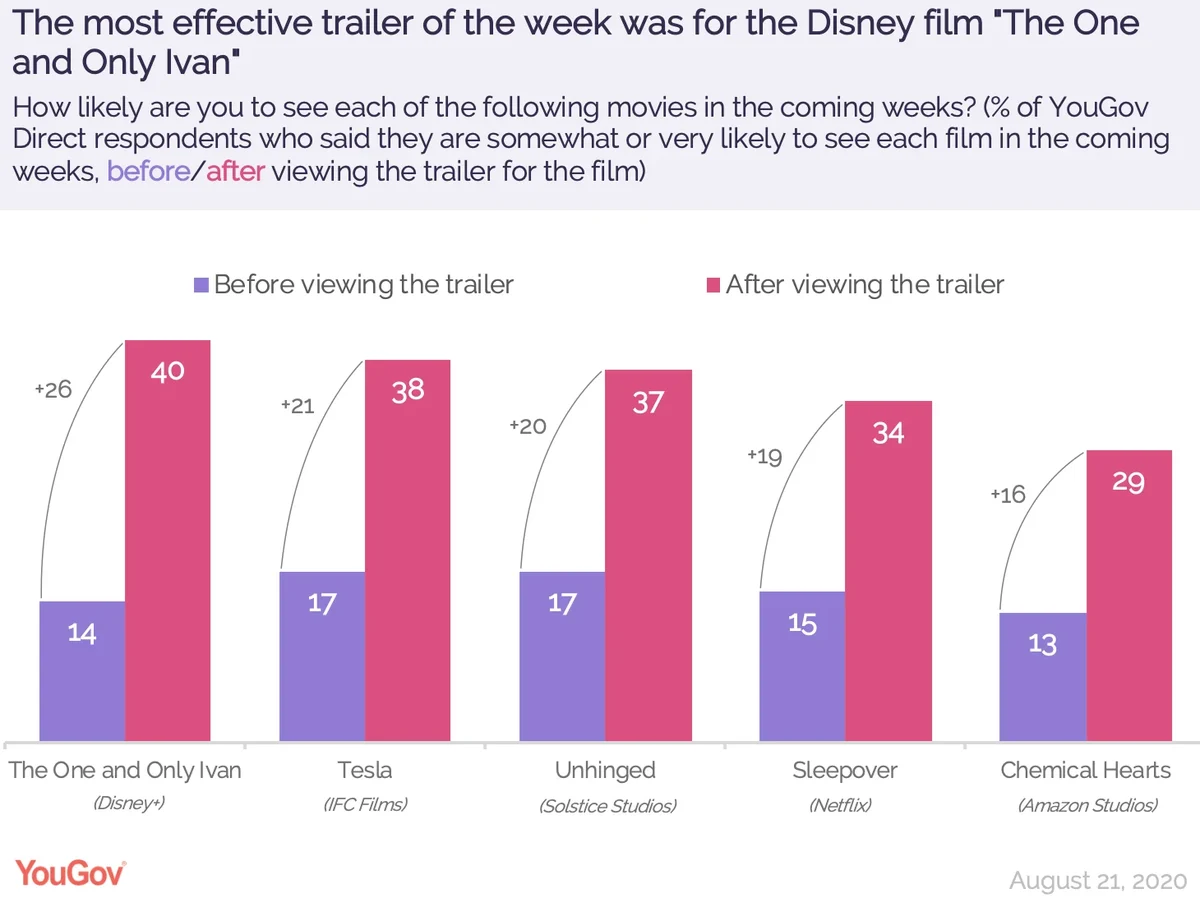 But "The One and Only Ivan" is not the only true story that is turning heads this week. Experimental drama "Tesla" is a freewheeling take on the life of visionary inventor Nikola Tesla, and his breakthroughs in transmitting electrical power and light. It is also one of the few films being released in cinemas this week.
"Tesla" had the second most effective trailer of the week. Prior to seeing the trailer, 17 percent of YouGov Direct respondents said they were likely to see this experimental biopic. After viewing the clip on the YouGov Direct App, 38 percent said they were now likely to see it. Fans of biographical films were particularly excited about the drama. More than half of those who said they were fans of the history and biography films said they would see the movie after viewing the trailer.
"Tesla" has been receiving a lot of attention for its unusual approach to the biographical period drama, and certain film critics have been going as far as calling it an 'anti-biopic'. Even in the trailer Director Michael Almereyda seems to delight in challenging the conventions of the genre. Fourth walls are broken, smartphones are used and a MacBook is even brought out at one point to google the film's main character, despite its 19th century setting.
This radical approach to storytelling appears to have struck a chord with viewers. When we asked YouGov Direct users what they liked best about the trailer, 53 percent said they enjoyed the trailers 'story or theme'. A further 36 percent said they liked the look of this electric clip.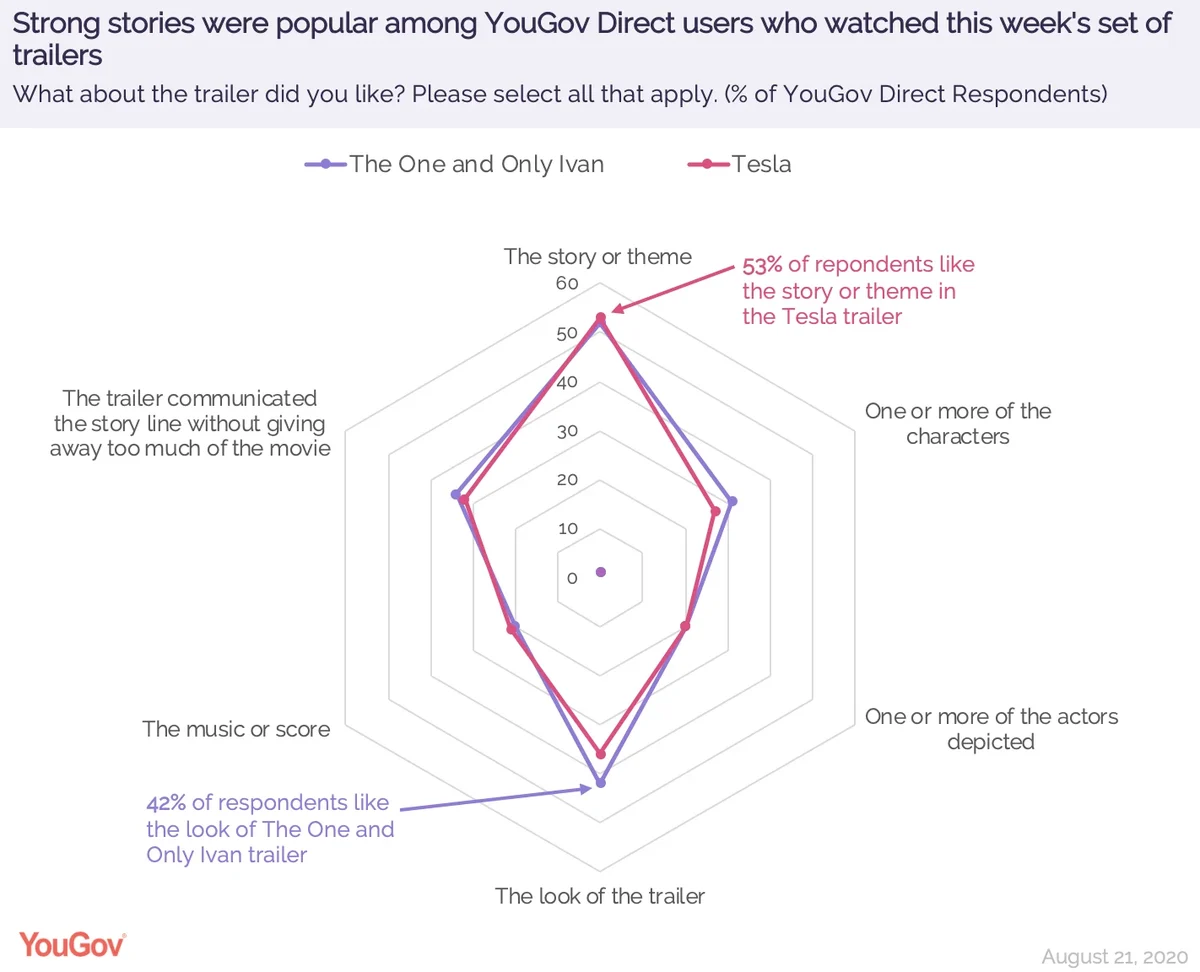 But just because cinemas are reopening doesn't mean viewers will be rushing out to catch a Friday night film. For example, of those who said they were likely to see "Tesla" after watching the trailer, nearly three quarters (74%) said they would rather watch the biopic online via a streaming service or paid download service than wait to see the film in cinemas. That figure was even higher for this week's other cinematic release, the road rage thriller "Unhinged" (76%).
Related:
Methodology: Data is based on 4,000 interviews, including a minimum of 400 responses for each movie trailer tested. Surveys were conducted online on August 20, 2020.
Image: Getty