Are moviegoers ready to return to cinemas? Not just yet, according to YouGov Direct users.
When we asked them if they would like to watch this week's most popular cinematic release ("Jimmy Carter Rock & Roll President") in theaters right away, four out of five said they would rather watch it via a streaming or download service at a later date (80%). That figure was only slightly lower for this week's other cinematic release "The Broken Hearts Gallery" (74%).
Each week, YouGov Direct asks a group of its members to watch movie trailers. We then report on what they say. YouGov Direct's surveys investigate how effective movie trailers are in persuading people to consider seeing a film, what they think about the content of the trailer, and how good or bad they expect the movie to be. Thousands of people provide immediate feedback on movie trailers using the YouGov Direct platform.
Netflix nabbed the most effective and most popular trailer this week with "The Social Dilemma," a powerful documentary about the dangerous impact of social networking on mankind.
The documentary may not have been the most anticipated film (that honor goes to Netflix's other new release, comedy horror sequel "The Babysitter: Killer Queen") but its trailer was the most effective at persuading viewers to consider streaming it. Before watching the trailer, just 15 percent of YouGov Direct users said they were somewhat or very likely to watch the film. After users viewed the powerful trailer, however, that number increased to 44 percent -- a lift of 29 percentage points in intent, the highest this week.
"The Social Dilemma" was also the most effective at persuading people to consider subscribing to the streaming service that hosts it. There was an increase of 6 percentage points in intent to subscribe to Netflix after users watched the trailer, once again the highest increase this week.
The documentary's topical subject matter - the consequences of our growing dependence on social media - appears to have struck a nerve with viewers. When asked what they liked best about the trailer, more than three in five said it was the film's timely 'story or themes' (61%). The documentary is certainly the most up to date film analysis you'll find on the internet. It originally premiered at the Sundance Film Festival in January of this year but has since been updated to incorporate the impact of coronavirus.
YouGov Direct asks respondents to tell us how good or bad they think a movie will be based on the trailer. Once again "The Social Dilemma" came out on top, receiving a score of 3.9 from users. This is out of a possible 5.0 and compared to a median score of 3.5 for all trailers tested to date. The lowest score of the week (2.9) was awarded to the pulpy horror flick "The Babysitter: Killer Queen".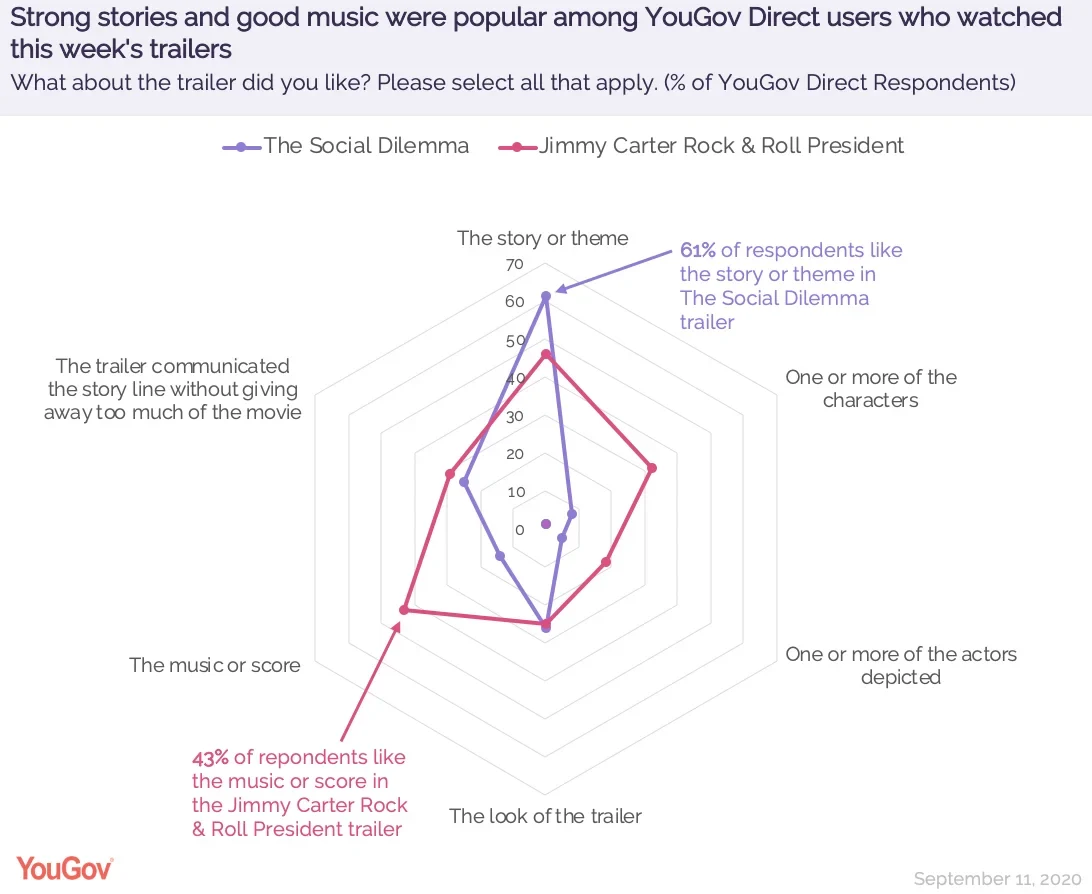 The other documentary turning heads this week is "Jimmy Carter Rock & Roll President." This political film looks at the crucial role musicians like Johnny Cash and the Allman Brothers played in getting Carter into the oval office.
Prior to seeing the trailer, 16 percent of YouGov Direct respondents said they were likely to see this Mary Wharton-directed documentary. After viewing the clip on the YouGov Direct app, 40 percent said they were now likely to see it.
So what made this trailer so effective? Unsurprisingly, more than two in five users said it was the "music or score" that stood out the most for them. The documentary is certainly packed with famous faces. In the trailer alone you can glimpse Bob Dylan, Willie Nelson and the Allman Brothers.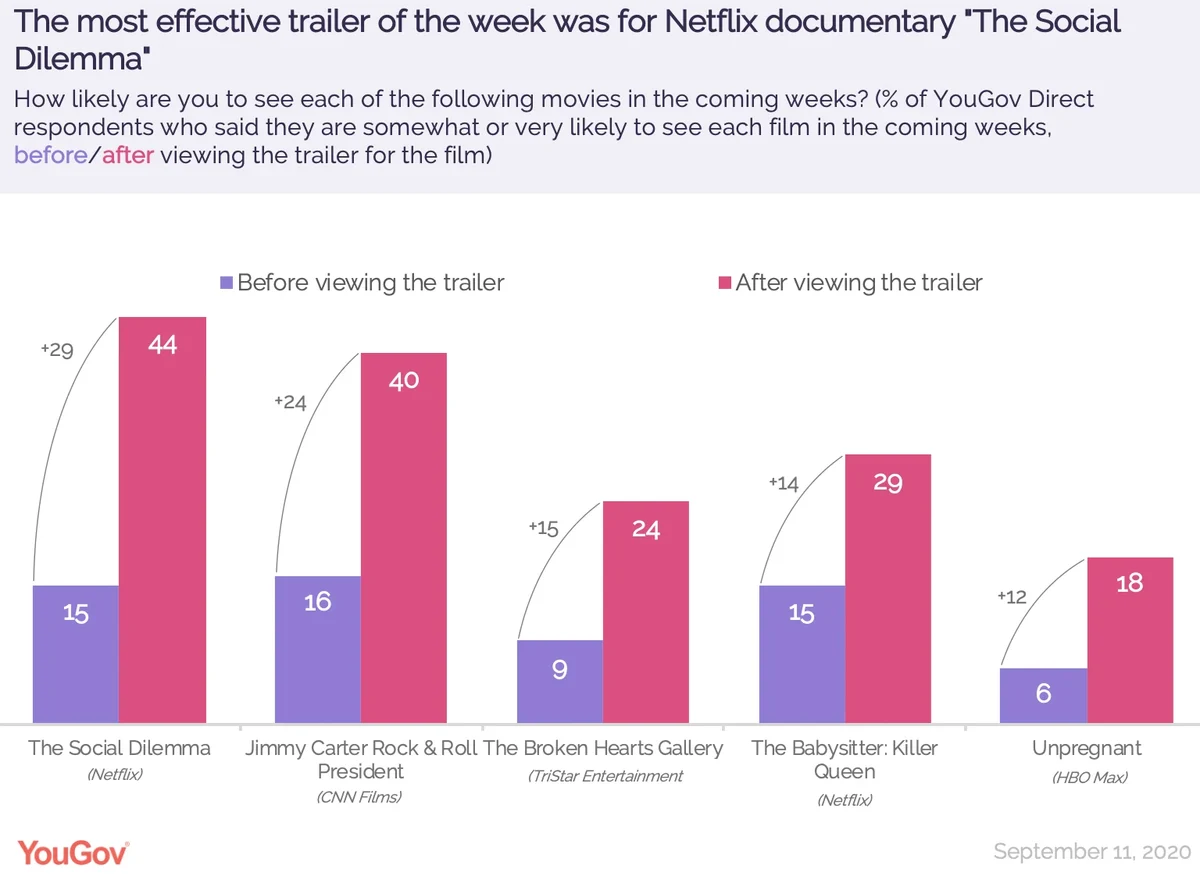 But rock and roll fans did not appear especially excited about the film. Of those classic rock fans who watched the trailer, 39 percent said they were somewhat or very likely to see this movie. That post trailer figure was 44 percent for fans of R&B music and 43 for fans of classical music.
Related:
Image: Getty
Methodology: Data is based on 4,000 interviews, including a minimum of 400 responses for each movie trailer tested. Surveys were conducted online on September 10, 2020.