For the third time in four weeks a political documentary has come out on top in YouGov Direct's weekly movie trailer survey.
This week the winning trailer was for "The Way I See It," a documentary about the life and work of former Chief White House Photographer, Pete Souza.
Each week, YouGov Direct asks a group of its members to watch movie trailers. We then report on what they say. YouGov Direct's surveys investigate how effective movie trailers are in persuading people to consider seeing a film, what they think about the content of the trailer, and how good or bad they expect the movie to be. Thousands of people provide immediate feedback on movie trailers using the YouGov Direct platform.
Not only was the trailer for "The Way I See It" this week's most effective, the film was also the most popular. Prior to seeing the trailer, 14 percent of YouGov Direct users said they were somewhat or very likely to see this documentary. Post trailer, that number rose to 42 percent. That's a lift of 28 percentage points in intent, the highest lift this week.
Despite its popularity with users, the trailer was not particularly successful at convincing them to go to the cinema. Of those who said they were likely to see the film, just over one third said they would prefer to see this poignant political doc in movie theaters (34%). The other two thirds would rather skip the socially distanced cinema experience and watch it via streaming or download services at a later date (66%).
"The Way I See It" takes a look at modern American politics through Souza's lens. It captures both historic and intimate moments from his time as official photographer for both President Barack Obama and President Ronald Reagan. This unique perspective appears to have resonated with viewers. When we asked them what they liked best about the trailer, half said it was the documentary's 'story or theme' (50%).
However, this CNN produced documentary did not appeal to all users. Three quarters (76%) of respondents who voted for Hillary Clinton in the 2016 election said they were interested in watching the documentary after watching the trailer on the YouGov Direct App. That figure was 16 percent for respondents who voted for Donald Trump.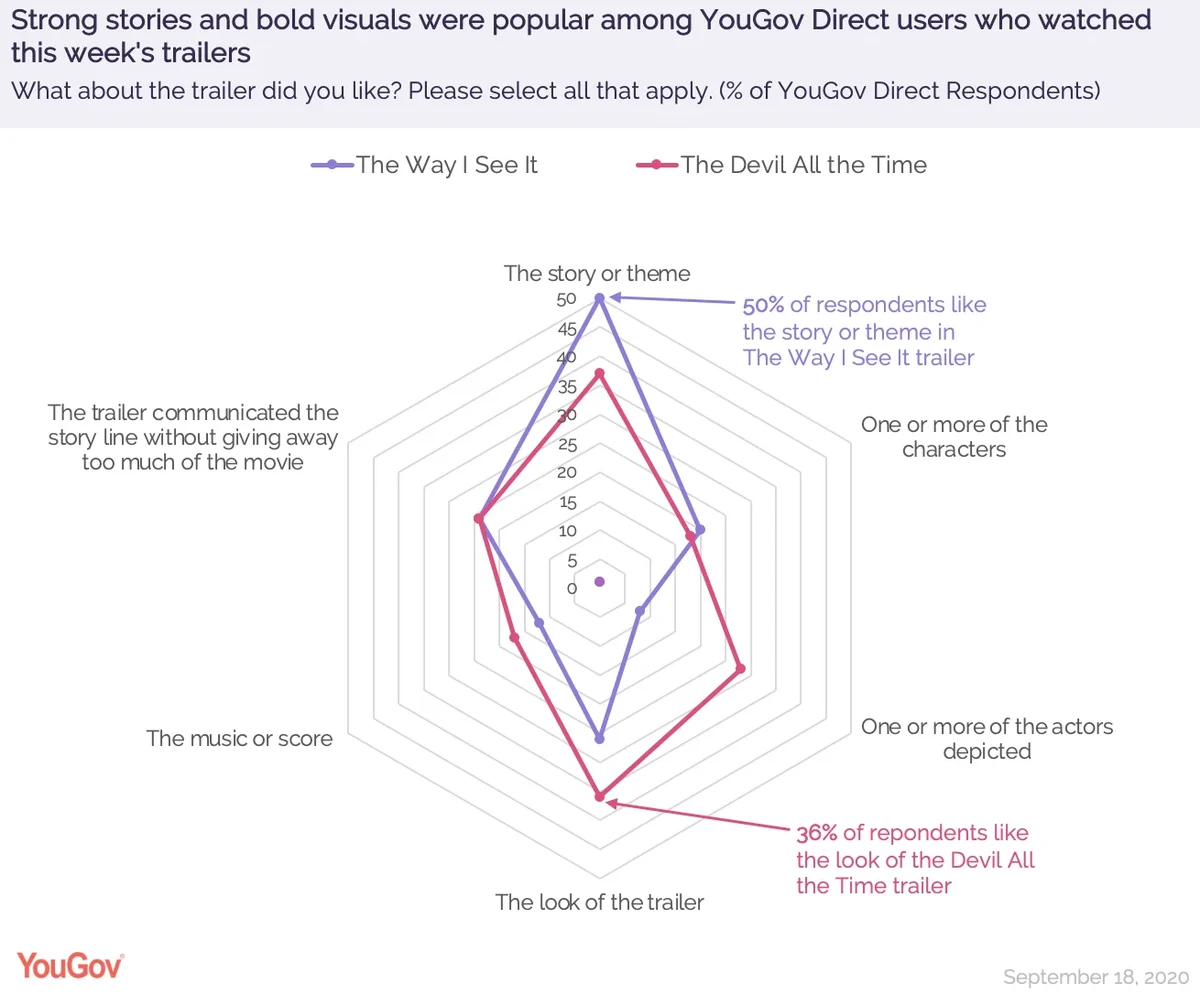 The most effective trailer in the world of streaming this week was for Netflix's new thriller "Devil All the Time." This star-studded noir follows a young man as he tries to protect his loved ones in a town full of corruption and sinister characters.
"Devil All the Time" was the most anticipated film this week amongst YouGov Direct members. Of those who took the survey, 86 percent were aware of the drama and 18 percent of users said they were already likely to see it before watching the trailer.
Despite this high level of awareness, the trailer was not as effective as "The Way I See It" in persuading additional people to consider streaming the film. After watching the trailer, that number of viewers who said they were likely to see the film increased to 39 percent (a lift of 21 percentage points in intent).
Thriller fans were particularly excited about the film. Of those thriller genre fans who watched the trailer, 48 percent said they were somewhat or very likely to see this movie.
This rural set drama also held a particular appeal to urban dwellers. Nearly three in five users who live in a city said they were likely to see this small town noir (59%). That figure was 39 percent for suburban residents.
So what made the trailer for "Devil All the Time" one of this week's most effective? The movie's A list cast was certainly a big draw. 28 percent of users said the thing they liked most about the trailer was 'one or more of the actors.' But it was the look of this southern gothic (brought to life by versatile cinematographer Lol Crawley) that really grabbed the audience's attention (36%).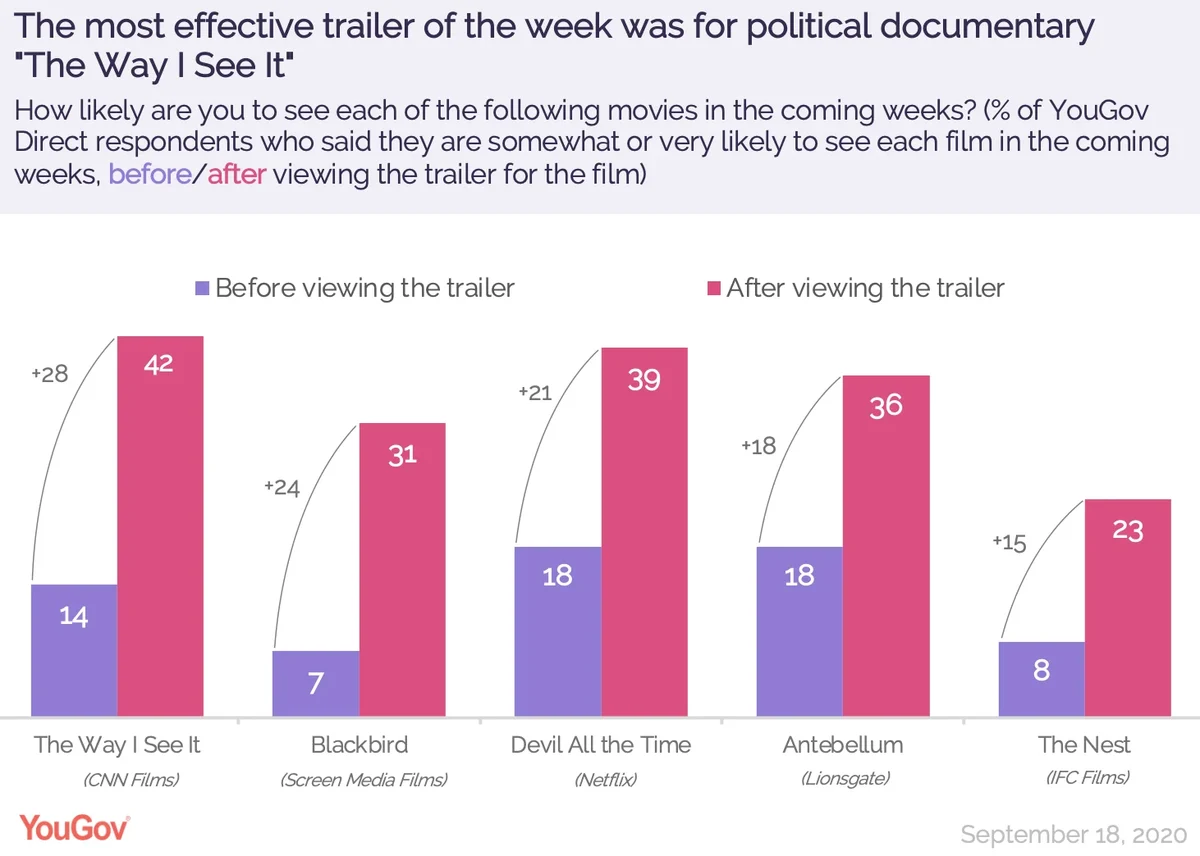 YouGov Direct also asks respondents to tell us how good or bad they think a movie will be based on the trailer. Neither "The Way I See It" nor "Devil All the Time" came out on top (both received a score of 3.4). Users instead awarded this week's top score - 3.6 - to the Kate Winslet drama "Blackbird". This is out of a possible 5.0 and compared to a median score of 3.5 for all trailers tested to date.
Related:
Image: Getty
Methodology: Data is based on 4,000 interviews, including a minimum of 400 responses for each movie trailer tested. Surveys were conducted online on September 17, 2020.