A cold-as-ice assassin, a spunky teenage detective and a women's liberation leader are all on the cards if you are looking for a strong female character in your film this week.
Each week, YouGov Direct asks a group of its members to watch movie trailers. We then report on what they say. YouGov Direct's surveys investigate how effective movie trailers are in persuading people to consider seeing a film, what they think about the content of the trailer, and how good or bad they expect the movie to be. Thousands of people provide immediate feedback on movie trailers using the YouGov Direct platform.
The trailer for action thriller "Ava" knocked out the competition this week. It stars Jessica Chastain as a tough-as-nails assassin who is marked for death by her own black ops organization after questioning orders and breaking protocol.
Prior to seeing the trailer, 16 percent of YouGov Direct respondents said they were likely to see this espionage drama. But after viewing the trailer on the YouGov Direct app, 43 percent said they were now likely to see it. That's a lift of 27 percentage points in intent, the highest lift this week. Fans of the thriller genre were especially excited about the film. Of those who watched the trailer, 49 percent said they were somewhat or very likely to see it.
So what made "Ava" the most effective trailer of the week? When we asked users what they liked best about it nearly two-fifths of users (38%) said it was the trailer's slick visuals. A further 43 percent said they liked the trailer's 'story or theme'. However, most major film critics are not in agreement with YouGov Direct users in this. In his review of the film for Variety, Guy Lodge writes that "Jessica Chastain has killer moves, but can't beat a troubled script."
YouGov Direct also asks respondents to tell us how good or bad they think a movie will be, based on the trailer. Direct users awarded "Ava" the second highest rating of the week (3.7). This is out of a possible 5.0 and compared to a median score of 3.5 for all trailers tested to date. The highest rating - 3.8 - went to Netflix's newest release "Enola Holmes."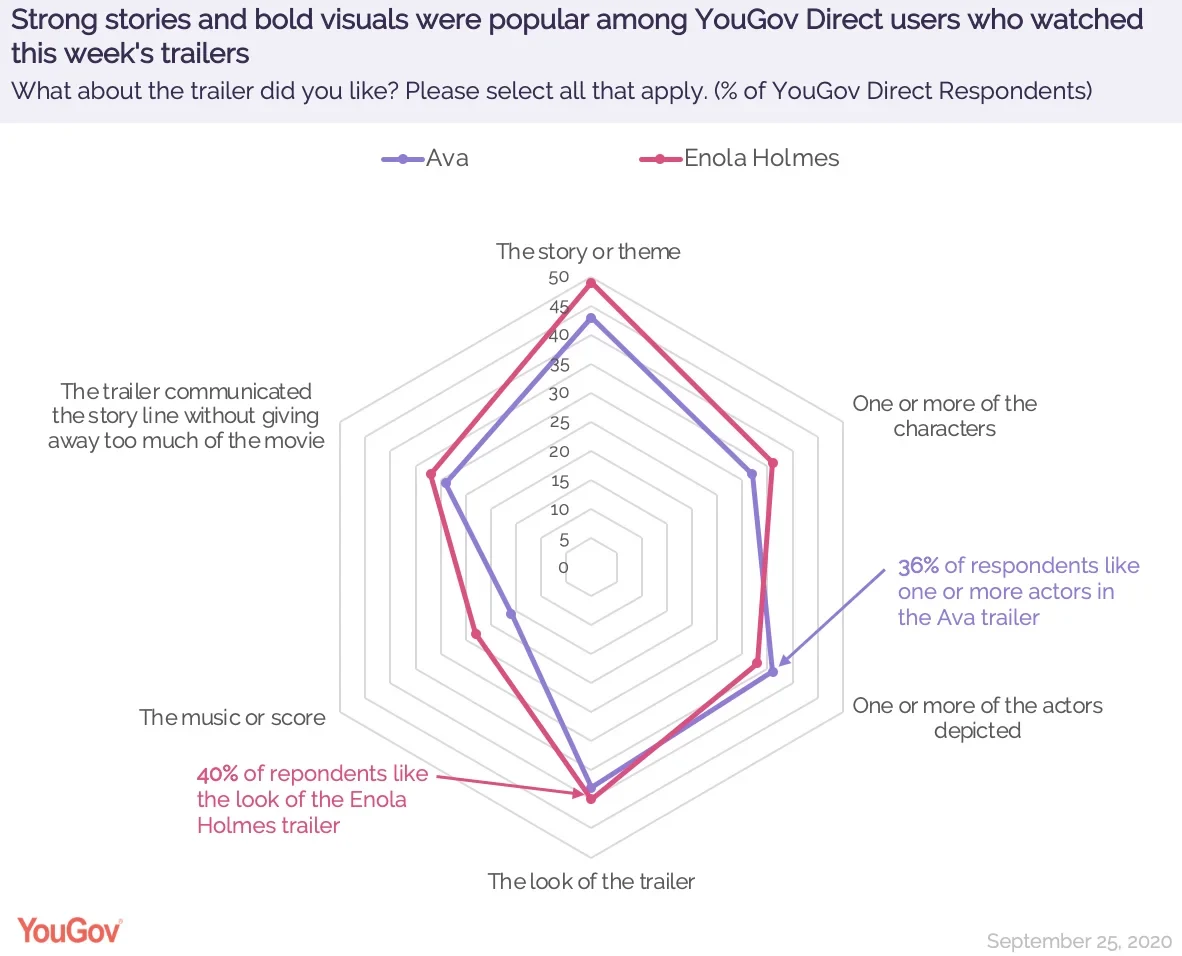 Adapted from Nancy Springer's popular Young Adult series, "Enola Holmes" tells the story of an intrepid teen who uses her sleuthing skills to outsmart big brother Sherlock and help a runaway lord. It stars "Stranger Things" breakout star Millie Bobby Brown as the eponymous hero, along with Helena Bonham Carter and Henry Cavill.
"Enola Holmes" had the highest level of pre and post trailer interest this week. Prior to seeing the trailer, 80 percent were already aware of the film and 25 percent said they were somewhat or very likely to see it. After viewing the trailer, that number increased to 46 percent. That's the highest level of post trailer interest since respondents watched the trailer for the "The Secret Garden."
Perhaps unsurprisingly, the trailer had a particular appeal to female audiences: over half of female YouGov Direct users who viewed the trailer said they were likely to see this feminist flick (55%) -- compared with 36 percent of men.
Viewers appeared to be drawn on to the movie's fiery feminist take on Arthur Conan Doyle's beloved Sherlock Holmes series. Nearly half of all respondents said they liked the trailer's unique 'story or theme' best and a further 36 percent named 'one or more of the characters' as the thing that stood out the most.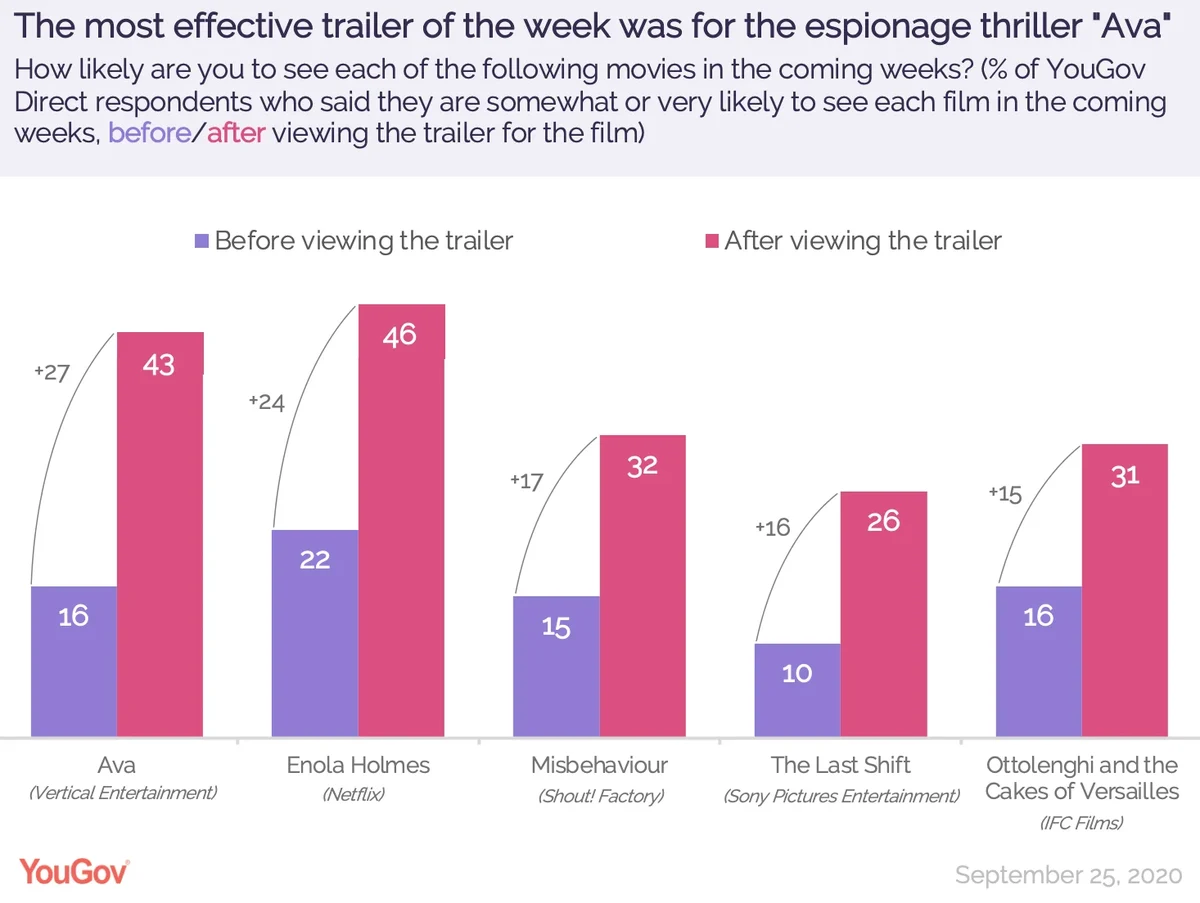 The trailer for "Enola Holmes" was the most effective at persuading people to consider subscribing to the streaming service that hosts it. There was an increase of 3 percentage points in intent to subscribe to Netflix after users watched the trailer, once again the highest increase this week.
YouGov Direct also offers users the opportunity to learn more about a film after watching the trailer. "Enola Holmes" had a click through rate of 11 percent, 2 percentage points higher than the click through rate for "Ava" (9%).
Related:
Methodology: Data is based on 4,000 interviews, including a minimum of 400 responses for each movie trailer tested. Surveys were conducted online on September 24, 2020.
Image: Getty