The trailer of "Vampire vs. the Bronx" slayed the competition in YouGov's weekly trailer survey. This new Netflix film follows a group of teenagers who are forced to protect their neighborhood in the Bronx when a gathering of vampires invades.
Each week YouGov Direct surveys investigate how effective movie trailers are in persuading people to consider seeing a film, what they think about the content of the trailer, and how good or bad they expect the movie to be. Thousands of people provide immediate feedback on movie trailers using the YouGov Direct platform.
"Vampire vs. the Bronx" has the most effective trailer of the week. Prior to seeing the trailer, 14% of YouGov Direct users said they were somewhat or very likely to see this teen comedy horror. Post-trailer, that number rose to 34%.
Gore hounds were more enthusiastic about the film than comedy lovers. Of those who said they were fans of the horror genre, over a third said they were likely to watch the film post trailer (35%). That figure was 23% for comedy film fans.
The film's fresh take on vampire cliches appears to be a big draw for viewers. When we asked YouGov Direct users what they liked best about the trailer, nearly a third said it was the trailer's unusual story or theme.
But not everyone was won over by the preview. A quarter of users (27%) of users said they 'didn't like anything about the trailer'.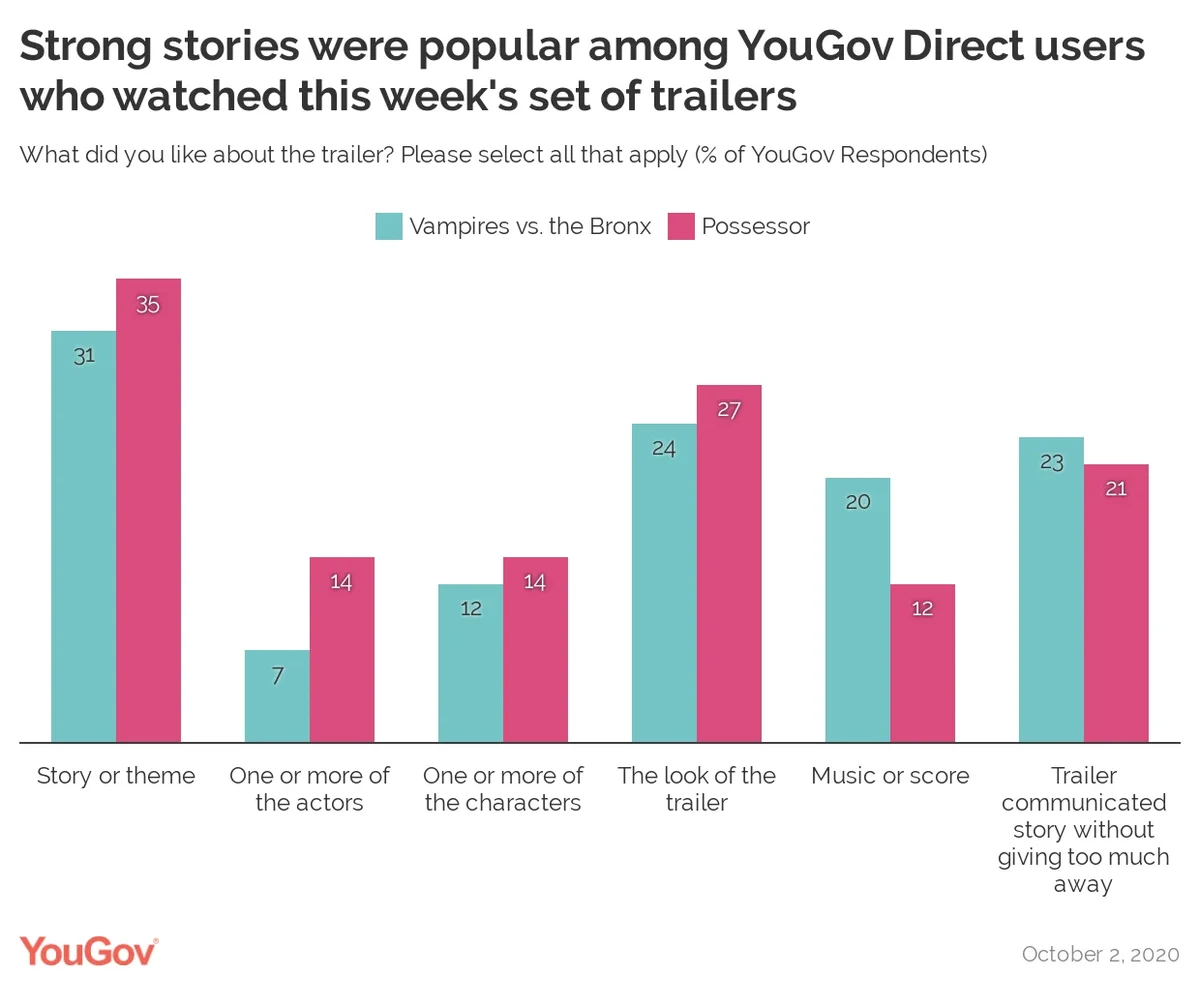 YouGov Direct also asks respondents to tell us how good or bad they think a movie will be, based on the trailer. "Vampires vs. the Bronx" received a 3.0 out of a possible 5.0, lower than the median score of 3.5 for all movie trailers tested to date.
This week also saw users respond to the trailer for sci-fi horror movie "Possessor". From Canadian director Brandon Cronenberg, son of renowned horror filmmaker David Cronenberg, the flick is a disturbing tale of technological overreach. "Possessor" follows an elite assassin who uses brain-implant technology to inhabit other people's bodies.
Before viewing the trailer, 10% of respondents said they were very likely or somewhat likely to see this terrifying movie. After watching the trailer, that number rose to 26%.
The trailer for this Andrea Risebourgh led sci-fi appealed somewhat more to female viewers. 30% of female YouGov Direct users who watched the trailer said they were likely to see this movie -- compared with 22% of male users.
Viewers rated the Possessor trailer similarly to Vampires vs. the Bronx, scoring it a 3.1 out of 5.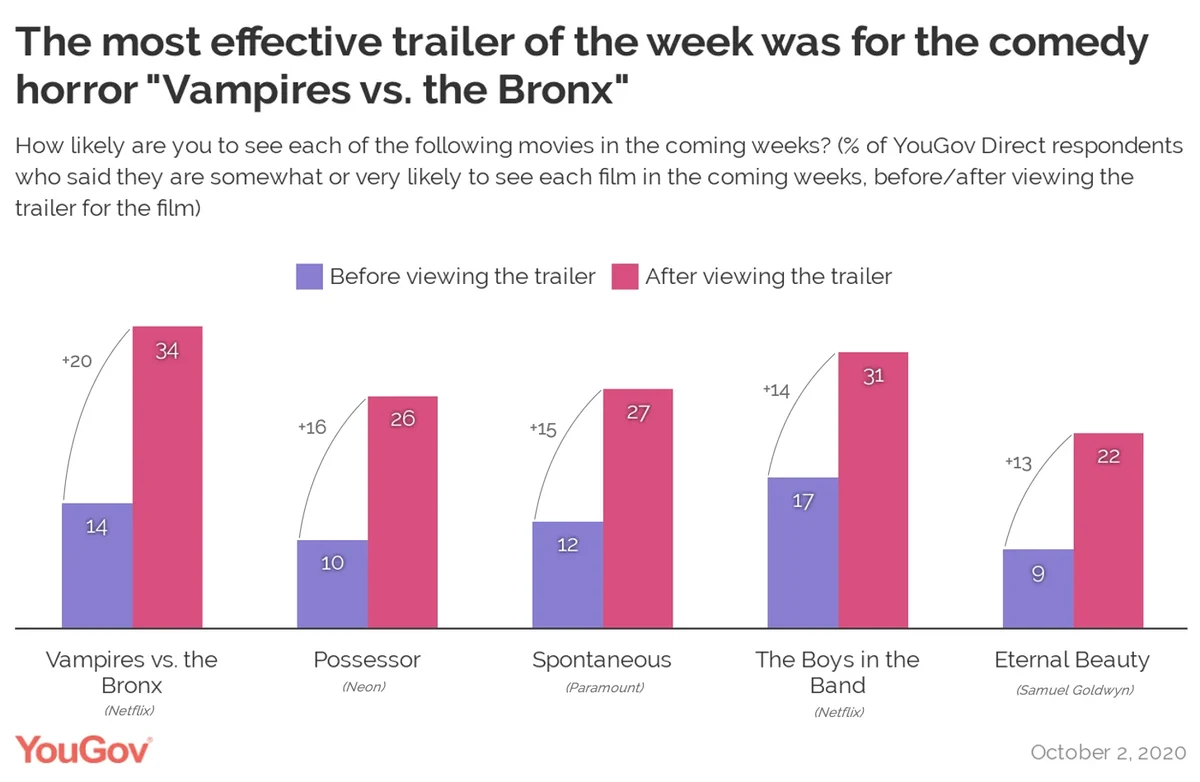 YouGov Direct also offers users the opportunity to learn more about a film after watching the trailer. "Possessor" had the highest click through rate for all cinematic releases this week with (3.2%). This is compared to an average click through rate of 1.6% for all trailers tested to date.
However, despite this high level of interest, the trailer for "Possessor" was not enough to convince viewers to see the film in a brick and mortar movie theatre. Of those who said they were likely to see the film, just 19% said they would prefer to see it in theaters (34%). The other four fifths would rather skip the cinematic experience and watch it via streaming or download services at a later date (81%).
Related:
Image: Getty
Methodology: Data is based on 4,000 interviews, including a minimum of 400 responses for each movie trailer tested. Surveys were conducted online on October 1, 2020.