Netflix's gothic romance "Rebecca" captured the hearts (and the attention) of viewers this week.

Each week YouGov Direct surveys investigate how effective movie trailers are in persuading people to consider seeing a film, what they think about the content of the trailer, and how good or bad they expect the movie to be. Thousands of people provide immediate feedback on movie trailers using the YouGov Direct platform.
"Rebecca," based on a 1938 novel of the same name, has the most effective trailer of the week. Prior to seeing the trailer, 21% of YouGov Direct users said they were very or somewhat likely to see this British thriller. Post-trailer, that number rose to 44% - a lift of 24 points, the highest this week.
Of those who said they were fans of the horror genre, most (58%) said they were likely to watch the film post trailer.
The film follows a young newlywed who moves into her husband's home and finds herself unsettled by the shadow of her husband's dead first wife. The storyline appears to be a big draw for viewers. When we asked YouGov Direct users what they liked best about the trailer, two in five (40%) said it was the trailer's story or theme.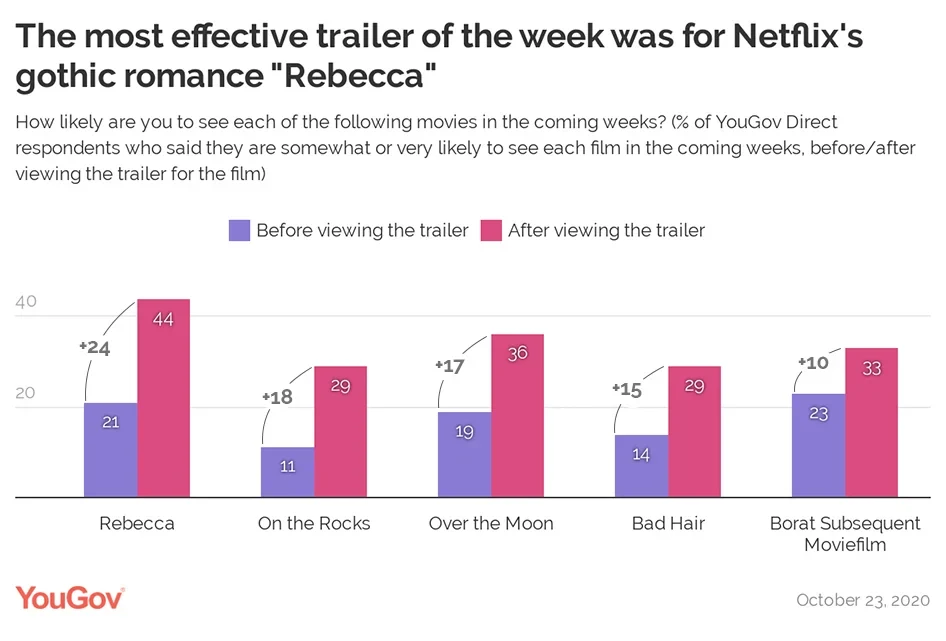 Two other popular wide-release films this week were On the Rocks and Over the Moon.
On the Rocks stars Rashida Jones as a young mother who reconnects with her father, played by Bill Murray, as she questions the stability of her marriage.
Before viewing the trailer, 11% of respondents said they were interested in watching this heartfelt comedy. Post-trailer, that number rose to 29%.
Bill Murray is likely a big draw. About four in 10 (42%) of viewers said they liked "one or more of the actors" in this movie.
An animated offering also piqued the interest of viewers this week. Over the Moon follows an intrepid girl as she builds a rocket ship in hopes of meeting a mythical goddess on the moon.
Prior to seeing the trailer, 19% of YouGov Direct users were interested in seeing this animated adventure. After watching the trailer, more than one-third (36%) said they were interested.
Lastly, "Borat Subsequent Moviefilm," the sequel to the 2006 film "Borat" is debuting this week. Already, there's been much news coverage over a certain moment in the film featuring former New York City mayor Rudy Guiliani.
Even before seeing the trailer, about one-quarter (23%) of respondents said they planned to see the film. Post-trailer, one-third (33%) said they would likely see the movie.
Related:
Image: Getty
Methodology: Data is based on 4,000 interviews, including a minimum of 400 responses for each movie trailer tested. Surveys were conducted online on October 23, 2020.