Looking for something spooky to watch this Halloween? The two top-performing films in YouGov's weekly trailer survey are sure to make your October the scariest one yet.
Each week YouGov Direct investigates how effective a collection of movie trailers are in persuading people to consider seeing a film, what they think about the content of the trailer, and how good or bad they expect the movie to be. Thousands of people provide immediate feedback on movie trailers using the YouGov Direct platform.
The most effective trailer of the week belonged to Netflix's new horror film "His House". The flick follows a refugee couple as they struggle to adjust to their new life in an English town that has an evil presence lurking beneath the surface.
Prior to seeing the trailer, 11% of YouGov Direct respondents said they were likely to see this Netflix chiller. But after viewing the trailer on the YouGov Direct app, 37% said they were now likely to see it.
So what made "His House" the most effective trailer of the week? A third of respondents liked that the trailer kept its cards close to its chest, saying that it 'communicated the storyline without giving away too much of the plot' (33%). A further 34% of respondents enjoyed the film's new take on the classic haunted house theme.
"The Craft: Legacy" also cast a spell over viewers this week. This supernatural teen drama takes up where the much-loved 1996 cult-classic left off, following an eclectic foursome of aspiring teenage witches who get more than they bargained for when they lean into their newfound powers.
While the trailer for "The Craft: Legacy" was not quite as effective as the trailer for "His House", it was the most popular overall with respondents. Before viewing the trailer, 17% of respondents said they were likely to see this occult reboot. After watching the trailer, that number jumped to more than two in five (42%).
This woke witchcraft sequel held a particular appeal to Millennial and Gen Z audiences. Over half of respondents aged between 18-38 said they were somewhat or very likely to see the flick post-trailer (51%).
YouGov Direct also offers members the opportunity to learn more about a film after watching the trailer and "The Craft: Legacy" had the highest click-through rate of any movie being released on streaming and video-on-demand services this week (13.1%). This is compared to an average click-through rate of 7.9% for all trailers tested to date. The second highest click through rate belonged to Netflix film "Holidate" (10.2%).
When we asked users to tell us what they like best about the trailer for "The Craft: Legacy", more than two in five (41%) said it was the film's supernatural 'story or theme'. Another 28% said they like the visual look of this wicca'd movie.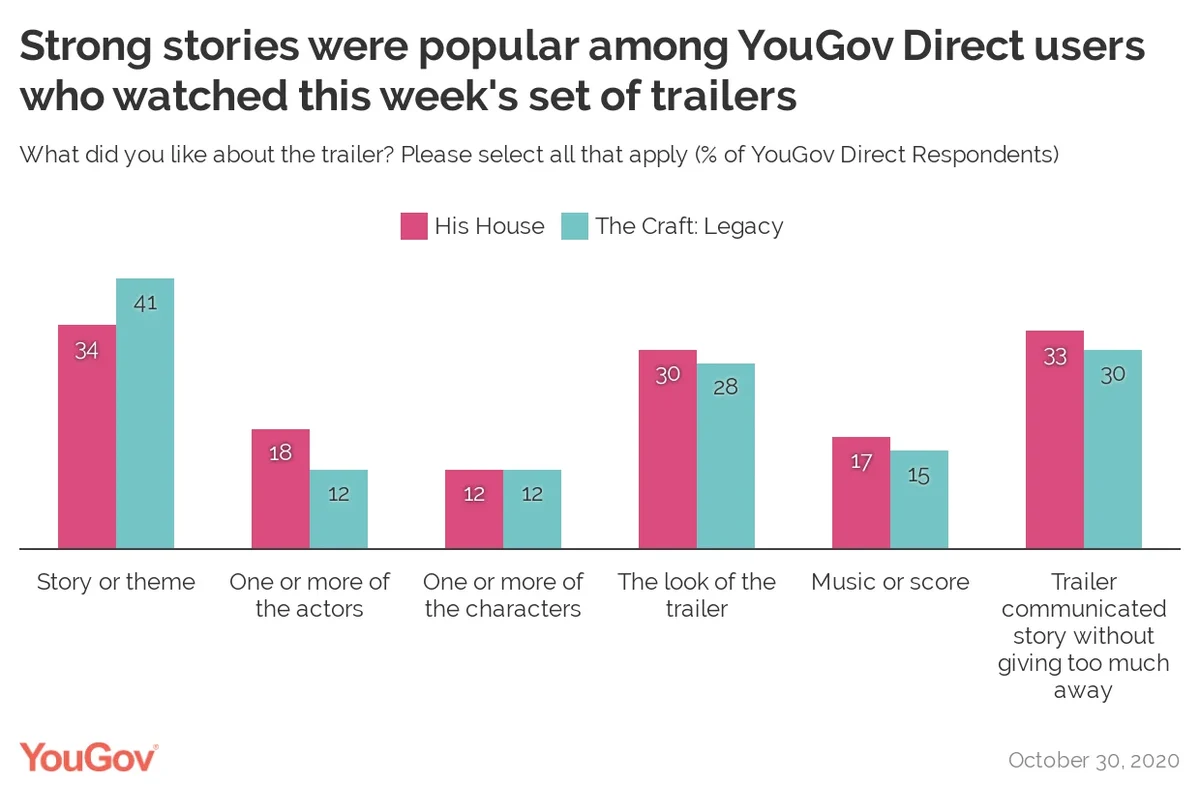 YouGov Direct asks respondents to tell us how good or bad they think a movie will be, based on the trailer. Of all the trailers we tested this week, it was the documentary "The Donut King" that came out on top with a score of 3.6 out of a possible 5.0. This is compared to a median score of 3.5 for all trailers tested to date.
This week's two most effective films fared less well. Members awarded "His House" a score of 3.4 and "The Craft: Legacy" 3.3, both lower than the median score.
Related:
Image: Getty
Methodology: Data is based on 4,000 interviews, including a minimum of 400 responses for each movie trailer tested. Surveys were conducted online on October 29, 2020.