Looking for an escape from election-related stress? The top performing film in YouGov's weekly trailer survey might not be the one to put you at ease.
"The Informer" is a nail biting thriller about an undercover ex-con who must intentionally incarcerate himself in order to infiltrate the mob at a maximum security prison.
Each week YouGov Direct investigates how effective a collection of movie trailers are in persuading people to consider seeing a film, what they think about the content of the trailer, and how good or bad they expect the movie to be. Thousands of people provide immediate feedback on movie trailers using the YouGov Direct platform.
Not only did "The Informer" have the most effective trailer of the week, it was also the most popular with respondents. Before viewing the trailer, just 9% of respondents said they were likely to see this tale of duplicitous cops and dangerous drug deals. After watching the trailer, that number jumped to more than two in five (46%).
Crime film enthusiasts were particularly hyped for the film's release. Of those who identified as fans of the genre, almost six in ten said they were likely to see this movie after viewing the trailer (59%).
So what set the trailer for "The Informer" apart from the competition this week? More than a third of viewers liked that the trailer refrained from giving too much of the movie's plot away (37%). A further 39% said they enjoyed the gritty look of this prison drama.
YouGov Direct also offers members the opportunity to look at viewing options in their area through Fandango. "The Informer" had the highest click through for any of the cinematic releases this week, with a rate of 5.1% percent. This compares to a benchmark of 1.7% percent for all trailers tested on the platform to date.
But despite this high level of interest, the trailer for "The Informer" was unable to persuade viewers away from the comforts of watching a film from home. Of those who said they were likely to see the film, just 18% said they would prefer to see it in movie theaters. The other four-fifths would rather skip the cinematic experience and watch it via streaming or download services at a later date (82%).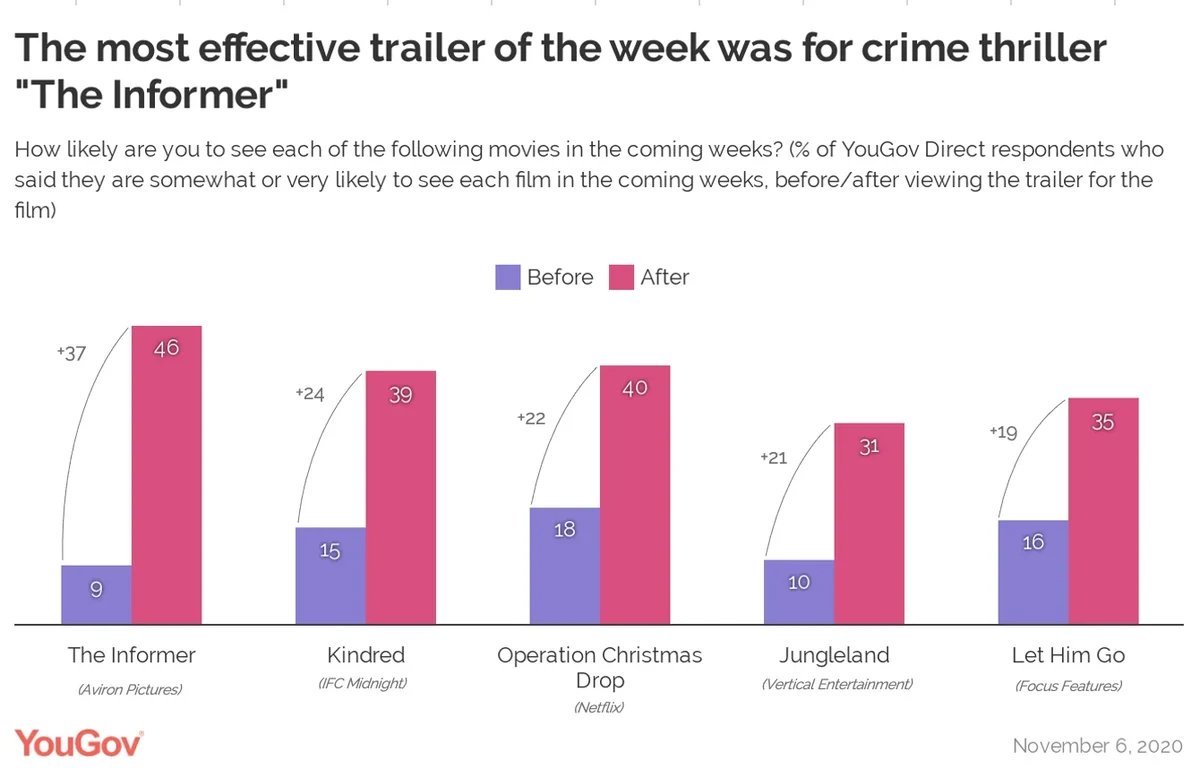 Also catching viewers' attention this week was IFC Midnight's latest video-on-demand offering, "Kindred". This psychological horror follows an expectant mother as she begins to suspect that the family of her deceased boyfriend has nefarious intentions towards her unborn child.
Prior to seeing the trailer, 15% of YouGov Direct respondents said they were likely to see this British chiller. After viewing the trailer, respondents were frightfully more enthusiastic about the film, with 39% saying they were now likely to see it.
Perhaps unsurprisingly, this maternal chiller had a particular appeal to female audiences: nearly half of female YouGov Direct users who viewed the trailer said they were likely to see this female-led flick (48%) -- compared with 31% percent of men.
Not everyone, however, was on board with this indie horror. When we asked what viewers enjoyed best about the trailer, 23% said 'I didn't like anything about the trailer'.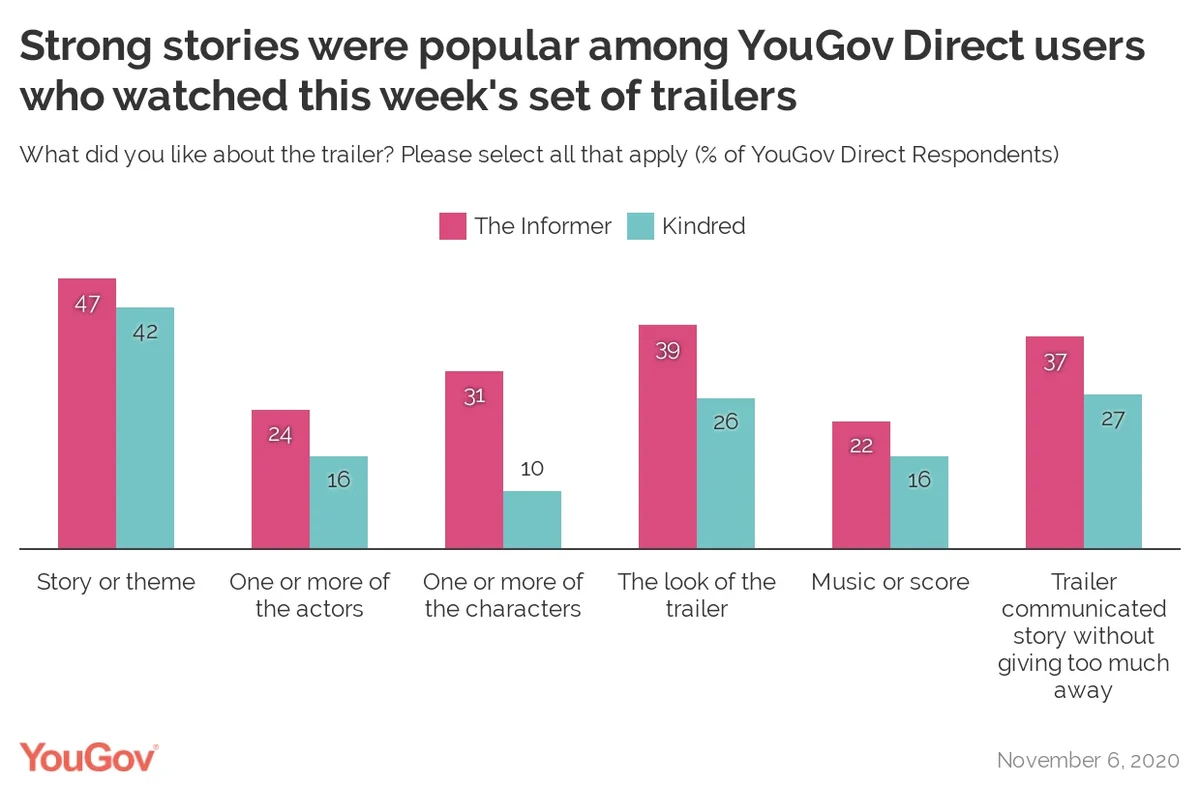 YouGov Direct asks respondents to tell us how good or bad they think a movie will be, based on the trailer. Of all the trailers we tested this week, viewers awarded the highest score to neo-western drama "Let Him Go", starring Kevin Costner and Diane Lane. Despite having the least effective trailer of the week, "Let Him Go" received a score of 3.8 out of a possible 5.0. This is compared to a median score of 3.5 for all trailers tested to date.
Viewers gave "The Informer" a score of 3.7 and "Kindred" 3.5.
Related:
Image: Getty
Methodology: Data is based on 4,000 interviews, including a minimum of 400 responses for each movie trailer tested. Surveys were conducted online on November 5, 2020.