It may be mid-November, but the holiday spirit is already taking over our screens. This week, the festive Netflix musical "Jingle Jangle: A Christmas Journey" was the most popular with YouGov Direct users who took part in YouGov's weekly trailer survey.
Each week YouGov Direct investigates how effective a collection of movie trailers are in persuading people to consider seeing a film, what they think about the content of the trailer, and how good or bad they expect the movie to be. Thousands of people provide immediate feedback on movie trailers using the YouGov Direct platform.
"Jingle Jangle: A Christmas Journey" tells the story of a once-joyful toymaker who finds new hope when his kind and curious granddaughter comes into his life. It stars Forest Whitaker, Keegan-Michael Key and Anika Noni Rose.
This festive family film was the most anticipated movie of the week and the most popular with respondents both before and after viewing the trailer. Of those who took the survey, 79% were already aware of the film and 23% said they were already likely to see the movie before watching the trailer. That number rose to 42% post trailer.
The trailer was a particular hit with female audiences: more than half of female YouGov Direct users who viewed the trailer said they were likely to see this holiday flick (56%) -- compared with 35% percent of men.
The trailer for "Jingle Jangle: A Christmas Journey" was also the most effective at persuading people to consider subscribing to the streaming service that hosts it. There was an increase of 3 percentage points in intent to subscribe to Netflix after users watched the trailer, the highest increase this week.
So what made "Jingle Jangle: A Christmas Journey" stand out from the crowd? About two in five viewers said the colourful victorian-era visuals were their favorite part of the trailer (42%). A further 38% said it was the festive music that drew them in.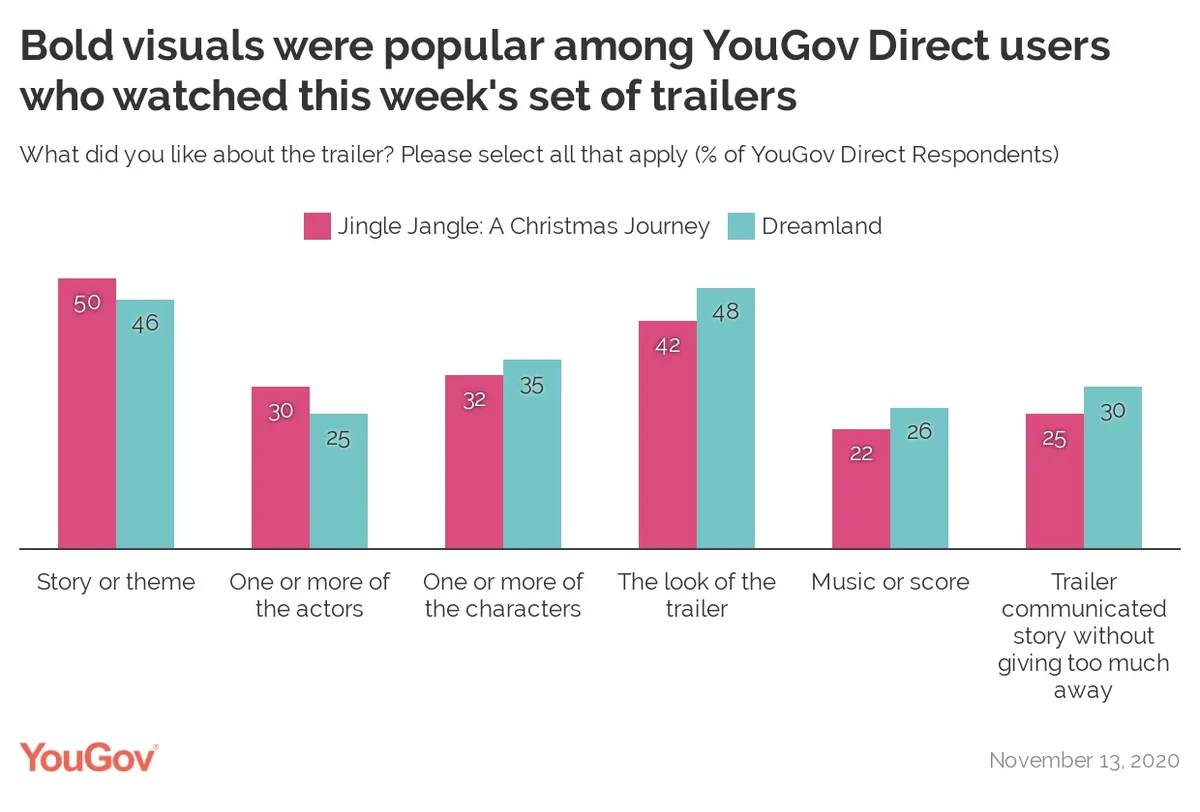 The other trailer turning heads this week was for the romantic drama "Dreamland". This Depression-era film tells the story of a teenage bounty hunter torn between helping or capturing a seductive bank robber hiding in his small Texas town.
"Dreamland", which heads to a select number cinemas this weekend, was the least anticipated film of the week. More than two in five (44%) respondents said they had not heard anything about this film at the start of the survey.
But despite this, the trailer for "Dreamland" was the most effective at persuading viewers to consider seeing a film. Before watching the trailer, just 12% of YouGov Direct users said they were somewhat or very likely to watch this outlaw romance. After users viewed the trailer, that number increased to 38% percent.
What made it such an effective trailer? Australian actress Margot Robbie appears to have been a big draw for viewers. When we asked them what they enjoyed most about the trailer nearly a third said it was 'one or more of the actors depicted'. Robbie also holds a 43% positive approval rating on YouGov profiles.
Margot Robbie, however, was not enough to draw viewers into cinemas. Of those who said they were likely to see the film, just one in five said they would prefer to see it in movie theaters (21%). The other 79% said they would rather skip the trip and watch it via streaming or download services at a later date (70%).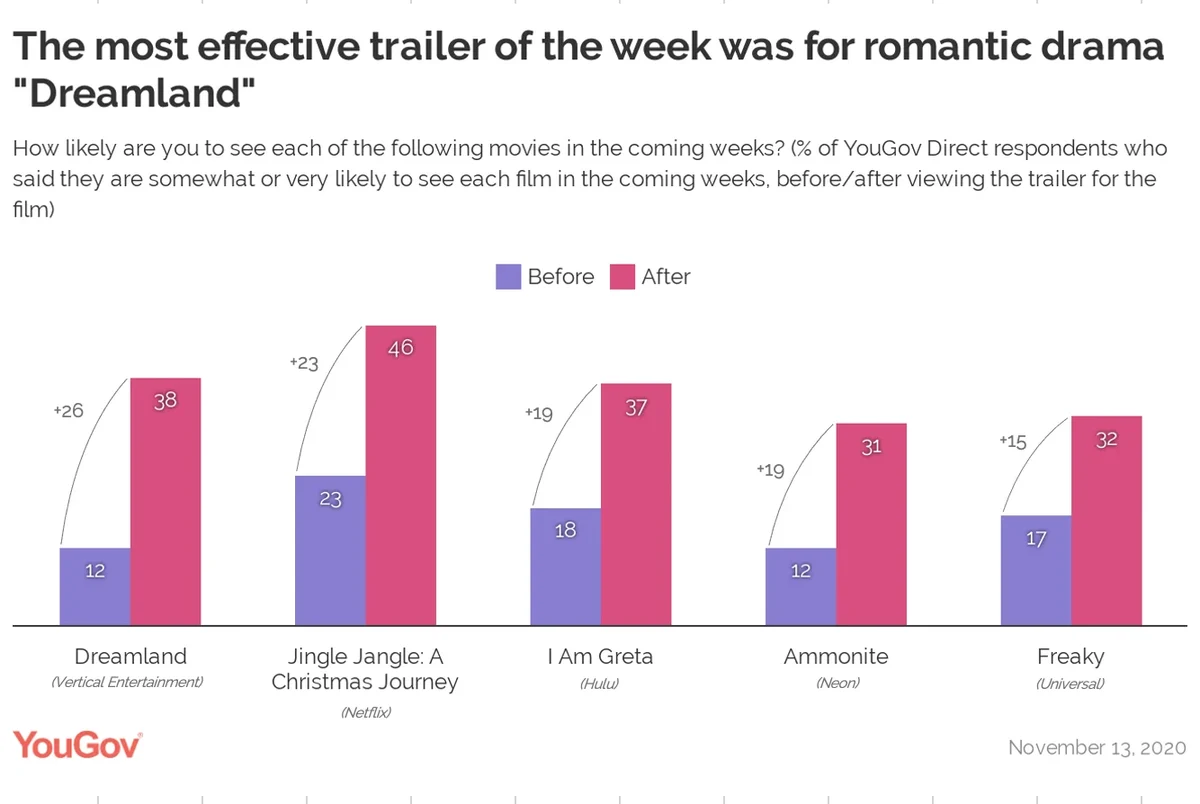 YouGov Direct also asks respondents to tell us how good or bad they think a movie will be based on the trailer. Of all the trailers we tested this week, "Jingle Jangle: A Christmas Journey" came out on top with a score of 3.8 out of a possible 5.0. This is compared to a median score of 3.5 for all trailers tested to date. The second highest rating of the week went to "Dreamland" (3.7).
Related:
Image: Getty
Methodology: Data is based on 4,000 interviews, including a minimum of 400 responses for each movie trailer tested. Surveys were conducted online on November 12, 2020.