The coronavirus changed how much time people spent in front of screens over the last six months. And with winter approaching and many states reinstating restrictions, Americans will likely be stuck at home again – and living more of their lives through screens once more.

Data from YouGov shows that throughout the course of the pandemic, people of all age groups have increased time with TV, but that Americans aged 50-64-years-old are most likely to be upping their television consumption.

Increased time on Facebook is higher among people under 65, including 18-to-34-year-olds (35%) despite talk of this generation losing interest in the platform.

Those spending significantly more time on YouTube tend to be younger, male and unemployed, while people with higher education are less likely to have changed their time spent with any of these media.
So, what else makes people who are spending more time on these media channels different from the population overall? Largely, the data shows only slight differences in their interests, hobbies, values, the content they watch, the devices they use, how they shop...and all these things align with the differences expected based on their demographics.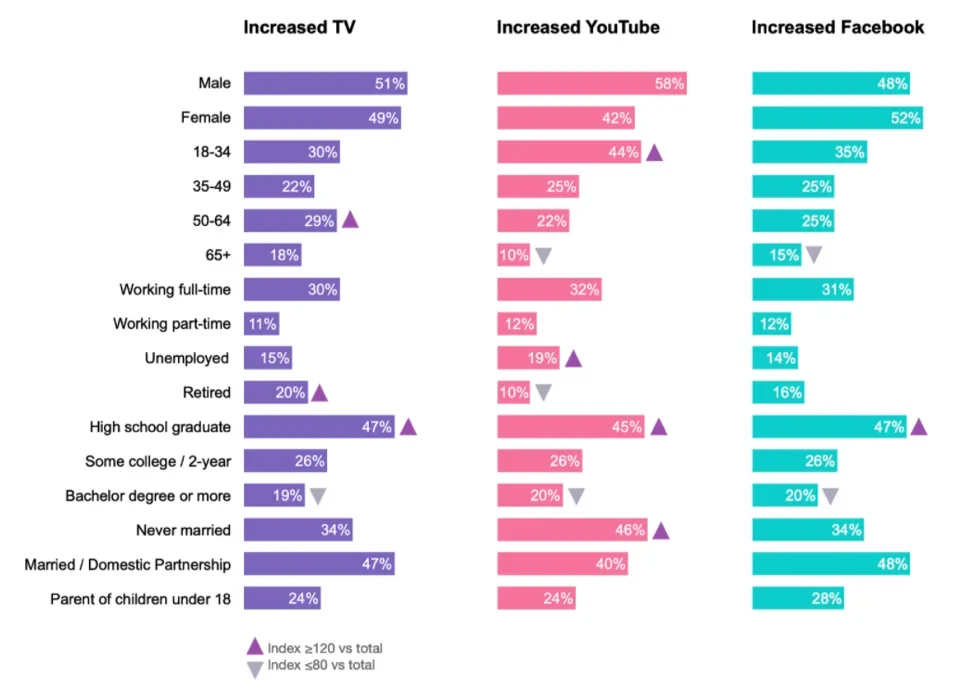 But the relationship of this group with the virus is different — they're more worried for their health and that of their family. As a result, they are eating at home more often and have made a bigger shift in their shopping from in-store to online.
They may be spending more time with media simply because they're at home more, or it may be that their worry about the virus creates a greater need for distraction (it's likely a bit of both). Either way, it's good news for marketers trying to reach an at-home audience.

Methodology: The data is based on the interviews of 13,314 US adults aged 18 and over who were asked how their media consumption has changed as a direct result of COVID-19. All interviews were conducted online between May to October 2020 and results have been weighted to be nationally representative.