Cinemas may be open across America but that doesn't mean audiences are lining up for a ticket. Of those who watched the trailer for this week's largest cinematic release - the heartrending romantic drama "All My Life" - only about one in five said they would prefer to see it in movie theaters (23%). The other 77% said they would rather skip the trip and watch it via streaming or download services at a later date.
Each week YouGov Direct investigates how effective a collection of movie trailers is in persuading people to consider seeing a film, what they think about the content of the trailer, and how good or bad they expect the movie to be. Thousands of people provide immediate feedback on movie trailers using the YouGov Direct platform.
The most effective trailer of the week was for "Billie". This James Erskine-directed documentary draws on previously unheard interview tapes to unravel the mysteries of the legendary jazz singer Billie Holiday.
"Billie" was the least well-known film going into this week's trailer competition. Before viewing the trailer, half of respondents said they had not heard anything about the movie and just 8% said they were likely to see it. After tuning into the soulful trailer, that number jumped to nearly two in five users (36%).
So what made this trailer so effective? Perhaps unsurprisingly nearly two in five users said it was the music that really stood out for them. Throughout the trailer you can hear a number of classic Billie Holiday numbers including her 1939 protest song, "Strange Fruit."
But you don't have to be a jazz fan to get excited for the documentary's release. After watching the trailer, 43% of pop music fans, 47% of classical fans and 49% of R&B fans said they were somewhat or very likely to see this movie.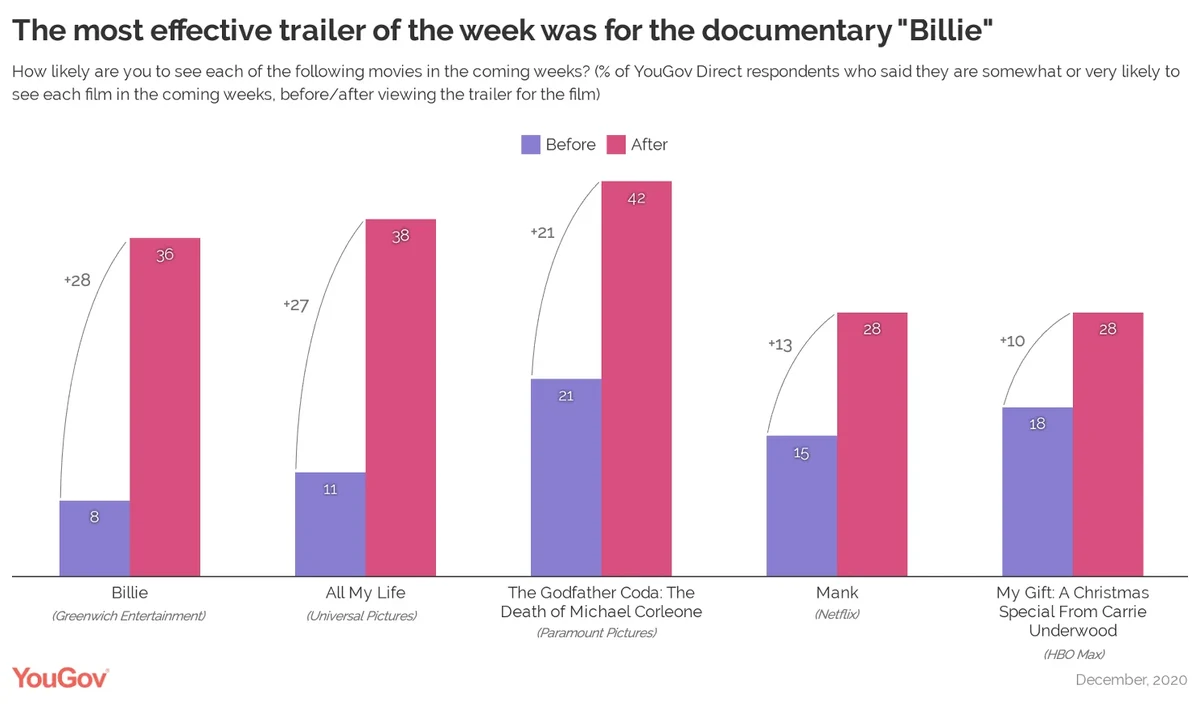 The most popular trailer of the week belongs to "The Godfather Coda: The Death of Michael Corleone".
Director Francis Ford Coppola takes another stab at the final part of his Godfather trilogy, 30 years after its initial release. For those who missed it the first time round, the movie follows mob boss Michael Corlone as he tries to bring his family's criminal empire to a close.
Prior to seeing the trailer, 21% of YouGov Direct respondents said they were likely to see this classic crime drama. After viewing the clip on the YouGov Direct App, more than two in five said they were now likely to see it (42%).
Viewers appear to be in the mood for some nostalgia. When we asked them what they liked best about the trailer, half of all respondents said it was Mario Puzo's sweeping mafia story and themes (50%). A further 42% picked 'one or more' of the film's iconic characters.
Film critics were a bit more divided about Coppola's attempt to re-edit the past. The Chicago Tribune describes it as 'a little better than the original' while UK newspaper The Times labelled it a "much sharper, more satisfying experience".
YouGov Direct offers members the opportunity to look at viewing options in their area through Fandango. "The Godfather Coda" had the highest click through for any of the cinematic releases this week, with a rate of 6.1% percent. This compares to a benchmark of 1.7% percent for all trailers tested on the platform to date.
This level of interest was not, however, enough to persuade users to consider seeing the film in cinemas. When we asked users if they would prefer to see this film in a movie theatre right away or wait a few months and watch it online, 73% chose the latter.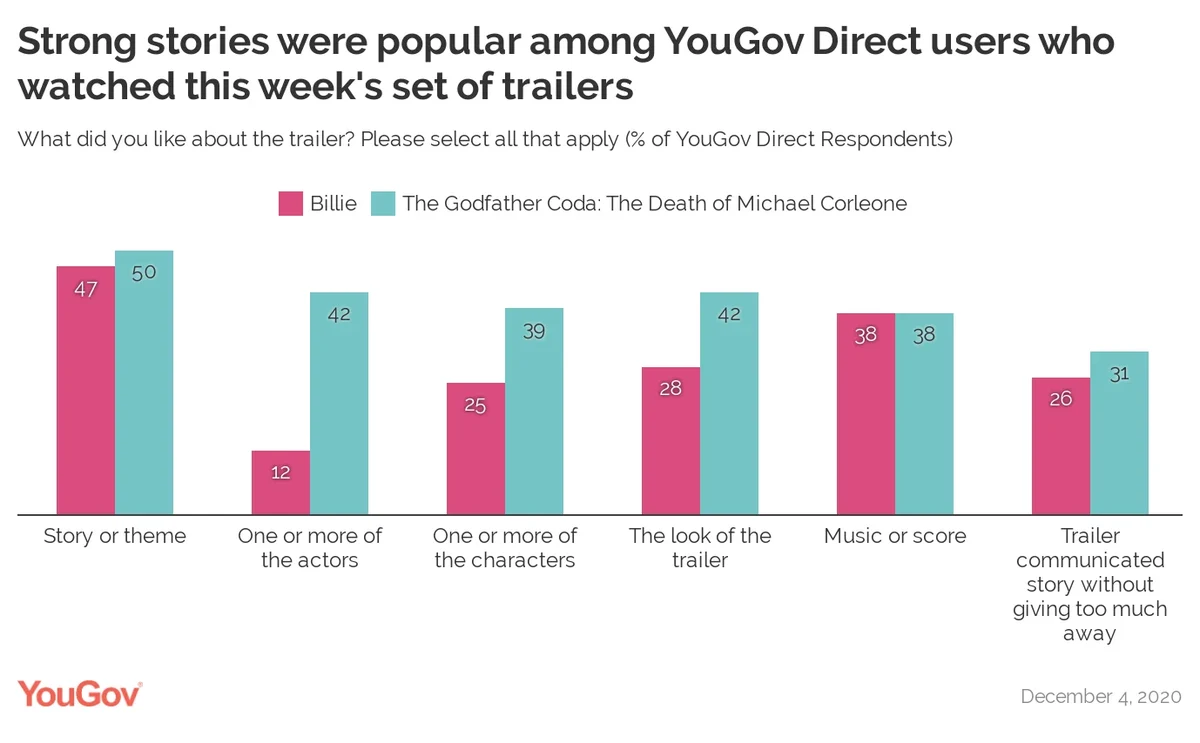 YouGov Direct also asks respondents to tell us how good or bad they think a movie will be, based on the trailer. Of all the trailers we tested this week, viewers awarded the highest score to "All My Life" (3.9). This is out of 5.0, and compared to a median score of 3.5 for all trailers tested to date. Viewers awarded Coppola's recut 3.8 and "Billie" 3.7.
Related:
Image: Getty
Methodology: Data is based on 4,000 interviews, including a minimum of 400 responses for each movie trailer tested. Surveys were conducted online on December 3, 2020.