Four streaming services will battle it out for your attention this weekend. But it's Amazon Prime Video that takes the top spot in YouGov's weekly trailer competition. Their trailer for 70s set crime thriller "I'm Your Woman" was able to ward off competition from Netflix, Disney+ and HBO Max.
Each week YouGov Direct investigates how effective a collection of movie trailers is in persuading people to consider seeing a film, what they think about the content of the trailer, and how good or bad they expect the movie to be. Thousands of people provide immediate feedback on movie trailers using the YouGov Direct platform.
"I'm Your Woman" follows a glamorous mob wife - played by "Marvelous Mrs Maisel" star Rachel Brosnahan - as she is forced on the run when her husband betrays his business partner.
The trailer for "I'm Your Woman" was the most effective this week at persuading viewers to consider seeing a film. Prior to watching the trailer, 15% of YouGov Direct respondents said they were somewhat or likely to see this crime drama. After viewing the clip on the YouGov Direct App, more than two in five said they were now likely to see it (42%).
When we asked respondents what they liked best about the trailer, more than a third said it was a visual look of this stylish 70s set drama (36%). For another 40% of respondents, it was the trailer's sharply drawn story and themes.
"I'm Your Woman" was less successful, however, at persuading viewers to consider subscribing to the streaming service that hosts it. The most successful trailer in that regard was HBO Max's latest offering "Let Them All Talk". The raucous comedy stars Meryl Streep as a writer trying to reclaim her creativity on a cruise with friends. After watching the trailer for "Let Them All Talk" there was an increase of five percentage points in intent to subscribe to HBO Max, the highest lift this week.
HBO Max has been in the headlines this week after its parent company AT&T decided to premiere Warner Bros.' entire 2021 film slate on HBO Max instead of going first to cinemas. AT&T has been facing mounting criticism from Hollywood for this bombshell decision, which it delivered without letting many of its filmmakers or production partners know ahead of time.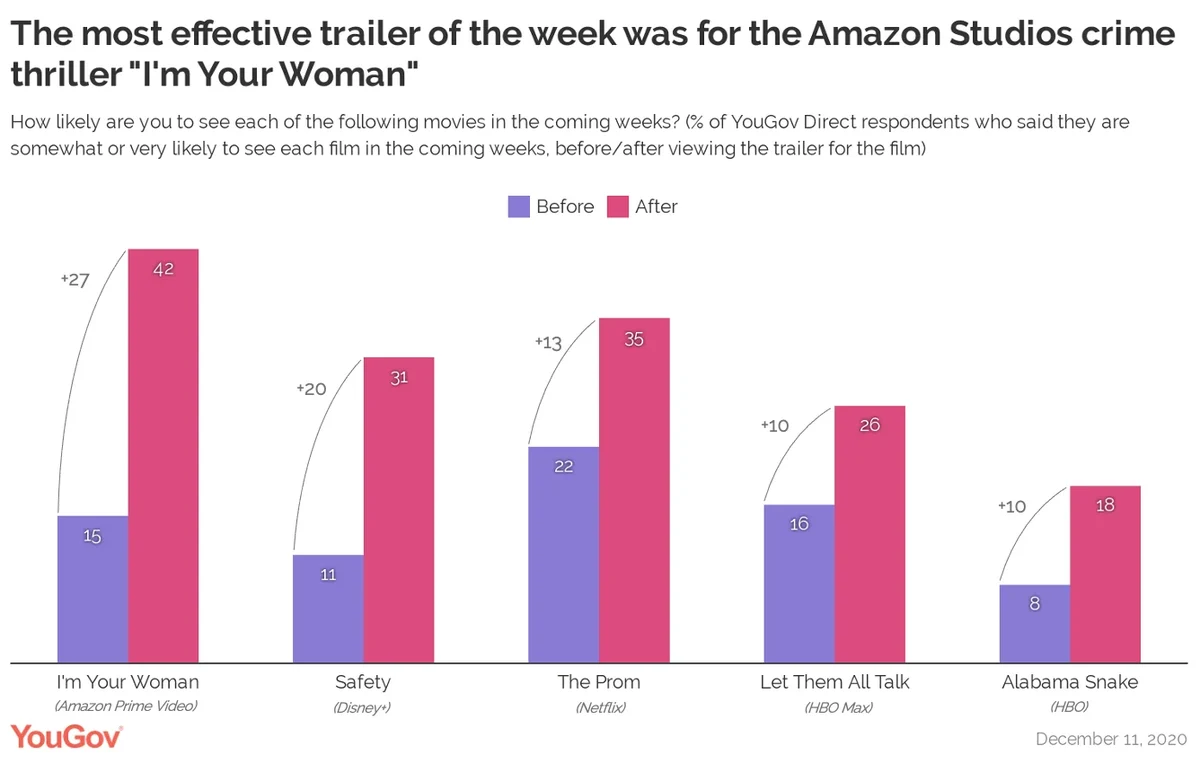 But Amazon is not the only studio turning heads this week. Get ready to cheer and cry in equal measure during "Safety", Disney's uplifting college football drama.
Based on the true story of former Clemson University player Ray McElrathbey, "Safety" follows a promising young student who puts his football scholarship on the line when he steps up to take custody of his 11-year-old little brother.
The film had the second most effective trailer of the week, following "I'm Your Woman". Before viewing the trailer, 11% of respondents said they were likely to see this heartwarming drama. After watching the trailer, that number jumped to 31%. More than half of viewers said they were drawn in by the film's moving story and powerful themes (58%).
The trailer for "Safety" unsurprisingly held a greater appeal to football fans. Of those who said the NFL was one of their top interests, more than half said they were somewhat or very likely to see this sporting drama (53%). By comparison, just 16% of respondents who indicated that they were 'not at all interested' in the NFL said they would watch the film.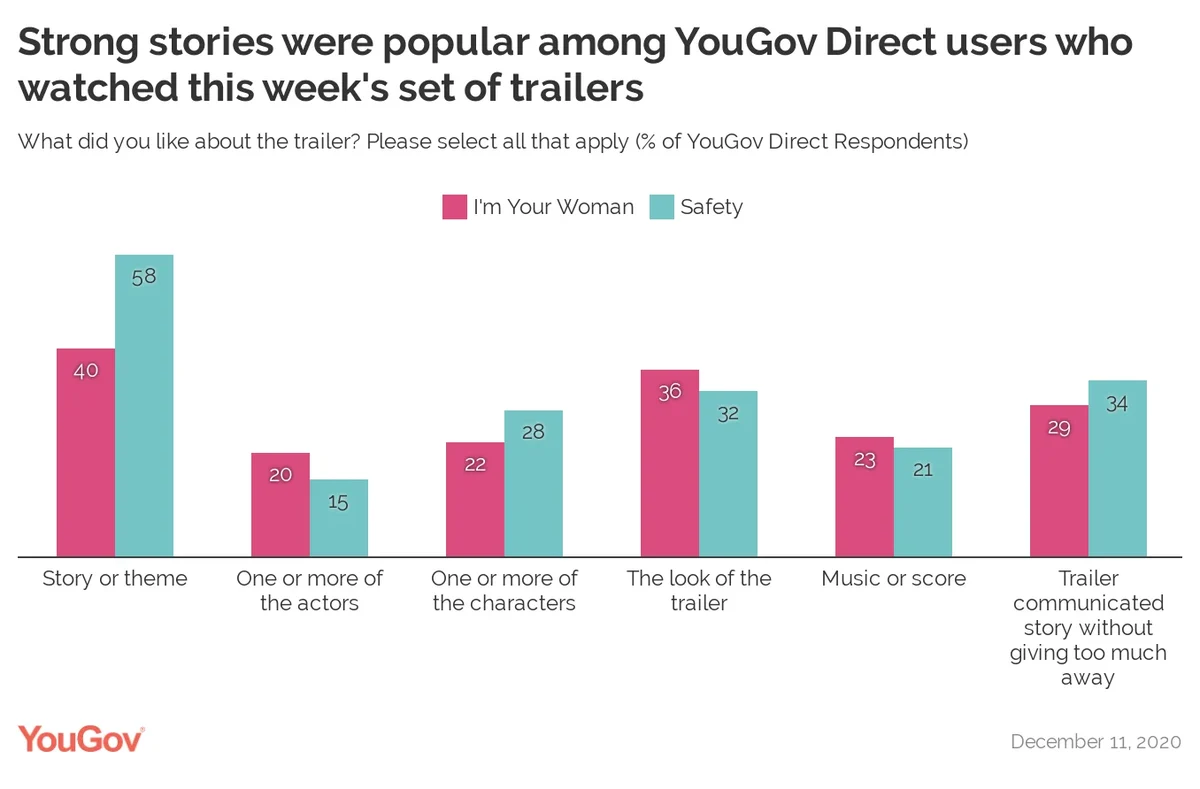 YouGov Direct also asks respondents to tell us how good or bad they think a movie will be, based on the trailer. Of all the trailers we tested this week, "Safety" came out on top with a score of 3.8 out of a possible 5.0. This is compared to a median score of 3.5 for all trailers tested to date.
The lowest rated film of the week was for HBO's "Alabama Snake", a documetnary following a Pentecostal minister accused of attempting to murder his wife with a rattlesnake. After watching the trailer, viewers awarded this dark documentary a rating of 3.2 out of 5.0. More than a third of respondents also said they 'didn't like anything' about the trailer (36%).
Related:
Image: Getty
Methodology: Data is based on 4,000 interviews, including a minimum of 400 responses for each movie trailer tested. Surveys were conducted online on December 10, 2020.