Every year without fail, the same debate is reignited on social media: is the 1988 action thriller Die Hard a Christmas movie?

While there are compelling arguments for both sides, a recent YouGov poll of 1,500 US adults finds that 44% say "Die Hard" is not a Christmas movie, while just 34% believe that it is. If you exclude the 13% of Americans who have never seen the movie, the not-a-Christmas-movie lead increases to 51% vs 39%.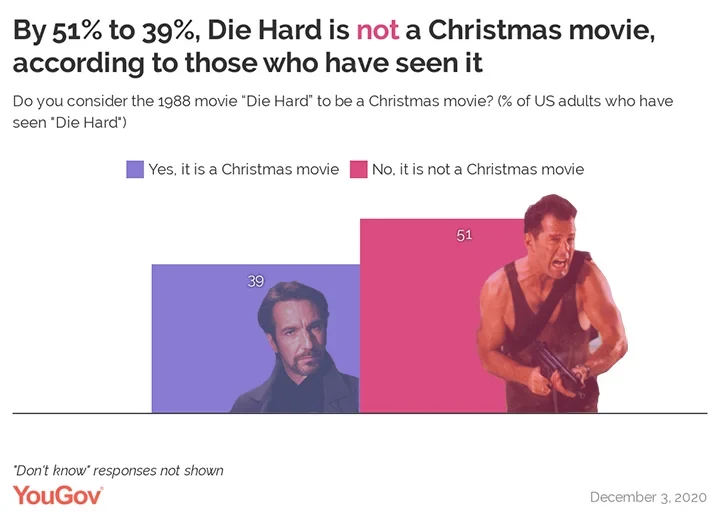 Those who are fans of action movies are evenly divided: 42% say Die Hard is a Christmas movie, 43% say it isn't.
For whatever it's worth, the star of the film, Bruce Willis has officially declared that "Die Hard" is not a Christmas movie. But don't consider the debate settled by any means. Steven de Souza, who wrote the film, has publicly said that Die Hard is indeed a Christmas movie.
See full results here.
Methodology: 1,500 US adults were surveyed through YouGov Direct on December 3, 2020. Data is weighted on age, gender, education level, political affiliation, and ethnicity to be nationally representative of adults in the United States. The margin of error is approximately 3.9% for the overall sample.
Image: Getty