Looking for a movie that will make you laugh and cry in equal measure? The winner of this week's YouGov trailer survey has got you covered.
"Our Friend" tells the inspiring true story of Nicole and Matthew Teague. Faced with Nicole's impending death, the couple's best friend Dane Faucheux offers to come and help out.
Each week YouGov Direct investigates how effective a collection of movie trailers is in persuading people to consider seeing a film, what they think about the content of the trailer, and how good or bad they expect the movie to be. Thousands of people provide immediate feedback on movie trailers using the YouGov Direct platform.
"Our Friend" was the least well-known film going into this week's trailer competition. Before viewing the trailer, about two in five (42%) respondents said they had not heard anything about the movie and just 12% said they were likely to see it. After tuning into the tear-jerking trailer, that number jumped to 43%.
The trailer for "Our Friend" appeared to resonate more with female audiences: half of all female YouGov Direct users who viewed the trailer said they were likely to see this drama (50%) -- compared with 36% of men.
So what set this trailer apart from the competition this week? The film's true-to-life plot appears to have been the biggest draw for viewers. More than half of all respondents (53%) said their favorite part of the trailer was the films' "story or themes". The comedy-drama is based on Matthew Teague's moving article "The Friend: Love Is Not A Big Enough Word".
The film's trio of earnest performances (from Jason Segal, Casey Affleck and Dakota Johnson) were also a big pull for respondents, with more than a third of users saying "one or more of the characters" (36%) stood out the most for them.
"Our Friend" was unable, however, to cash in on curiosity. YouGov Direct offers members the opportunity to look at viewing options in their area through Fandango and "Our Friend" had the lowest click-through rate for any of the cinematic releases this week, with 1.7%. This compares to a benchmark of 1.8% percent for all trailers tested on the platform to date. The highest click through rate of the week went to the neo-western drama "No Man's Land" (5.3%).
We also asked users whether they would prefer to watch the film right away in cinemas or wait several months and watch it via streaming or download services. Of those who said they were likely to see the film after watching the trailer, 83% said they would rather skip the cinematic experience and watch it at home at a later date.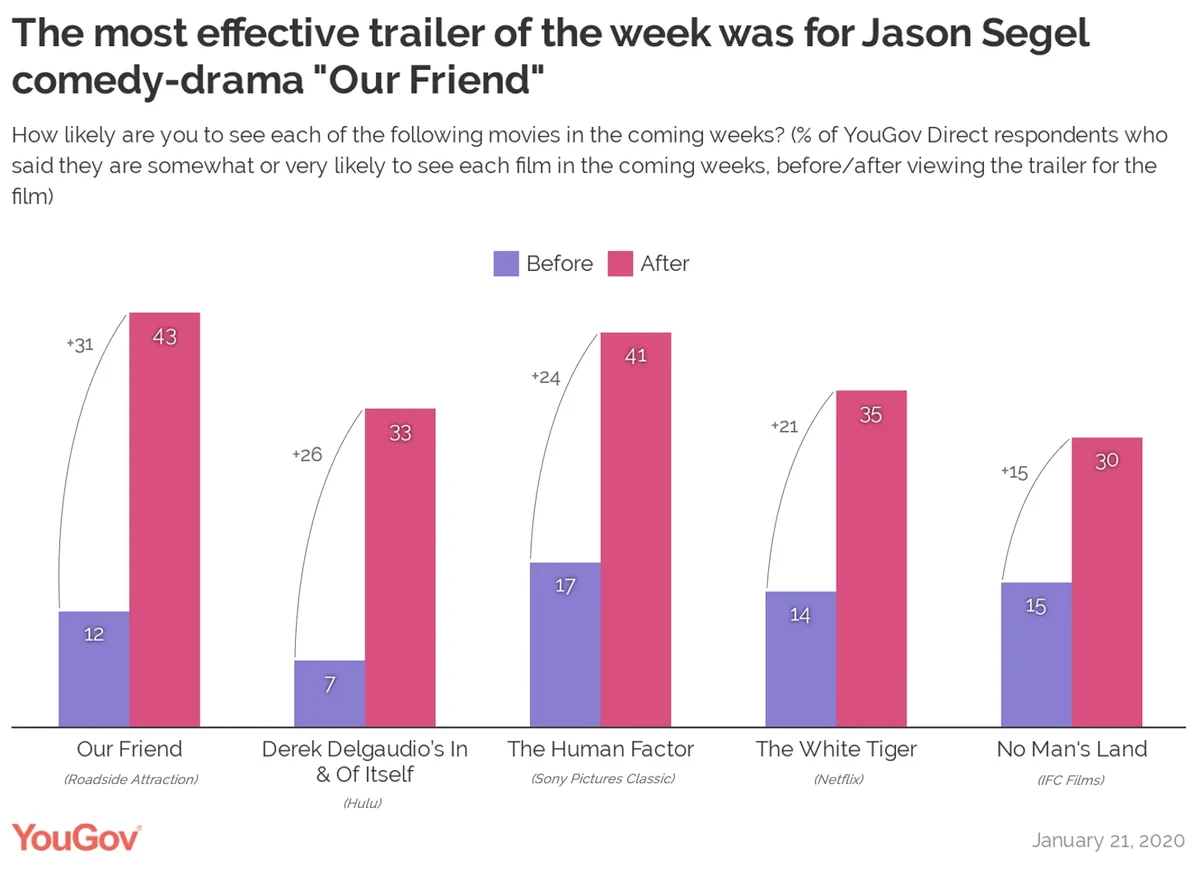 But "Our Friend" wasn't the only trailer turning heads this week. Hulu's new magic show "Derek Delgaudio's In & Of Itself" is a mesmerizing mix of tricks and autobiographical storytelling, of mentalism and metaphysics. It also has the second most effective trailer of the week.
Of all the films we tested this week "Derek Delgaudio's In & Of Itself" had the lowest level of pre trailer interest. Prior to seeing the trailer, only 7% of YouGov Direct respondents said they were somewhat or very likely to see this mind-bending recorded show (the stage version of "In & Of Itself" premiered in Los Angeles in 2016, and went on to a successful New York run between 2017-18). After viewing the clip on the YouGov Direct platform, 33% said they were now likely to see it.
The trailer for "Derek Delgaudio's In & Of Itself" was also the most effective at persuading people to consider subscribing to the streaming service that hosts it. There was an increase of two percentage points in intent to subscribe to Hulu after users watched the trailer.
The Frank Oz-directed show has been winning plaudits from film critics across the board. Writing for the Hollywood reporter, John DeFore described it as "a singular, sometimes transfixing performance film". But not everyone was a fan of this unique magic show. When we asked users what they liked best about it, more than a quarter said 'I didn't like anything about it' (26%).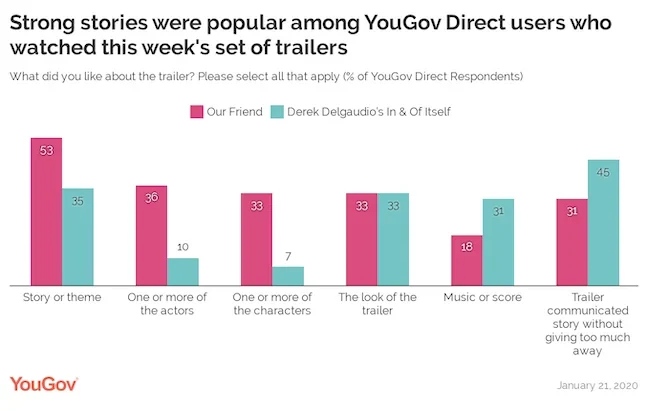 YouGov Direct also asks respondents to tell us how good or bad they think a movie will be based on the trailer. Of all the trailers we tested this week, "Our Friend" came out on top with a score of 3.9 out of a possible 5.0. This is compared to a median score of 3.5 for all trailers tested to date. Audiences awarded the lowest score of the week to "Derek Delgaudio's In & Of Itself" (3.5)
Related:
Image: Getty
Methodology: Data is based on 4,000 interviews, including a minimum of 400 responses for each movie trailer tested. Surveys were conducted online on January 20, 2021.