Need a break? This week's top performing trailer can take you to AD 2257 and a planet far far away.
Set in a world where there are no women and all living creatures can hear each other's thoughts, "Chaos Walking" follows a young man (Tom Holland) who must protect the woman (Daisy Ridley) that crash lands on his planet.
Each week YouGov Direct investigates how effective a collection of movie trailers is in persuading people to consider seeing a film, what they think about the content of the trailer, and how good or bad they expect the movie to be. Thousands of people provide immediate feedback on movie trailers using the YouGov Direct platform.
"Chaos Walking" was the least well-known film going into this week's trailer competition. Before viewing the trailer, 33% of respondents said they had not heard anything about it and just 15% said they were likely to see it. After tuning into the trailer, that number jumped to two in five users (42%).
Despite its nearly all male cast, the trailer for "Chaos Walking" had an equal impact on viewers of both genders: 41% female and 42% of male YouGov Direct viewers said they were very or somewhat likely to see the movie.
But what set this trailer apart from the crowd? The film's dingy dystopian look, crafted by cinematographer Ben Seresin and production designer Dan Weil, was a big draw for viewers. Just over two in five said it was their favorite part of the trailer (41%). A further 49% said they enjoyed the trailer's story and themes
Lionsgate may be disappointed if they were hoping to follow up the success of their previous Y.A. dystopian series, "Hunger Games", with that of "Chaos Walking". Of respondents who said they were interested in seeing the film after viewing the trailer, only a quarter (25%) would prefer to see it in movie theatres right away.
The other three quarters (75%) made it clear that they would rather skip the cinematic experience and watch it via streaming or download services at a later date.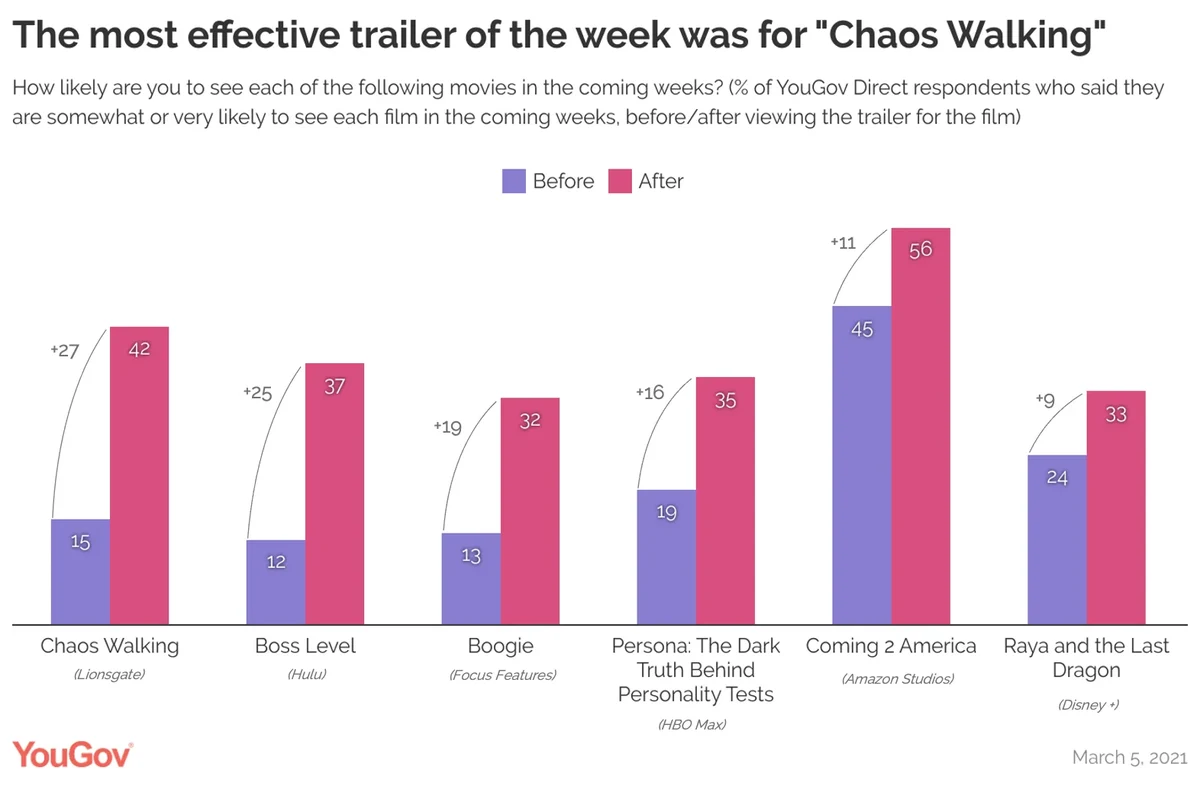 The most popular trailer of the week goes to "Coming 2 America". The highly anticipated sequel takes up Eddie Murphy's much-loved 1988 comedy left off. This time a newly-crowned King Akeem and his trusted confidante Semmi must travel from the fictitious African state of Zamunda back to Queens, in search of Akeem's illegitimate adult son.
"Coming 2 America" was the most anticipated of all the movies tested this week. Prior to watching the trailer, 92% YouGov Direct respondents were aware of the comedy sequel and 45% were already planning to see it.
But despite its popularity with viewers, "Coming 2 America" did not have a particularly effective trailer. The high energy clip was unable to persuade viewers to chance on the film. After watching the trailer, just under three in five (56%) said they were now likely to see it. That's a lift of 11 percentage points in intent, the second lowest this week.
The trailer for "Coming 2 America" was, however, the most effective at persuading people to consider subscribing to the streaming service that hosts it. There was an increase of six percentage points in intent to subscribe to Amazon Prime Video after users watched the trailer, the highest increase both this week and of all the trailers tested so far in 2021.
It's been more than 30 years since the original "Coming to America" made its movie debut and YouGov Direct users are all for some comedy nostalgia. When asked what they liked best about the trailer, more than half (54%) of respondents said it was one or more of the characters.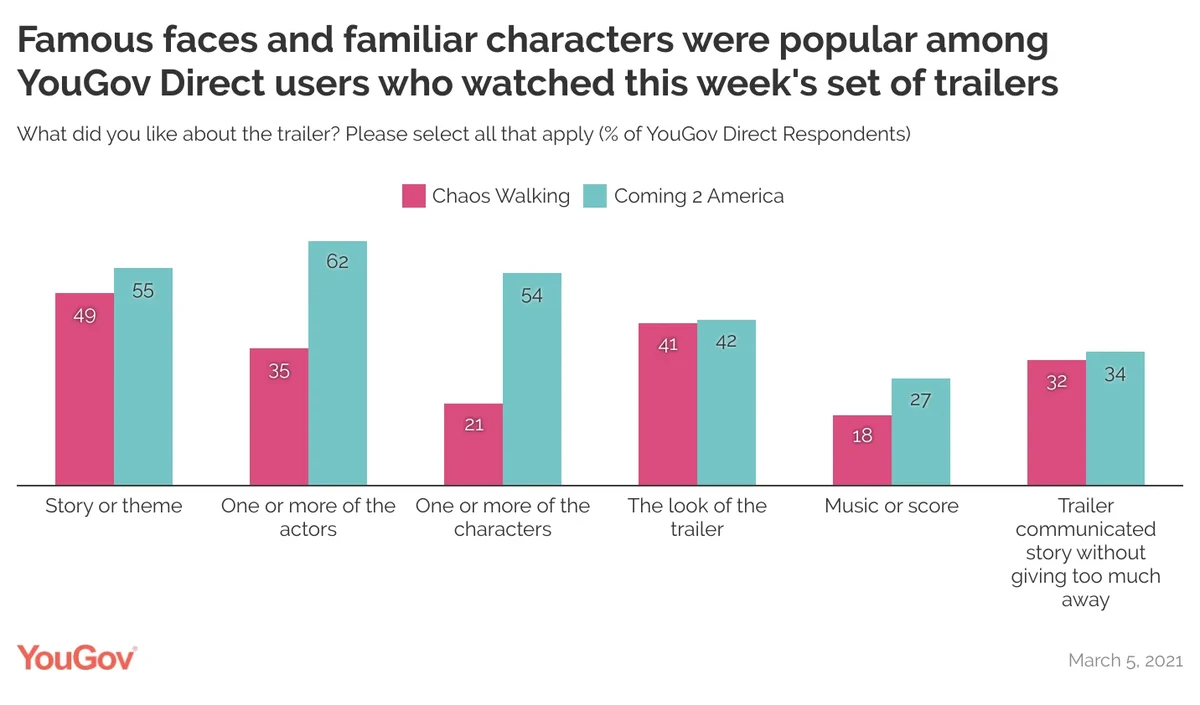 YouGov Direct also asks respondents to tell us how good or bad they think a movie will be based on the trailer. Of all the trailers we tested this week, both "Coming 2 America" and Disney's new animation "Raya and the Last Dragon" came out on top with a score of 3.9 out of a possible 5.0. This is compared to a median score of 3.5 for all trailers tested to date. Audiences awarded "Chaos Walking" a score of 3.7.
Related:
Image: Getty
Methodology: Data is based on 4,000 interviews, including a minimum of 400 responses for each movie trailer tested. Surveys were conducted online on March 4, 2021.