Swifties, rejoice: Taylor Swift is releasing a re-recorded version of her 2008 Grammy-winning album "Fearless" on Friday, and new data shows it's among her fans' favorite albums.
The "Fearless" launch is the first of six albums she is expected to re-record and sell. To mark the beginning of Swift's re-releases, YouGov asked more than 900 fans of Taylor Swift's music — Americans who say they like her music "a lot" or "somewhat" — to rate every album on a scale of 1 to 5. The average score for each album was then calculated to determine Swifties' favorite collection.
Among fans who were familiar with each album, the most-liked anthology was Red, a 2012 release which earned an average score of 4.12 out of 5. This is perhaps an unsurprising top choice — music critics have argued that Red features her greatest song, "All Too Well." The second most-liked album is her 2012 pop release, 1989, with an average rating of 4.09 out of 5. The collection of songs on 1989 includes several popular radio blasts: Blank Space and Shake It Off.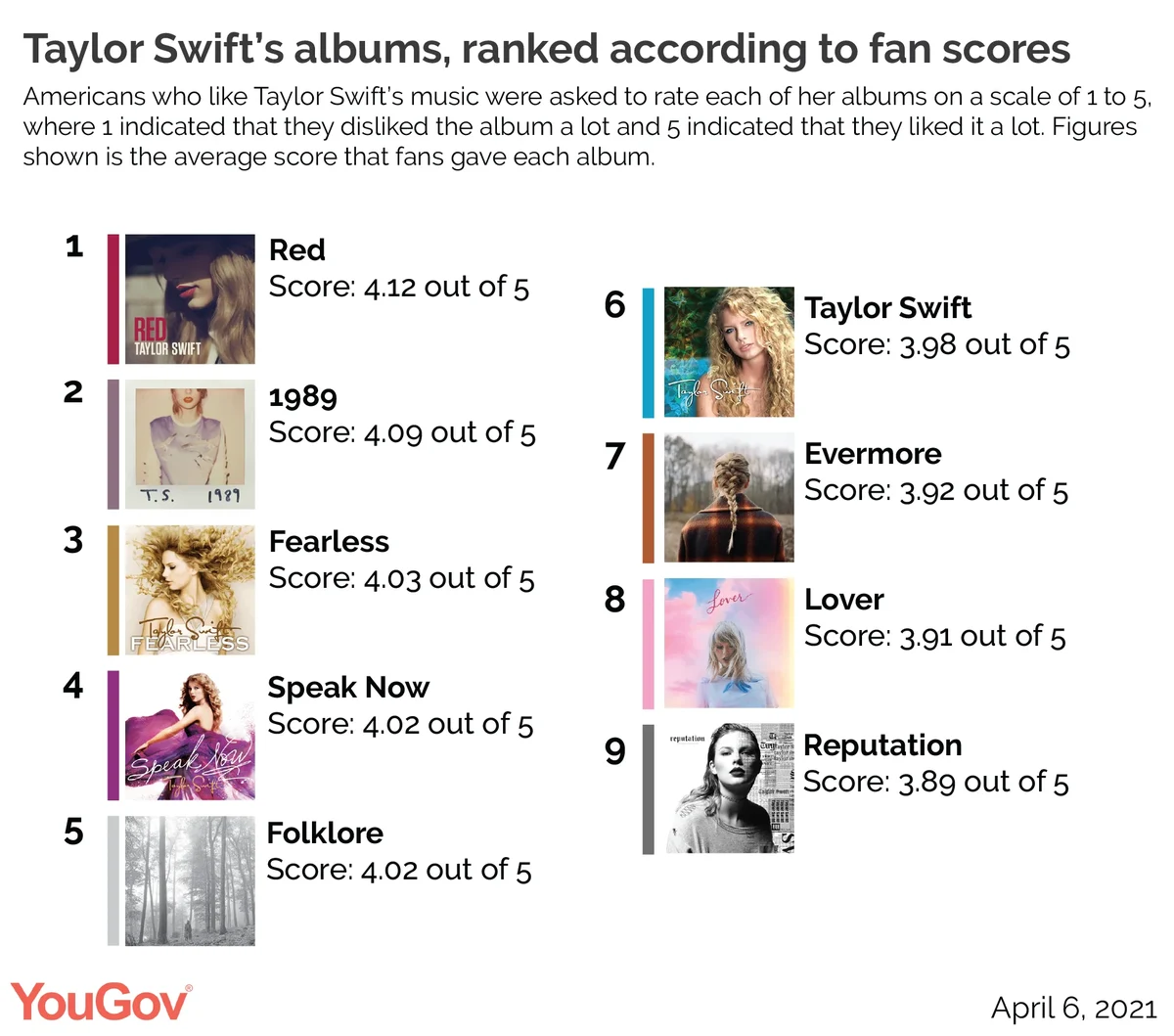 Her new re-release, Fearless, lands in third place with a score of 4.03 out of 5. The album boasts the song Love Story, which inspired several remixes and a viral TikTok dance challenge. Swift said she chose to re-record her second studio album before any other because she wanted to explore its themes of "hope, and lessons learned, and the effervescence of teenage youth."
Speak Now — where Swift addressed media attention around several celebrity ex-boyfriends as well as the infamous VMA incident with Kanye West — takes fourth place with an average score of 4.02 out of 5. One of the artist's most recent releases, Folklore, lands in fifth place by also earning a 4.02 out of 5. Its early hits include Cardigan and Mirrorball.
Her debut namesake album, Taylor Swift, earned a 3.98 out of 5 to take sixth place. The twangy 2006 release features her early successes, including Our Song and Teardrops on My Guitar. Following behind her first album is her most recent one: Evermore. The 2020 album earned a 3.92 out of 5 with its quick hits of Champagne Problems and HAIM collaboration, No Body, No Crime.
Landing in eighth place is Swift's 2019 album Lover, followed by her 2017 electropop collection, Reputation, with a score of 3.89 out of 5.
Which Taylor Swift albums are most well-known?
Even among fans of Swift's music, many have not listened to her newer albums.
About nine in 10 adults who like Taylor Swift's music have heard each of her albums, but that drops for her most recent releases: Lover (86%), Folklore (80%), and Evermore (78%).
Contact uspress@yougov.com for more information about this YouGov poll
Methodology: This YouGov Direct poll was conducted among 914 US Adults 18+ who say they like Taylor Swift's music a lot or somewhat. The survey was conducted April 6, 2021 between 2:30 p.m. EST and 2:57 pm EST. Each respondent was shown the album cover for Swift's albums and asked to rate how much they like or dislike each album on a scale of 1 to 5. A rating of 1 indicated that the respondent disliked the album a lot and a rating of 5 indicated that the respondent liked the album a lot. The mean weighted score that each album received was then calculated, so responses of "Don't know" or "NA – I have not heard this album" were not used in the rating.
Image: Getty