I'll be there for you - unless you're Ross Geller.
Ahead of the reunion special of the beloved '90s TV show Friends, YouGov asked Americans who their favorite character from the show is.
America's favorite friend is none other than Rachel Greene. Among US adults who have seen the show, Jennifer Aniston's character tops the list, with 20%. Not far behind is Phoebe Buffay, played by Lisa Kudrow, with 18%.
Ross Gellar, played by David Schwimmer, comes in at the bottom of the list with just 5% choosing him as their favorite Friend.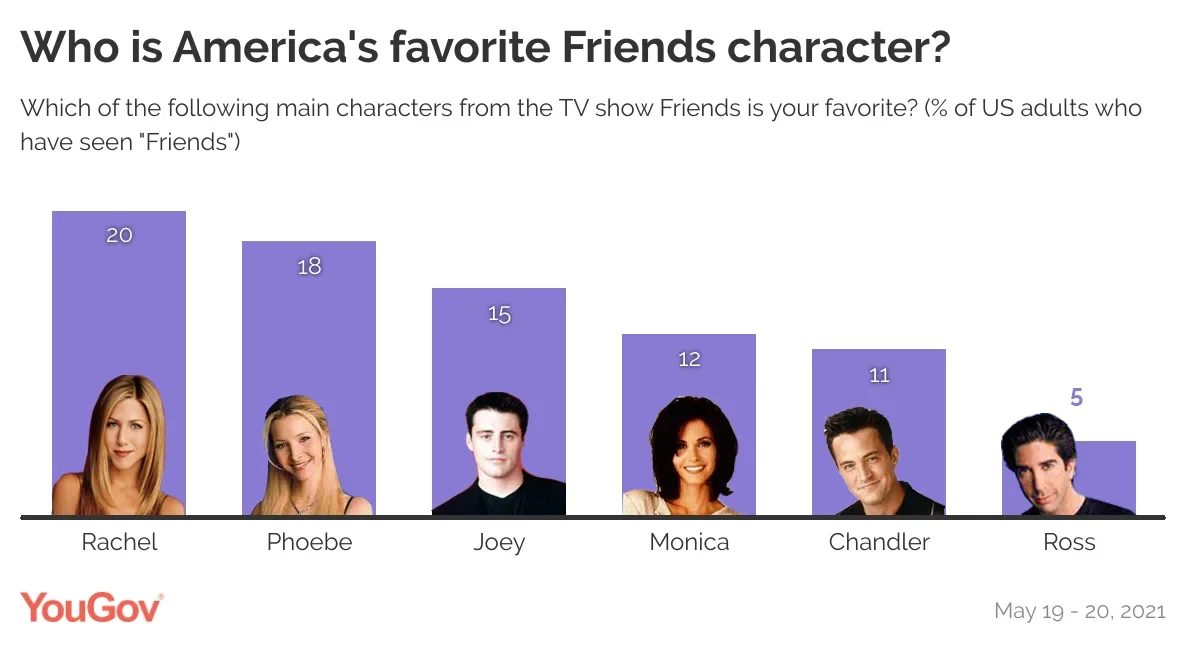 Men and women differ slightly in who is the favorite Friends character. Among men who have seen the show, Rachel comes in at the top of the list with 23%. Despite Joey not sharing food, he does share second place among men with Phoebe, with both at 15%. Monica is next, with 14%, followed by Chandler – or Miss Chanandler Bong, as he's known to some – with 9%. Ross rounds out the list, with 5%.
Among women who have seen the show, Phoebe wins with 22%. Rachel trails behind, with 16%, followed by Joey (13%) and Chandler (12%). One in 10 women (10%) who have seen "Friends" name Monica as their favorite. Ross "The Divorce Force" Gellar does not fare well with women either, with just 4% of women saying he is their favorite.
These results are largely similar to the results from a 2018 YouGov poll about Friends, in which 21% of viewers said Rachel was their favorite characters, while 18% chose Phoebe and 17% said Joey was their top pick.
The Friends reunion, called "The One Where They Get Back Together," starts streaming on HBO Max on Thursday, May 27.
Related: Taylor Swift's albums, ranked according to fans

Methodology: 7,888 US adults 18+ were surveyed between May 19 – 20, 2021. The sample was rebased to exclude those who responded to the question "Which of the following main characters from the TV show Friends is your favorite?" with "N/A - I have never watched Friends." The responding sample is weighted to be representative of the US population.