Unlike those aged 35 or older, the majority of Millennials say they care how their habits and routines impact the environment
One of the stated goals behind this year's Earth Day, which occurs on Saturday, April 22, is to "build a global citizenry fluent in the concepts of climate change and aware of its unprecedented threat to our planet." The best bet for organizers hoping to recruit new disciples dedicated to protecting the planet, however, is to target individuals who already show interest in the cause.
According to a new poll conducted by YouGov, the group of individuals Earth Day organizers should aim for, then, is Millennials aged 18-34.
When we asked over 1,000 Americans to indicate how concerned they were about how their typical daily activities, such as commuting to work or buying groceries, affect the environment, the results came back divided: 49% expressed concern; 45% did not. That said, 59% of young people said they were concerned, compared to 49% of individuals aged 35-54 and 39% of those aged 55 or older.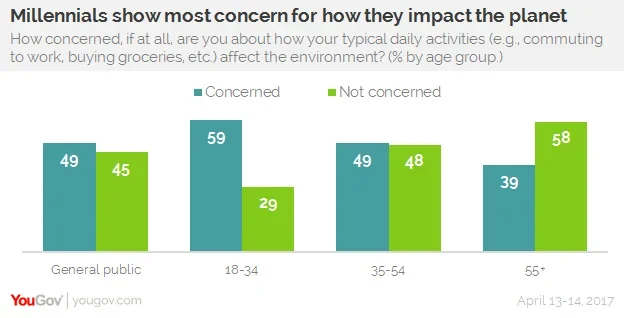 Similar results appeared when asked if they planned on doing any Earth Day-related activities this Saturday, such as volunteering to collect trash, planting a tree, or simply going for a walk in nature. 48% of US adults aged 18-34 said the intended to do so — a number at least 10 points higher than those reported by older consumer groups.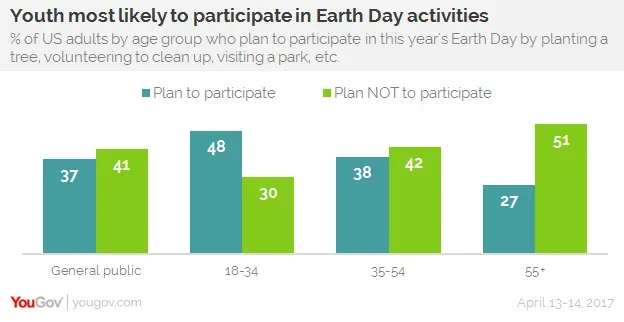 Additional data from the survey found that a third of Americans prefer bagging their groceries in reusable bags, as opposed to relying on either plastic or brown bags provided by the grocer, and that two-thirds have never donated to an environmental charity.