But a majority of workplaces have no provisions for recreation
A new study from YouGov showed that most workers agree that recreational activities, exercise and even naps would increase their productivity in the workplace. While many employers seem to agree, most are not yet providing the necessary accommodations.
83% of creative professionals polled said that exercise and recreational activity boosts creativity in general. Meanwhile, 70% of all full and part time employees said that brief exercise during the work day increases their overall productivity.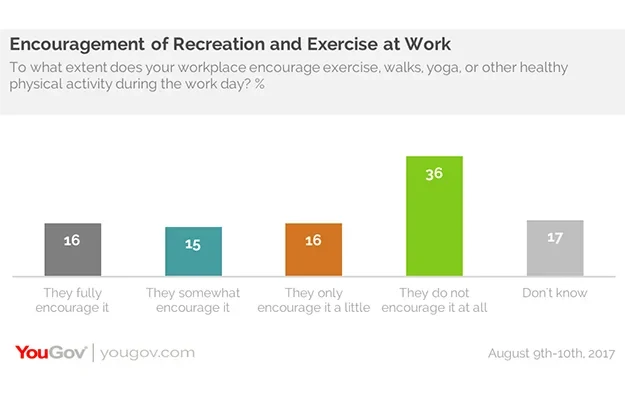 Amid overwhelming support among workers for recreational, fitness and other healthy activities, employers don't always encourage this behavior. 47% of workplaces encourage workplace exercise, walks, yoga or other activity, to some extent, while 36% do not encourage these activities at all.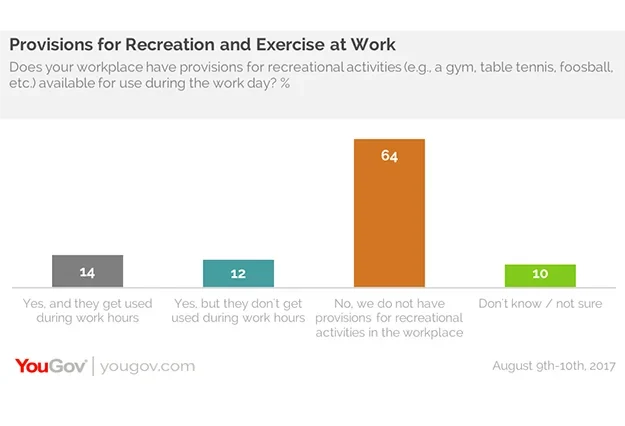 Despite more workplaces encouraging recreational activity than not, 64% of workplaces provide no provisions whatsoever for such activity in the workplace.
Companies like Google and others especially in the technology sector have long been hailed for their non-traditional accommodations when it comes to workplace recreation, naps and employee happiness. It's become a popular idea – 25% say they'd take a small pay cut in exchange for regular recreational activity or exercise breaks.