80% of people who believe climate change is manmade think the US should stay in the Paris agreement
In the wake of Hurricanes Harvey and Irma, Americans in the latest Economist/YouGov Poll have good things to say about all levels of government -- state, local and federal. They also see the President's response as positive – and by margins greater than two to one. For Donald Trump, whose overall approval ratings have been negative for nearly all of his term, the public reaction to his response to the hurricanes stands in contrast to the public's overall assessment.

These hurricanes have made an impact on people far beyond the South. Half know at least one person directly affected by Harvey; nearly six in ten know someone affected by Hurricane Irma.

For the President, majorities approve of his handling of government response to each of the two devastating hurricanes. However, these positive reviews have changed his overall rating little. About half disapprove of the way he is handling his job; fewer than 40% continue to approve.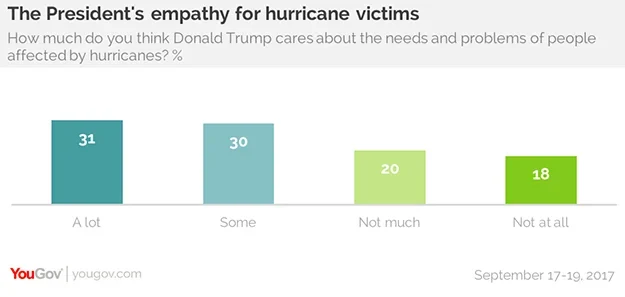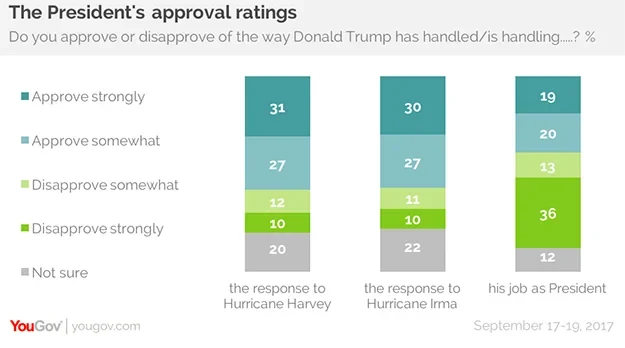 Majorities give government good marks for preparation and response to the tragedies.
The President is seen as caring about those affected by the hurricanes – a stark contrast from how Americans views his feelings about them personally as individuals. When it comes to hurricane victims, 61% say the President cares at least somewhat, while just over a third says he cares little or not at all. But in a slightly different question about whether he cares for people like themselves, Americans are much less likely to see a caring President. A majority don't think he cares about their own needs and problems.
In fact, the President has expressed his compassion in several recent tweets, including this one from September 15: "FLORIDA- Just like TX, WE are w/you today, we are w/you tomorrow, & we will be w/you EVERY SINGLE DAY AFTER, to RESTORE, RECOVER, & REBUILD!" This tweet receives a high score in the YouGov TweetIndex.

That same day, the President also expressed compassion to the people of London, and disagreed with a majority of his own party's members by noting the value of the "dreamers," the young people who were brought into the country illegally when they were children.

The hurricanes themselves changed little in how Americans view climate change. They have, however, made the majority that believes climate change is a response to human actions more sure about their opinion. Both last week and today, a majority says the climate is changing as a result of human activity. But this week, nearly half that group, 48%, say they are "absolutely sure" that climate change is the result of human activity. That percentage is up eight points since last week.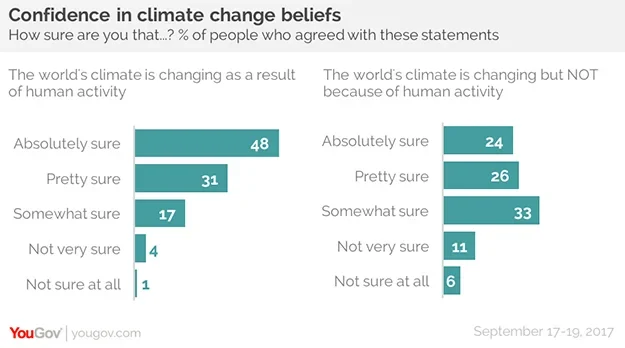 Only 5% of the public this week claim climate change is not occurring at all. 54% attribute climate change to human activity, and 25% think there is climate change, but that humans have nothing to do with it.
Americans continue to be divided in the role of climate change in creating or intensifying rough weather. This week, 43% – slightly more than last week – think that climate change has played a role in the severity of recent weather events, while 38% disagree. More than two in three Democrats believe in the impact of climate change in hurricane severity; more than two in three Republicans do not.
When it comes to taking action, Americans want to remain part of the Paris climate accord by more than two to one. Nearly all of those who believe there is a human role in climate change would remain in the Paris agreement. Most of those who don't believe that humans have affected the climate would not.