Throughout October, the fitness center's Value metric jumped over 100% among US consumers aged 18-49
According to its latest quarterly report, Planet Fitness, Inc. currently has more than 10.4 million members and 1,400 fitness centers across North America. Now, as the company prepares to report results for the third quarter of 2017, new data from YouGov BrandIndex suggests that more US consumers aged 18-49 think Planet Fitness offers customers a lot in return for the price they pay than at any point this year.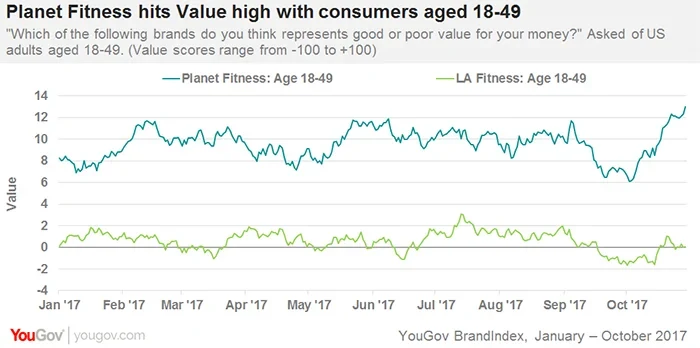 As the numbers indicate, Planet Fitness's Value metric — which asks respondents if they think a particular brand represents either good or poor value for their money — leaped from a 6 near the beginning of October to its present 13. That's a 117% increase.
Additional numbers show that LA Fitness, which boasts over 600 clubs across the US and Canada, has a present Value score of 0 among the same demographic, meaning that the public is largely neutral on the question of whether the brand represents either good or poor value for the cost.
Photo: Getty