Over half of the residents in San Francisco support opening a supervised injection facility, while nearly one-third are opposed
Opioid abuse is a well-documented issue in the US. The Centers for Disease Control estimates that about 115 people die every day in America due to overdoses from opioids, including prescription opioids and illegal opioids like heroin. In other countries affected by opioid abuse, such as Canada, Australia, and parts of Europe, "supervised injection facilities" (SIFs) have opened in order to try and reduce the number of overdose deaths.
Typically, these legally sanctioned sites offer drug users a place to use heroin and other narcotics in a hygienic environment under the supervision of medical professionals. They often also offer clean needle exchanges to prevent the spread of disease, as well as referrals to social services.
Currently, there are no legally operating supervised injection facilities in the US. But the city most likely to support having an SIF in their town is San Francisco, according to new data from YouGov Citybus. Over half (56%) would support opening a SIF in their city, while 31% would be opposed.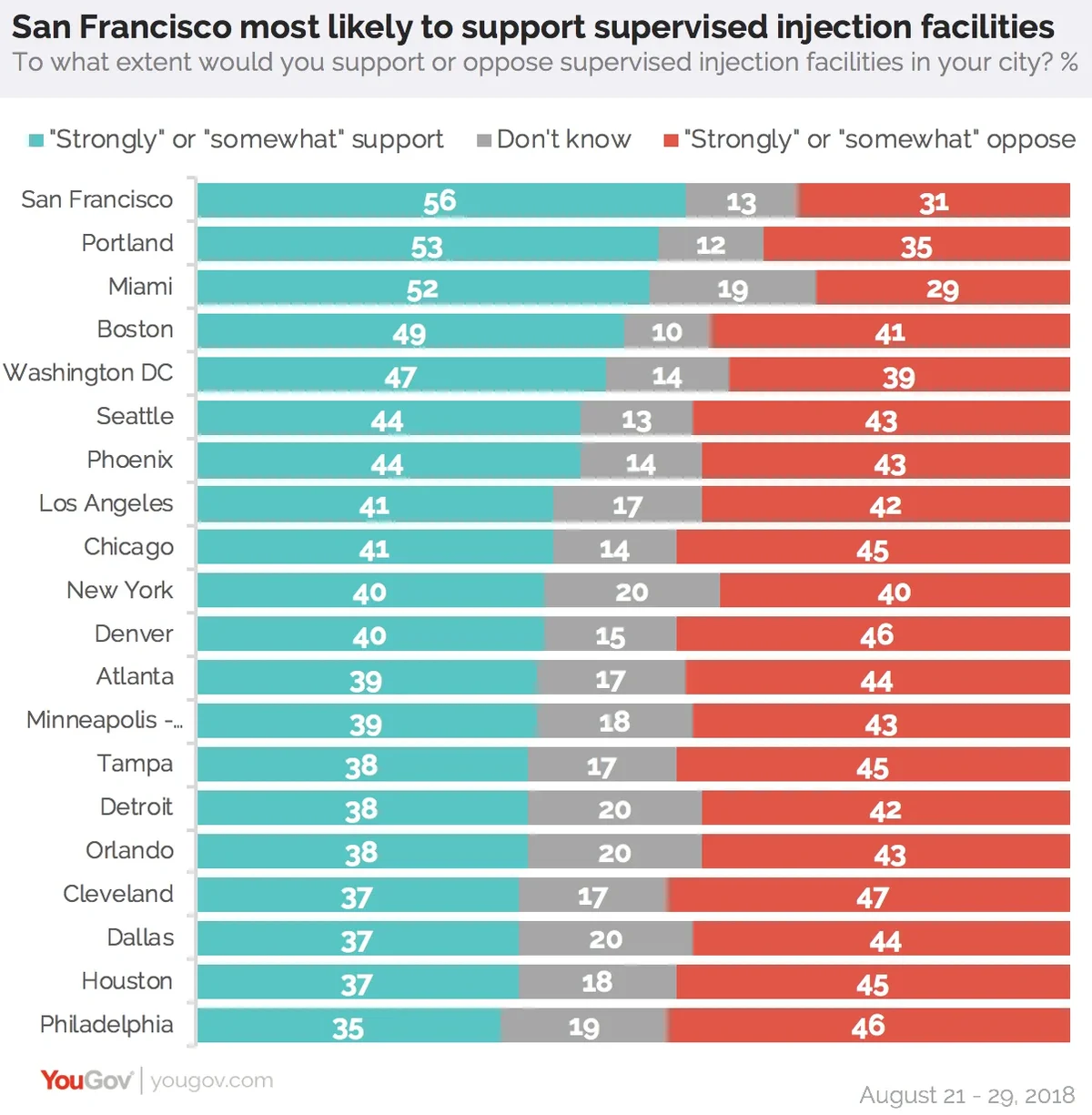 Other cities with majorities in support of opening a SIF include Portland (53%) and Miami (52%). Roughly half of Boston (49%) residents and DC (47%) residents would also support these sites.
Seattle and Phoenix were almost equally likely to support (44% for both cities) as they were to oppose (43% for both cities). Four out of ten (41%) residents of both Los Angeles are in support, as are 41% of Chicago residents. Meanwhile, New Yorkers are exactly equally split: 40% support and 40% opposed.
The cities that are most likely to oppose SIFs in their city are Cleveland (47%), Philadelphia (46%), and Tampa (45%).
There are reportedly efforts underway in several major cities -- including San Francisco, Philadelphia, and Denver -- to introduce supervised injection facilities, but none have been officially opened.
The respondents surveyed in this YouGov Citybus study reside in the following Designated Market Areas: Atlanta, Boston, Chicago, Cleveland, Dallas - Fort Worth, Denver, Detroit, Houston, Los Angeles, Miami - Fort Lauderdale, Minneapolis - Saint Paul, New York, Orlando - Daytona Beach Melbourne, Philadelphia, Phoenix, Portland - Oregon, San Francisco - Oakland - San Jose, Seattle - Tacoma, Tampa - Saint Petersburg, Washington DC.
Learn more about YouGov Omnibus and see results from other Citybus surveys on gun violence and local governments.
Image: Getty