This month, the brand with the highest uplift in Ad Awareness in the US is Coppertone.
The sun care brand, Coppertone, is heating up its advertising strategy for the summer season with social media partnerships that highlight its shimmery sunscreen: Coppertone Glow.
The beachy brand achieved one of the most significant improvements in Ad Awareness scores (whether someone has seen or heard an advert broadcast by a company in the past two weeks) among American consumers in June, according to data from YouGov Plan & Track. This spike in awareness came as Coppertone launched marketing collaborations, announced new products on social media, and finalized a high-profile sale to the owner of Nivea.
In June, the skincare brand pushed its social media partnership with swimsuit model, Olivia Culpo. Culpo promoted Coppertone's bottled bronzer in a series of sponsored posts throughout June, calling the product a "must try" item that blends SPF coverage with a dewy glow.
Other social media influencers like actress Madison Pettis joined with their own sponsored posts during Coppertone's summer photo-posting blitz.
At the start of May, Coppertone's Ad Awareness score was at 5%. By the end of June, Ad Awareness scores had more than doubled to hit 11%. Awareness of the advert increased the most among women, with 13% seeing an advert for the brand in the time period.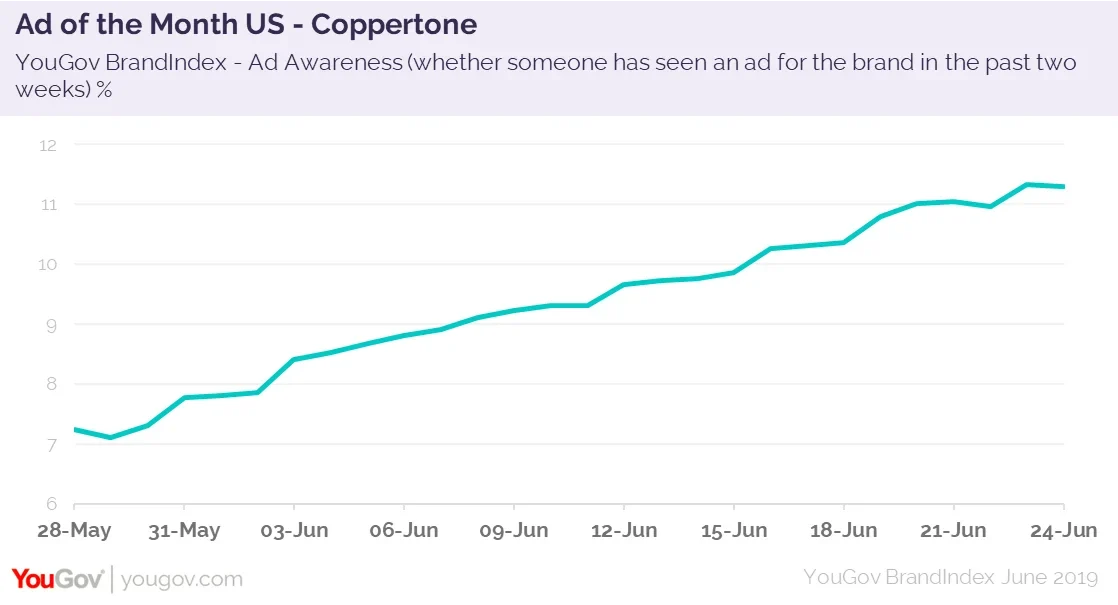 In addition to influencer social media posts, Coppertone continues to promote its newer products on Instagram, including its Sport Clear sunscreen and a Pure and Simple sunscreen for babies.
According to other YouGov data, 55% of Americans hold a positive view of Coppertone with only 5% giving it a negative rating. Data also indicates that Baby Boomers are the most likely generation to hold a positive opinion of Coppertone (63%), and women are more likely to hold a favorable opinion of the skincare brand (58%) than men (51%). Fans of Coppertone describe the summer staple as reliable, healthy, and family-friendly.
Learn more about YouGov Plan & Track.