The World Health Organization recently announced that an Ebola outbreak in the Democratic Republic of Congo is now considered a public health emergency of international concern.
Though the outbreak has been affecting the country for nearly a year, officials moved to declare it an emergency this week following a confirmed case of Ebola in Goma, a city of almost two million people on the border with Rwanda.
New research from YouGov finds that 39% of Americans see Ebola as a severe threat globally.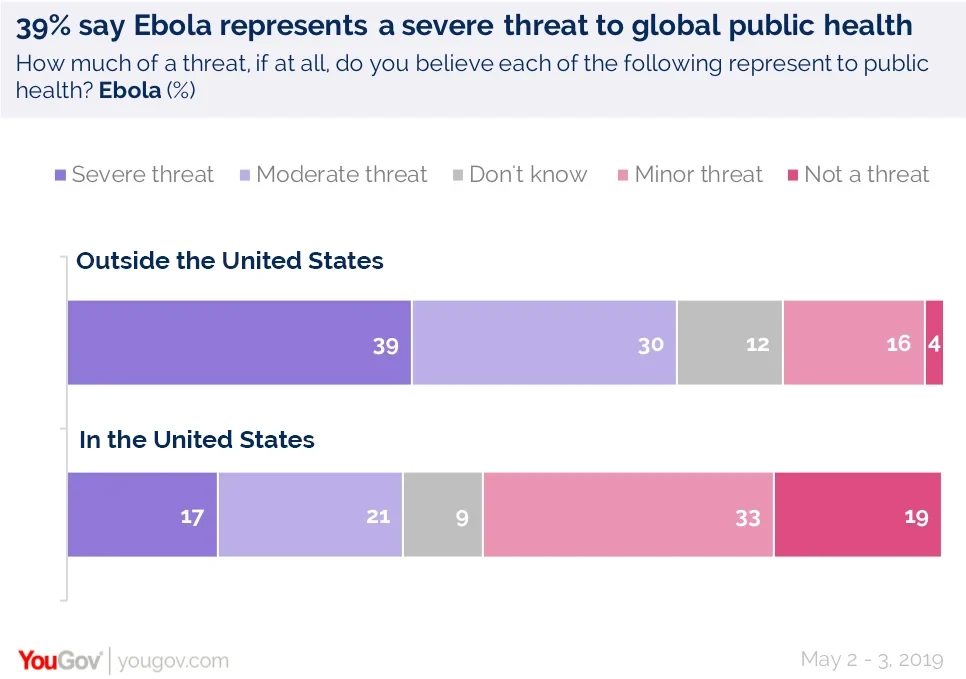 In fact, Americans see Ebola as the disease most likely to pose a severe threat to global health. In 2014, there were several cases of Ebola in the US, primarily affecting medical professionals who had come in contact with Ebola patients.
Almost four in 10 (39%) consider it a severe threat to public health outside the United States.
But Ebola isn't the only illness on American's minds. More than one-third (35%) say measles poses a severe threat, too. According to the CDC, there are ongoing measles outbreaks in New York and the Pacific Northwest, with over 1,000 confirmed cases as of July 11, 2019.
Slightly fewer (31%) believe that the West Nile virus poses a severe threat to public health abroad The West Nile Virus is commonly found in Africa, Europe, the Middle East, and West Asia. There have also been several cases of West Nile Virus reported in the US this year.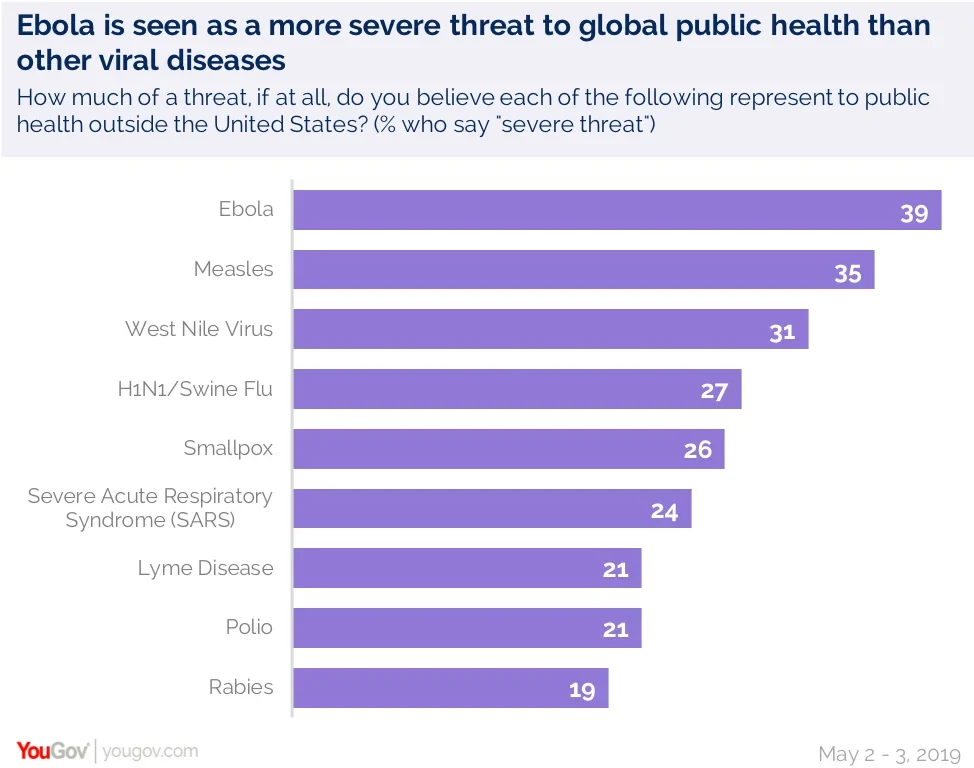 Regarding the current outbreak in the Democratic Republic of Congo, the World Health Organization noted that risk remains very high at national and regional levels but still low at the global level.
They are urging other countries not to place travel or trade restrictions on the Democratic Republic of Congo. "Such measures are usually implemented out of fear and have no basis in science," notes a statement from the WHO emergency committee. "They push the movement of people and goods to informal border crossings that are not monitored, thus increasing the chances of the spread of disease. Most critically, these restrictions can also compromise local economies and negatively affect response operations from a security and logistics perspective."
See full results from this survey.
Methodology: Total unweighted sample size was 1,246 US adults ages 18+. The responding sample is weighted to provide a representative reporting sample. The survey was conducted online May 2-3, 2019.
Do you believe Ebola poses a severe threat to public health? Sign up for our panel and follow us on Twitter to weigh in on issues that matter to you.
Related: 71% say burn-out is a serious issue in their workplace

Image: Getty