Medical schools and hospitals dominate YouGov's 2019 Brand Advocacy Rankings.
Mayo Clinic, Johns Hopkins Medicine, University of Texas MD Anderson Cancer Center and the Memorial Sloan-Kettering Cancer Center top this year's list.
The list highlights brands that averaged the highest Recommend score this year among the more than 1,750 tracked by YouGov BrandIndex.
The BrandIndex Recommend score is based on responses to the question: "Would you recommend the brand to a friend or colleague or tell the friend or colleague to avoid the brand?" The score is compiled by subtracting negative feedback from positive.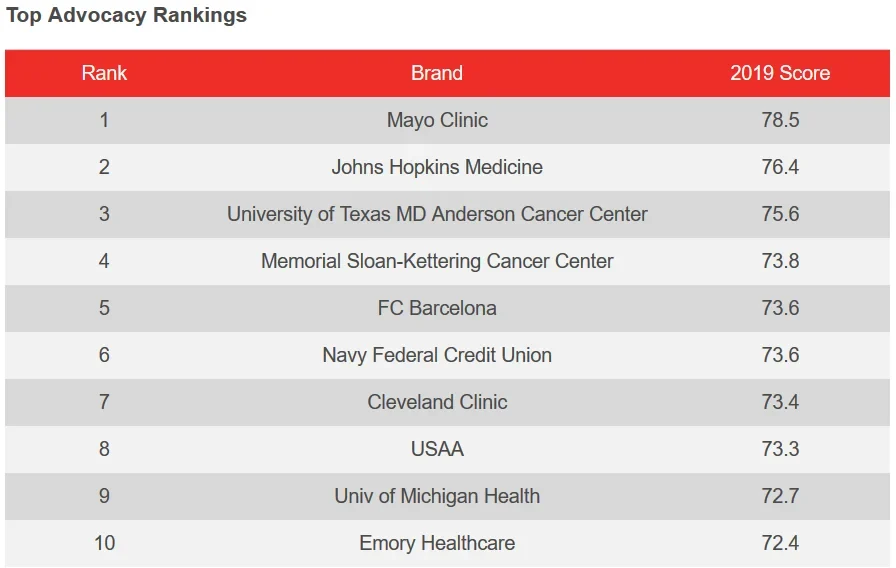 Mayo — the Rochester, Minn-based non-profit medical center — has long been highly regarded among Americans and was named top US hospital by the News & World Report in July 2019. Mayo is the most popular and the most famous hospital in America, according to YouGov Rankings data.
The Cleveland Clinic, University of Michigan Health and Emory Healthcare also appear in YouGov's top 10 list.
Financial brands USAA and the Navy Federal Credit Union cracked the list as well as FC Barcelona.
Electric vehicle manufacturer Tesla, anti-diabetic medication Avandia and University of California San Francisco Medical Center top the list of top Advocacy Improvers, which highlights brands that saw the highest year-over-year jump in Recommend scores.
Tesla hit record production of its vehicles in the third quarter of 2019 with 97,000 deliveries, meaning more drivers are behind the wheel of one of the company's vehicles.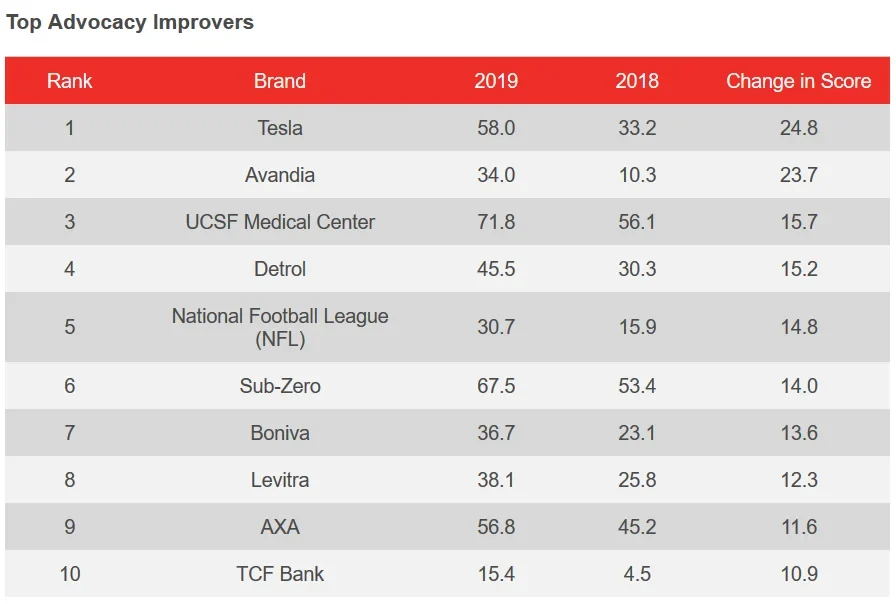 Other pharmaceutical brands made big strides to make it onto the Improvers list including bladder relaxant Detrol, Boniva (which treats or prevents osteoporosis), and Levitra (which treats erectile dysfunction).
The National Football league, appliance maker Sub-Zero, insurance company AXA and TCF Bank also made the improvers list.
None