A vast majority of Americans have heard about a coronavirus that's spreading across the globe, and plenty are scared about the illness.

An overwhelming 93 percent say they had heard of 'Coronavirus', 'Wuhan Virus', or 'COVID-19' prior to taking a YouGov survey fielded between February 28 to March 2, 2020.

Data from the survey shows that one in three (33%) Americans say they are very or somewhat scared they will contract coronavirus, also known as COVID-19.



The concern is tangible and many Americans (57%) are taking matters into their own hands to protect themselves, according to the study of perceptions toward COVID-19.

How are Americans personally responding to COVID-19?

Within the last two weeks, Americans have taken measures to avoid contracting coronavirus. These include improving personal hygiene habits such as washing their hands frequently (42%), avoiding crowded public places (27%), refraining from touching objects in public (24%), and avoiding contact with tourists (17%).

While there's no treatment specific to COVID-19 yet, the Centers for Disease Control and Prevention does provide guidelines to prevent contracting the virus. It recommends face masks only for those who show symptoms or suspect they may be sick and advises against the use of face masks for those who are healthy and well. Data from the YouGov's latest survey shows 7 percent of Americans wear a face mask when they visit public places.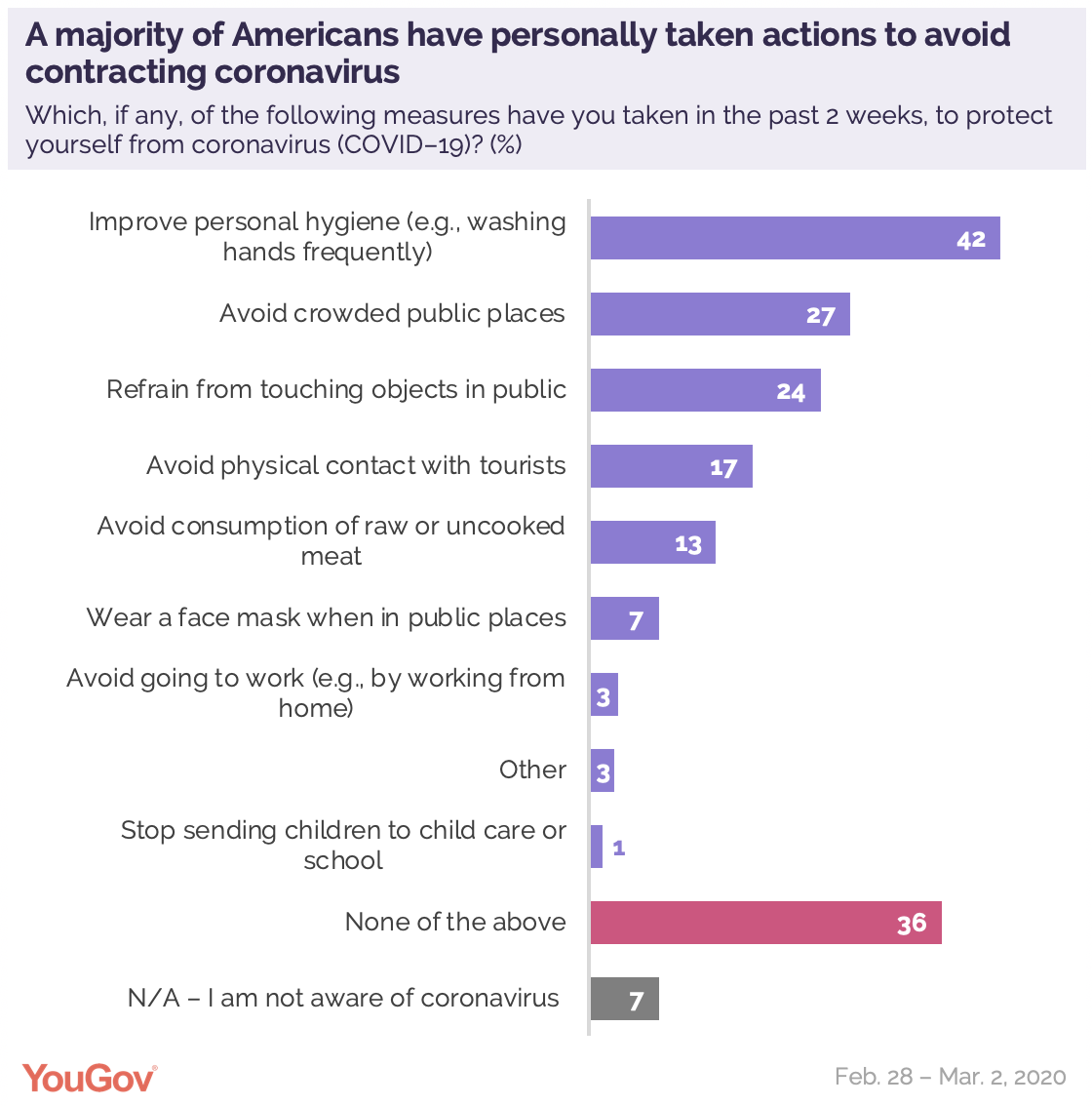 The global coronavirus outbreak has altered future travel plans for some Americans: 14 percent say they are considering cancelling or have already cancelled/delayed their overseas travel plans.

Some reports have surfaced about people on the West Coast beginning to stockpile supplies such as dry goods and sanitary products in anticipation of an outbreak in the United States. According to survey data, 13 percent of Americans indicate they did the same while 80 percent say they have not stockpiled any supplies.

Is the government doing enough?

The YouGov survey also measures people's opinions of how the government and health officials are responding to the issue.

More than two in five (44%) say the government is handling it very or somewhat well while 38 percent say the government is handling the coronavirus somewhat or very bad. Opinions on the topic are partisan, however: by three to one, Democrats believe the government handling of coronavirus is going badly (67% vs. 21% who say the government is handling it well). Republicans view the situation the other way: 76 percent say the government has been handling the issue well (vs. 11% who say the government is handling it badly).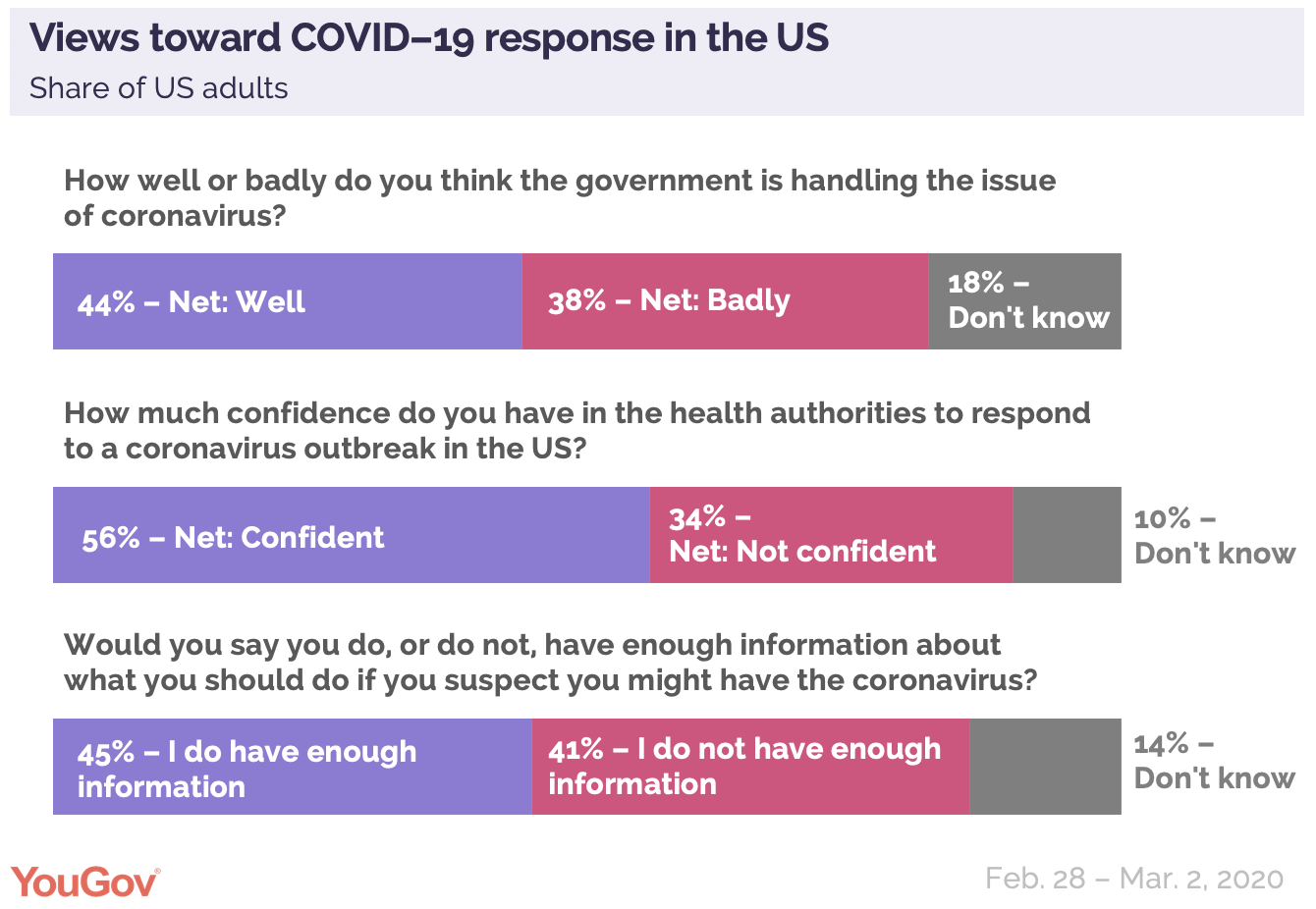 Most Americans have confidence that health officials can effectively respond to a COVID-19 outbreak in the US if it occurs. Again, opinions fall along party lines: 80 percent of Republicans express confidence in US health officials when compared with 41 percent of Democrats who said the same.

Methodology: The survey is based on 1,000 interviews of US adults aged 18 and over. It was conducted between February 28 to March 2, 2020 and all interviews were conducted online. All figures are weighed to be nationally representative.

Image: Getty