As all but the most essential businesses are required to shut down amid the COVID-19 outbreak, many Americans are considering which retailers should qualify as "essential" during these times.

A YouGov poll of more than 5,000 US adults finds that just over half (53%) of Americans believe that medical marijuana dispensaries should be considered essential services.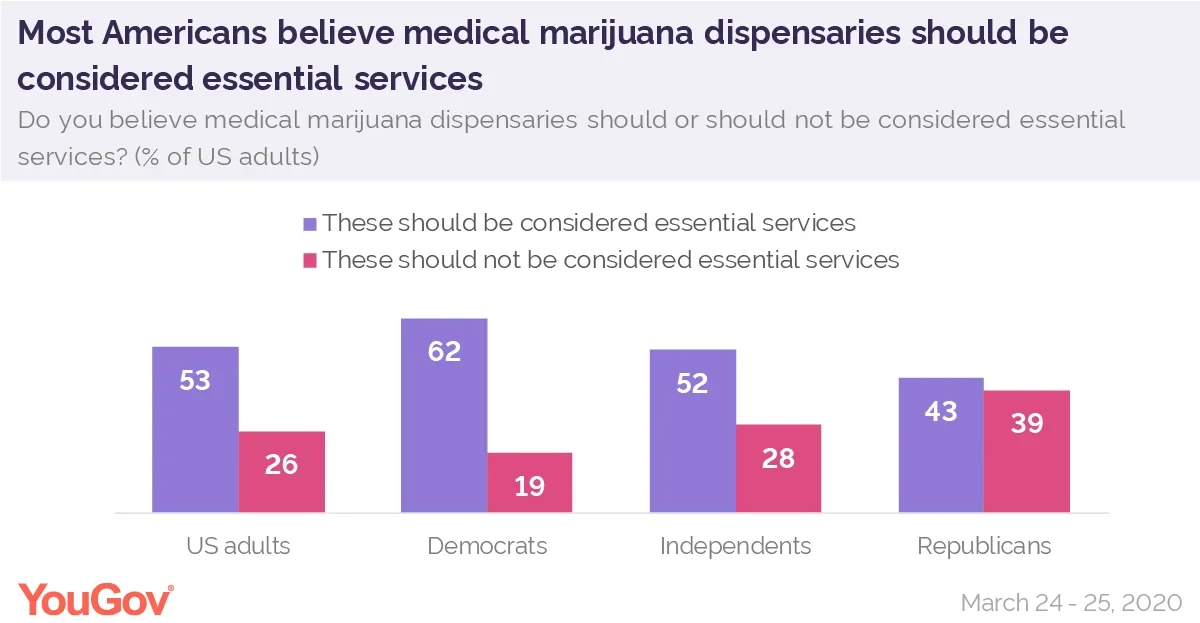 By a slim margin (43% vs. 39%), Republicans believe medical marijuana dispensaries should be considered essential. Far more Independents (52%) and Democrats (62%) also say medical marijuana dispensaries should be essential services.
In many states, medical marijuana dispensaries are considered essential businesses, meaning they are allowed to remain open - though many cannabis retailers have shifted towards offering curbside pick-up options and/or delivery services rather than having customers come into the shops themselves.
So with continued access to marijuana in many areas (and potentially some extra free time) are marijuana users consuming any more than usual?

Among those who indicated they ever use marijuana, 28 percent say they are using more than usual. More than one-third (36%) of marijuana users say they're using no more or less than usual, while just 14 percent are using it less than usual.


Younger marijuana users are especially likely to be consuming more. Nearly two in five (38%) marijuana users between 25 and 34 say they've been using cannabis more than usual these last two weeks. About one-quarter (26%) of 18-to 24-year-olds who ever use marijuana say the same.