As monkeypox cases have been diagnosed in nearly 20 countries around the world, YouGov asked U.S. adults in a May 20-23, 2022 poll whether they had heard of a new outbreak — as well as how concerned they were and the likelihood of a surge of cases in the U.S. While about three in four Americans have heard at least a little about the outbreak, just 38% are somewhat or very concerned and 27% expect a surge.
The poll started on Friday evening and was still being conducted on Sunday when President Joe Biden called monkeypox "something that everybody should be concerned about." Awareness, concern, and expectation of a surge all were higher on Monday — the day after Biden's remarks — than on Saturday, by between 5 and 7 percentage points of Americans (for the share who had heard a lot about a new outbreak, were very concerned, and thought a new surge of cases was likely).
Like with the viral disease COVID-19, views on monkeypox differ somewhat by political party and by age. Greater shares of Democrats than Republicans are concerned about monkeypox and think a surge of cases is likely, and adults under 45 are more likely than older adults to be concerned and expect a surge. While 12% of Democrats say they are not concerned at all about monkeypox, 32% of Republicans say so.
We asked similar questions in recent months to gauge Americans' awareness and concern about the emergence in the U.S. of the Omicron variant of COVID, and the subvariant of Omicron known as BA.2. While monkeypox and COVID differ in many ways, both also raise similar issues around wearing masks and vaccination.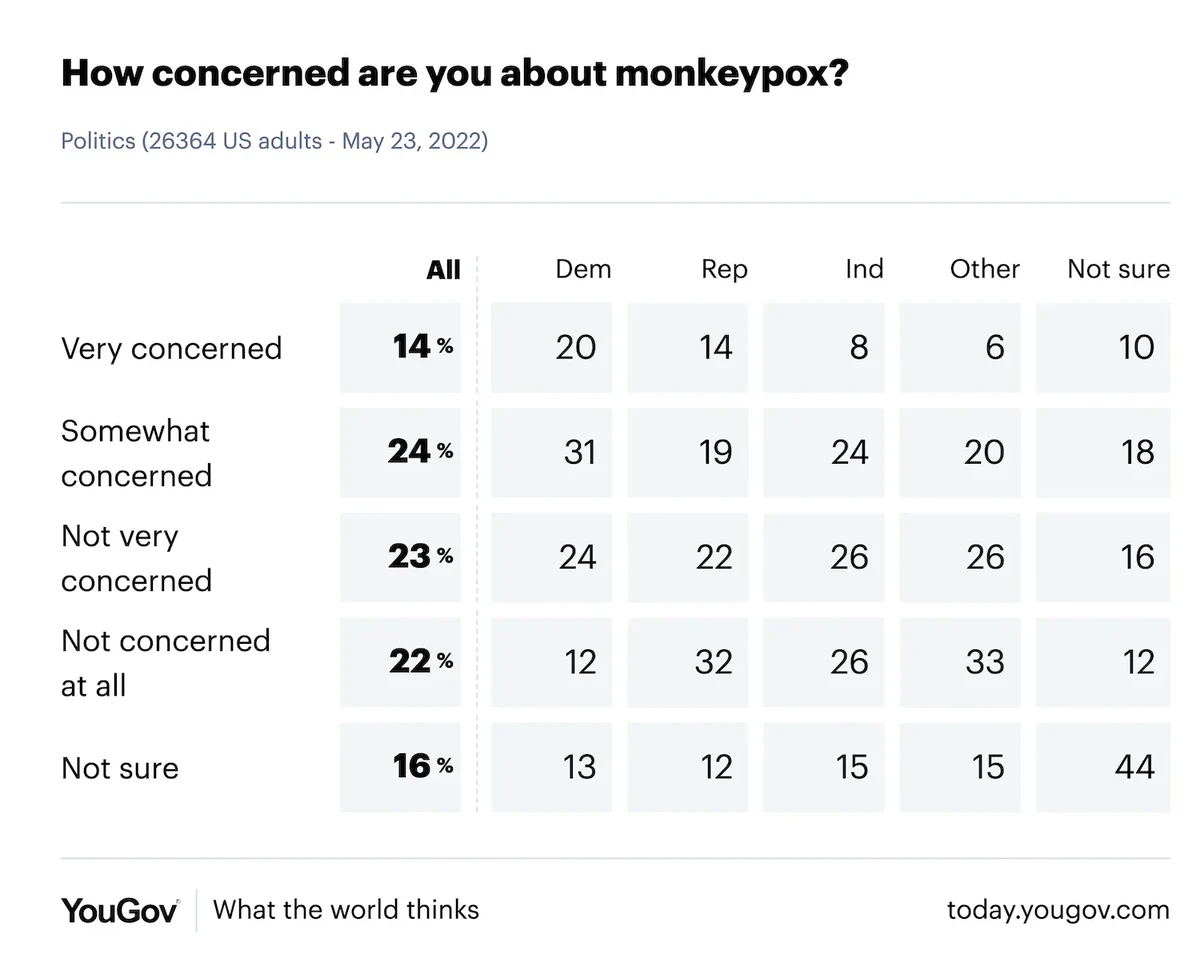 See the toplines and crosstabs from this poll:
Methodology: This survey was conducted by YouGov using a nationally representative sample of 26,364 U.S. adults interviewed online between May 20 and May 23, 2022. The samples were weighted to be representative of the U.S. population, based on gender, age, race, education, U.S. census region, and political party.
Image: Unsplash (CDC)