Public opinion in each of the seven European countries surveyed favours US air strikes against Islamic State, but most countries are divided or opposed to their own militaries taking part
At this year's NATO summit members of the 65-year old alliance are seeking unity on wide-ranging, but related, challenges like Russian aggression in Ukraine and domestic military spending. Another issue being discussed is the threat of Islamic State and actions that can be taken to counter it. In particular, David Cameron and US President Barack Obama – whose country began launching air strikes against ISIS last month – have reportedly been using the conference to recruit a military coalition to fight IS.
The latest YouGov EuroTrack survey finds wide public approval in Europe for President Obama's decision to launch air strikes against IS. The approval extends across all seven northern European countries surveyed, including Britain.
Approval of US military action is strongest in Denmark (71% approve to 11% disapprove) and weakest in Germany (48%-34%), although the Germans nevertheless tend to support the action.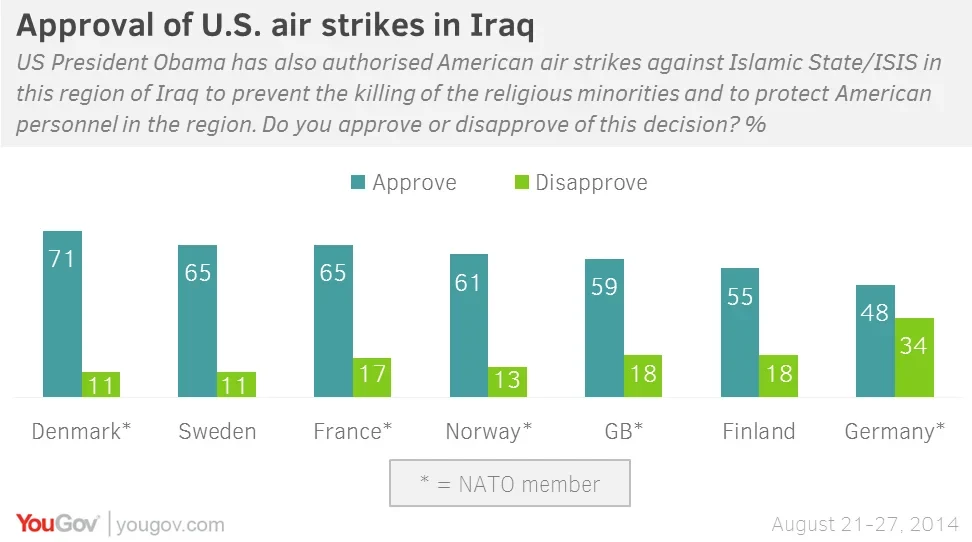 At the same time, public opinion in these countries – five of which are NATO members (Germany, France, Denmark, Norway and Great Britain, by way of the United Kingdom) – remains largely split on the question of whether domestic militaries should join the US in military action against IS.
People in Denmark, Britain and Norway narrowly tend to favour getting involved, while people in France and Sweden narrowly oppose it. In Germany and Finland at least half of the public would disapprove of their government taking part.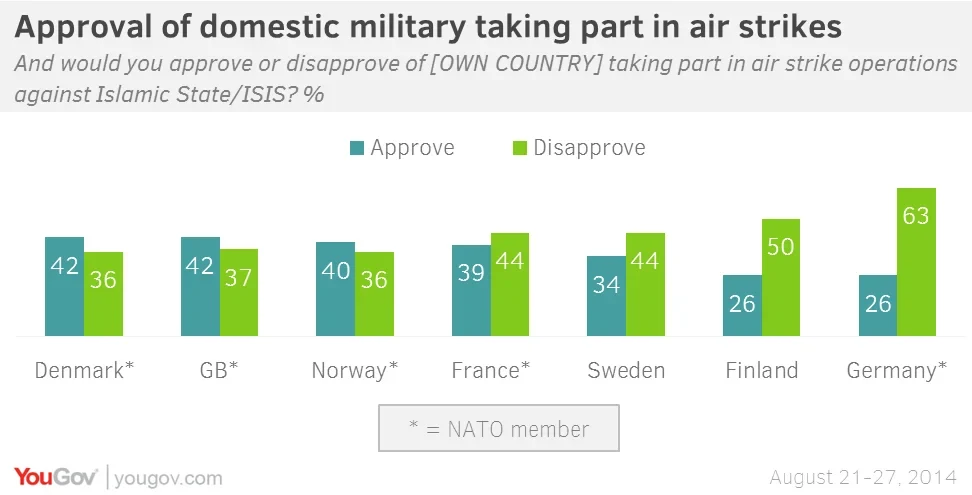 Notably, more recent YouGov polls have found increased support for air strikes amongst the British public. The latest poll found 47% would approve of RAF strikes against IS, while 31% would disapprove, a high-water mark in public approval of British involvement since the beginning of August.
Of course, some countries may decide to act – or not act – regardless of the sway of public opinion. Germany has recently said it will provide arms to Kurdish forces in Iraq, though YouGov's poll finds 57% of the Germany public disapprove of the idea.
Image: PA
See the full EuroTrack results