People tend to give security services the benefit of the doubt in Britain, France and most Nordic countries, but Germans are divided
It's been two years since the Edward Snowden revelations uncovered the extent of personal data collection by the NSA and other security services, though privacy and data protection have been sensitive issues in Germany for much longer. In 2010 the German constitutional court blocked a law requiring the retention of data by phone and internet companies. The recent terrorist attacks in Paris, however, led some European leaders to call for expanded spying powers.
Half (51%) of Germans say security services should not be to be able to store the details of people's phone and email communications, also known as "metadata". Only a third (34 percent) believe that this should be allowed. Of the seven populations polled, only Finns are nearly as opposed to the retention of the data by security services.
In Great Britain, 50% favor giving security services this power, while 32% oppose it. Support is strongest in France, where at the end of January Islamist terrorists attacked the offices of the satirical magazine Charlie Hebdo. There, 61% favor retention of the data, while only one in five oppose it.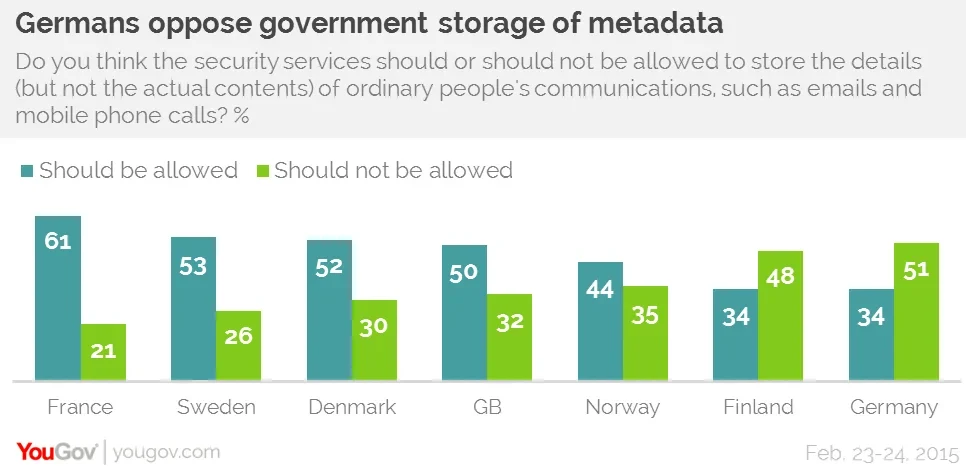 The research was conducted as part of YouGov's latest EuroTrack survey, which tracks public opinion across seven European countries on a monthly basis.
Privacy versus security
People in Germany are also much more likely than others to err on the side of privacy protection when balancing it with the fight against terrorism.
In every county polled except Germany, people tend to favor giving security forces more investigative powers ("even if this means the privacy or human rights of ordinary people suffers") over increasing privacy protections ("even if this puts some limits on what the security forces can do when combatting terrorism"). British people prefer empowering security services over protecting privacy by 52 to 16, and the French by 50 to 19.
Germans are almost evenly divided, with 27% in favor of greater protection for privacy and human rights and 31% in favor of more powers for security services. Another 25% say the current balance is about right.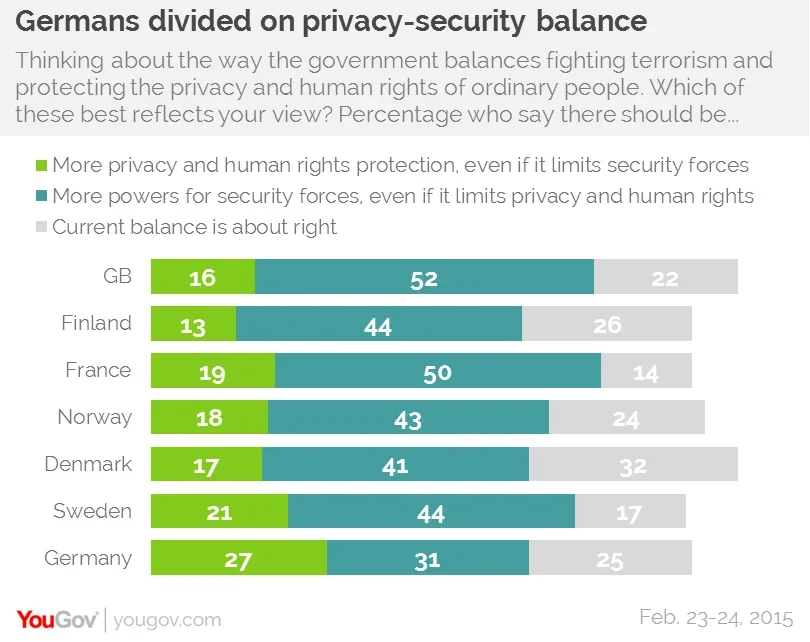 Additionally, only a third (33%) of Germans think domestic security services should have more monitoring powers, compared to 55% in France and 44% in Britain. One in five Germans (21%) feel that security services already have too much power, significantly more than in France (9%) and Great Britain (12%) as well as Nordic countries like Denmark (9%) and Norway (13%).
Earlier this year, a YouGov survey found Edward Snowden to be the fourth most admired man in Germany, four spots higher than Barack Obama.
PA image