By 42% to 28% Americans say it was inappropriate for Republicans to send a letter to Iranian leaders warning them about striking a deal with President Obama
A heated war of words has erupted over an open letter signed by 47 Republican Senators warning the leaders of Iran that the impending nuclear deal with the United States and other countries may not outlast Barack Obama's presidency. The letter, organized by freshman Sen. Tom Cotton, argues that any deal will need the approval of – and can be revoked by – Congress and Obama's successor in the White House. Sen. Tom Cotton has said he has "no regrets" over the letter, which has been criticized as an unusual, possibly unprecedented rebuke against a sitting president in the midst of international negotiations.
Many Americans haven't noticed the story yet, according to a new survey conducted by YouGov from 10-11 March. 41% said they had heard nothing at all about "a letter written by a group of Republican lawmakers warning the leaders of Iran that any agreement they make with President Obama will only be an 'executive agreement' that could be revoked unless it gets congressional approval."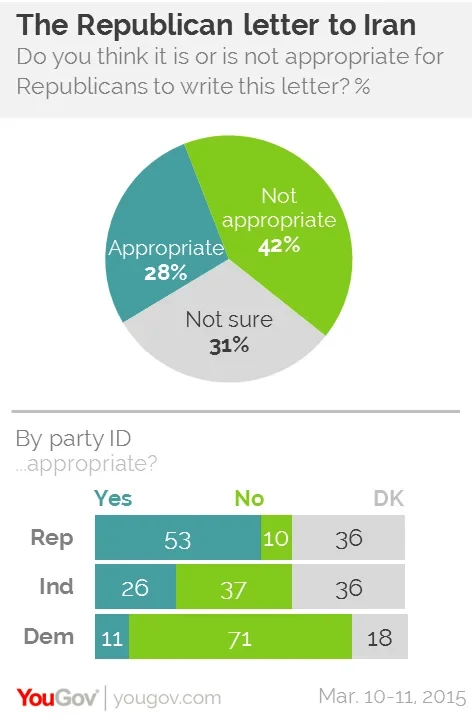 Yet when asked whether writing such a letter was appropriate, 42% say it was not, compared to only 28% who say it was. 31% are undecided.
There is a predictable partisan divide, but Democrats are much more likely to say the letter was inappropriate (as 71% do) than Republicans are to say the letter was appropriate (as 53% do). Independents are a more divided group, but tend to disapprove of the letter by an 11-point margin (37% to 26%).
Americans are more evenly divided on who can be trusted more on the Iran issue between President Obama and Republicans in Congress. 36% say they trust the president more, while 31% prefer Republicans. Again, around a third (33%) are undecided.
Obama's slim 5-point advantage is identical to his advantage when YouGov asked the same question with Israeli Prime Minister Benjamin Netanyahu in place of Republicans last week. Interestingly, self-identified Republicans are just as supportive of the Israeli leader when compared to the president (71% trust him over Obama) as they are of Republicans in Congress (70%).
The nuclear deal
General opinions of the emerging deal itself continue to lean positive, with many undecideds. 36% say they support the agreement to limit Iran's nuclear program based on what they have heard, while 17% oppose it. The remaining 47% are either undecided or don't feel like they know enough about it to have an opinion.
Last week there were 34% in favor, 16% against.
PA image
Full poll results can be found here and topline results and margin of error here.