Forty years on from Watergate most Americans think the scandal was serious enough for Nixon to resign, but most Americans don't think he did anything worse than other presidents have
Forty years ago on August 9th, Richard Nixon became the only American president to ever resign. Media scandals and legal investigations had uncovered wide-ranging abuses of power, from ordering the FBI and IRS to harrass political enemies to break-ins such as the one at Watergate. He initially denied any knowledge of these crimes, but as it became obvious that he had lied and would face certain impeachment, he resigned and was later pardoned by his successor, President Gerald Ford.
New YouGov research shows that most Americans still think that Nixon's actions were serious enough to warrant his resignation, but that this has decreased in the past fifteen years. In a 1999 poll by Gallup, 72% of Americans said that his actions were serious enough to warrant his resignation, while 23% said that they weren't. Today, 59% think that it was serious enough to warrant resignation and 16% say that it isn't, with the percentage of Americans expressing 'no opinion' increasing from 5% to 25%.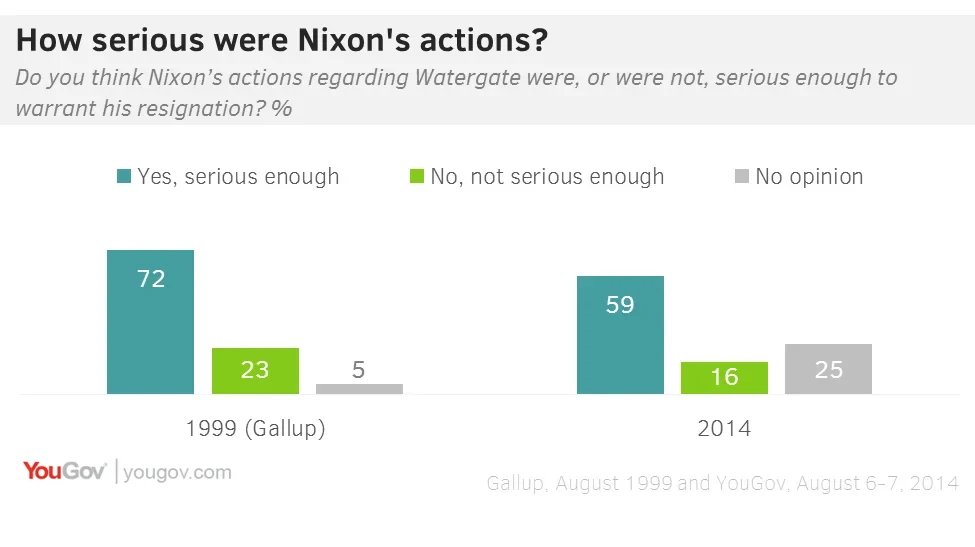 Asked whether Nixon should have resigned, there is a partisan divide. Democrats (72%) overwhelmingly think he needed to resign, along with most Independents (54%). Republicans also tend to think that Nixon's actions did warrant his resignation (49%) but 29% of Republicans think that he did not need to resign.
Most of the American public (51%) believe that Nixon's actions regarding Watergate were 'no more or less serious' than the actions taken by other recent presidents. A third of the public say that his crimes were particularly serious, and 15% think that his actions were less serious than those of other presidents.
Most Democrats (52%) think that his actions were particularly serious compared to those of other presidents, while most Republicans (55%) think that his actions were no more or less serious than those taken by other American presidents. 59% of Independents agree that Nixon's crimes were not unusual for Presidents to have committed.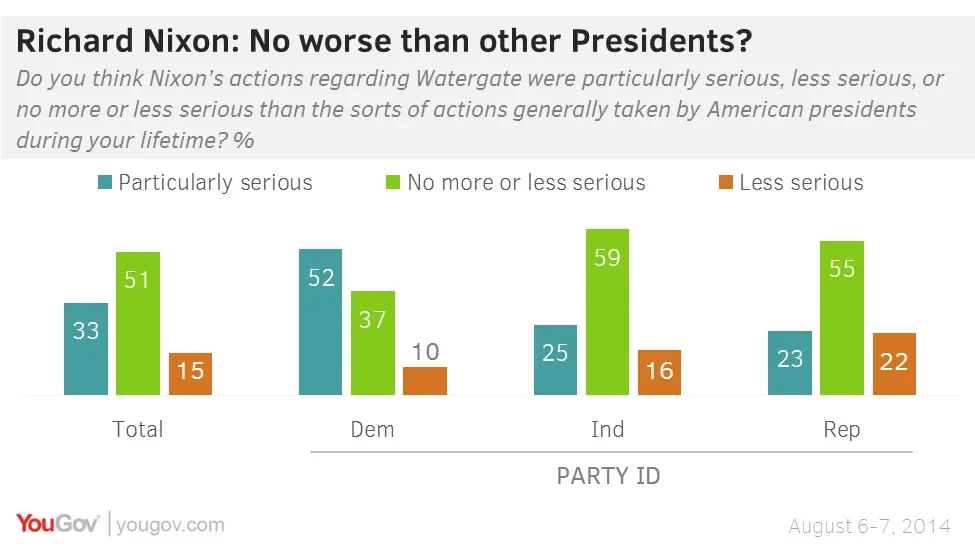 Overall, 32% of Americans approve of how he handled his job, while 42% disapprove. Most Republicans (57%) approve of his presidency, along with 30% of independents and even 23% of Democrats. Most Democrats (56%) do disapprove of how he handled the job, and independents (39%) tend to agree.
This is an improvement for Nixon, as Gallup's poll from August 1974 shows that only 24% of Americans approved of how he handled the job, while 66% disapproved.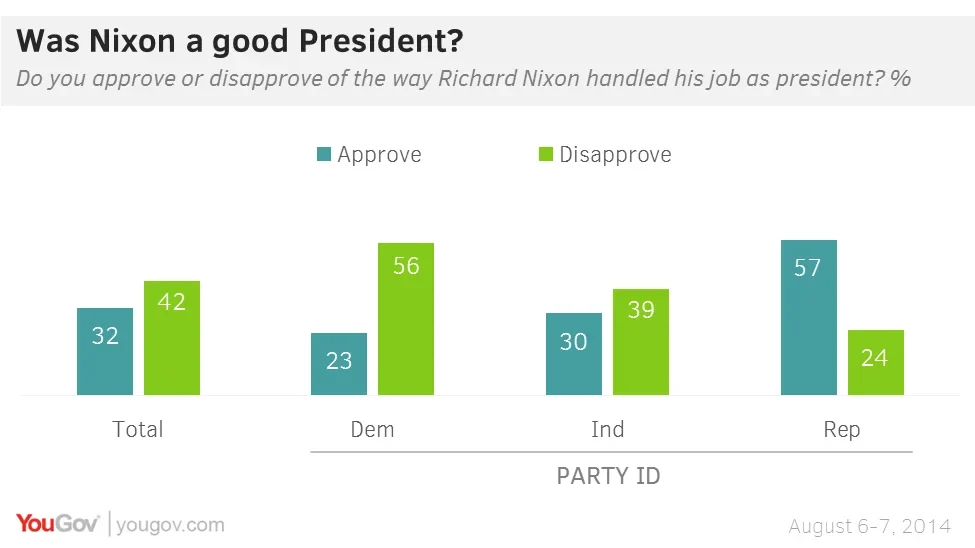 Despite the ignominy of the Watergate scandal and his resignation, Richard Nixon went on to improve his public standing. By the time of his death in 1994, his advice had been sought by later Presidents and he had served as an unofficial emissary of the US to foreign governments.
Full poll results can be found here.