The majority of Democrats and Independents oppose a third run for president by the 2012 Republican standard-bearer, but Republicans are divided
Mitt Romney took a swipe at President Obama Tuesday while attending a midterm election rally, saying the results of the president's decisions have been 'more severe than even I would have predicted'. Despite a warm reception at the rally, which took place in West Virginia, the former governor reportedly insisted he would not run for president again in 2016 when asked by attendees, including other Republican politicians and party donors. Barack Obama defeated the Massachusetts Republican by four points in 2012, taking 332 electoral votes to Romney's 206.
A new YouGov poll finds that there is little appetite for another Romney presidential campaign.
The majority (53%) of Americans say they do not want Mitt Romney to run for president in 2016. This includes the majority of Democrats (68%) and independents (52%) who oppose another run by Romney, who also ran and lost the race for the Republican nomination to John McCain in 2008. Republicans are more divided: a third (32%) want him to run again and a third (34%). The rest are unsure.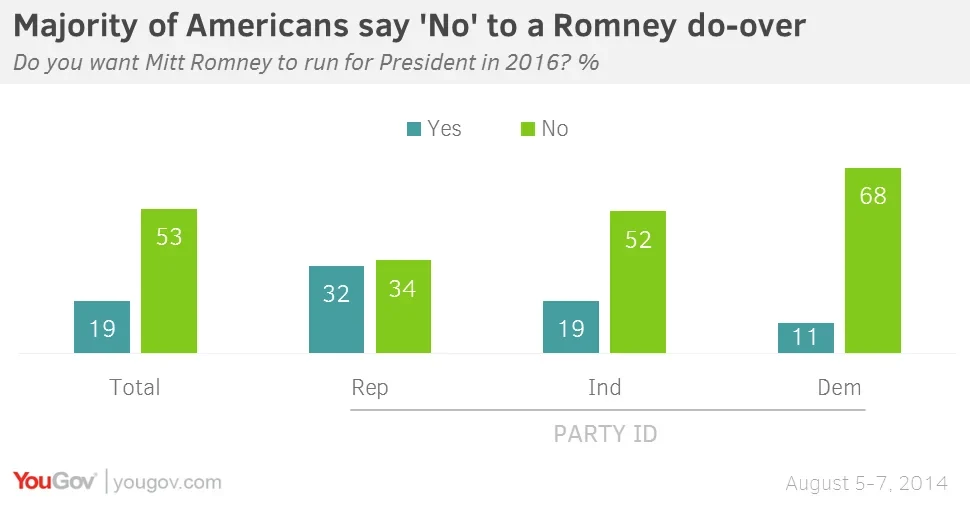 The results for Mitt Romney suggest a higher degree of opposition than is found for any other potential candidate. The response is slightly more negative than those found earlier this year for current Vice President Joe Biden, a Democrat, and former Florida governor Jeb Bush, a Republican. In May 22% of Americans wanted Biden to run and half (50%) did not; for Bush in April the numbers were 15% and 47%. By contrast, 39% recently said they did want Hillary Clinton to run, while 43% said they did not.
Within only Republican voters however, opposition to a Romney re-run may be lower than opposition to a potential run by Chris Christie (38% in April) and about the same as for Jeb Bush (35%). Republicans seem to be much less opposed to runs by Ted Cruz (17% in May), Rick Perry (19% in August) or Romney's 2012 running mate, Paul Ryan (21% in May).
Back to the future?
The latest survey on Mitt Romney also suggests that both favorable and unfavourable opinions of the Republican have declined since the eve of the 2012 election. In fact, views about Romney in the latest survey closely resemble how voters saw him immediately after he announced the launch of an exploratory committee for a presidential campaign in April 2011. Then, as now, opinions are slightly unfavourable, with around a fifth of Americans unsure how they feel about him.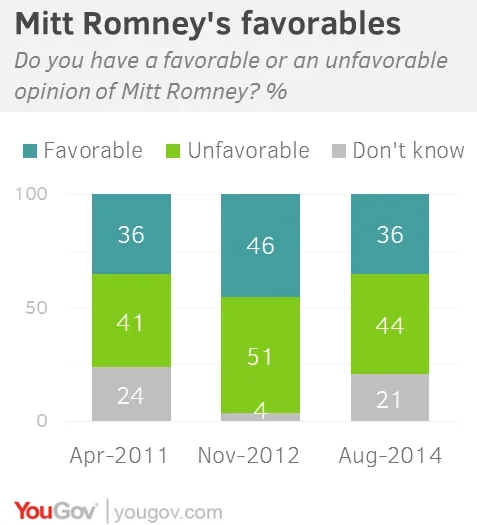 However, even with the change, he remains overwhelmingly popular with Republicans. 69% have a favorable opinion of Romney today (down from 86% in November 2012).
If Romney ran again, he would not be the first modern president to run after having lost in a general election. Richard Nixon ran against John F. Kennedy and lost narrowly in 1960, but went on to defeat Hubert Humphrey in 1968.
Full poll results can be found here.
Image: PA