Americans don't think that ransoms should be paid to free American hostages, but most say that the government has a duty to try and rescue hostages with military force
On August 19th a video showing the final moments of American journalist James Foley was published online. He was forced to read a statement blaming the US for his death, before he was executed by fighters from the Islamic State (IS). Foley had been kidnapped in November 2013 and the Islamic State had been demanding a 100 million euro ransom for his release. After his death it emerged that the US government had recently launched a special forces mission to rescue Foley, but that he was not at the site at the time of the operation.
The latest research from YouGov shows that most Americans (54%) think that the US government should decline to pay ransoms for US nationals held abroad, while 19% say that they should.
Among Americans, there is a significant age divide on this issue, with younger people being much less likely to say that the US government should not pay ransoms. Among under-30s, 27% say that the US should pay ransoms while 36% say that the government shouldn't. Among over-65s only 12% say that ransoms should be paid, while 62% say that they should not be paid.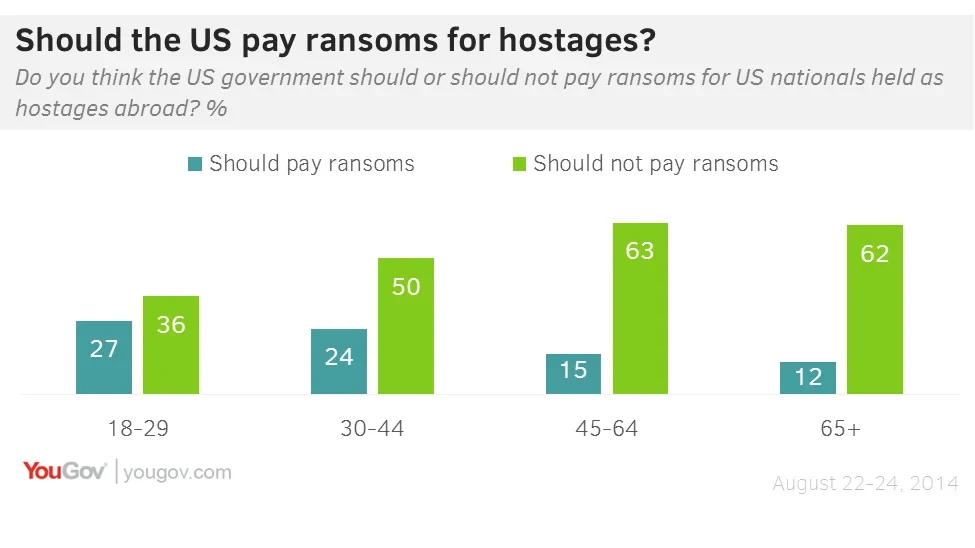 Despite this opposition to the government paying a ransom, most Americans (56%) say that they would themselves pay ransom to release a relative of theirs. Only 21% say that they wouldn't pay a ransom to free a relative.
Americans may be willing to pay ransoms themselves, but by far the preferred option is for the government to try and free American hostages. 61% of Americans say that, if a relative of theirs was kidnapped, they would want to attempt a military rescue. Only 17% say that they would prefer to pay a ransom. It also regarded as the government's duty by most Americans (67%) to attempt to rescue American hostages abroad using military force.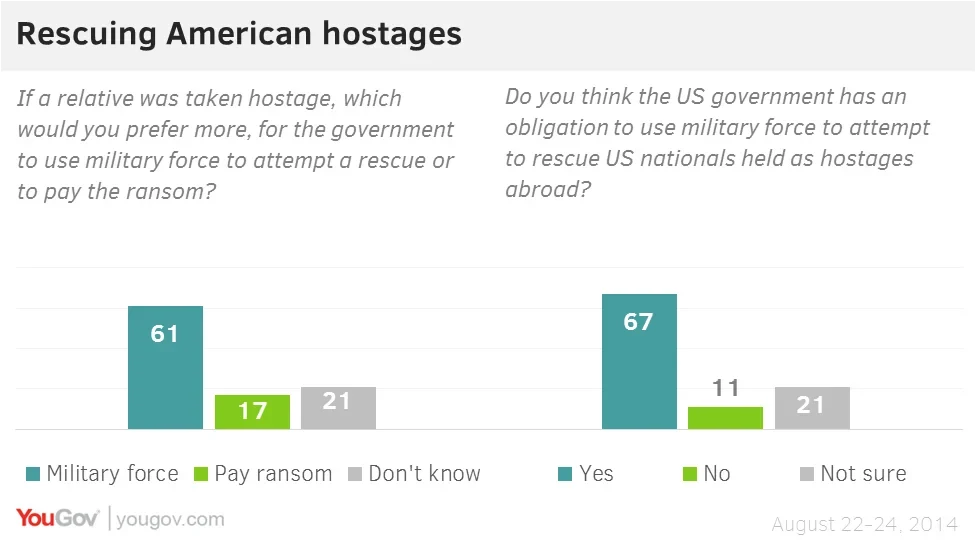 Another American journalist held hostage in Syria, Peter Theo Curtis, was today released after the intervention of the Qatari government. Curtis has now been handed over to the United Nations and will soon be returning to the US. It is unknown whether any ransom was paid for his release.
Full poll results can be found here.
Image: PA