The Islamic State is seen as a greater threat to the United States than Al Qaeda, and many Americans support cooperating with Assad to fight them
The emergence of the Islamic State (formerly known as ISIS) and its recent execution of an American hostage has made Americans more aware -- and more concerned -- about the group. In the latest Economist/YouGov Poll, nearly half the public views IS as an immediate and serious threat to the United States, more than say that today about al-Qaeda.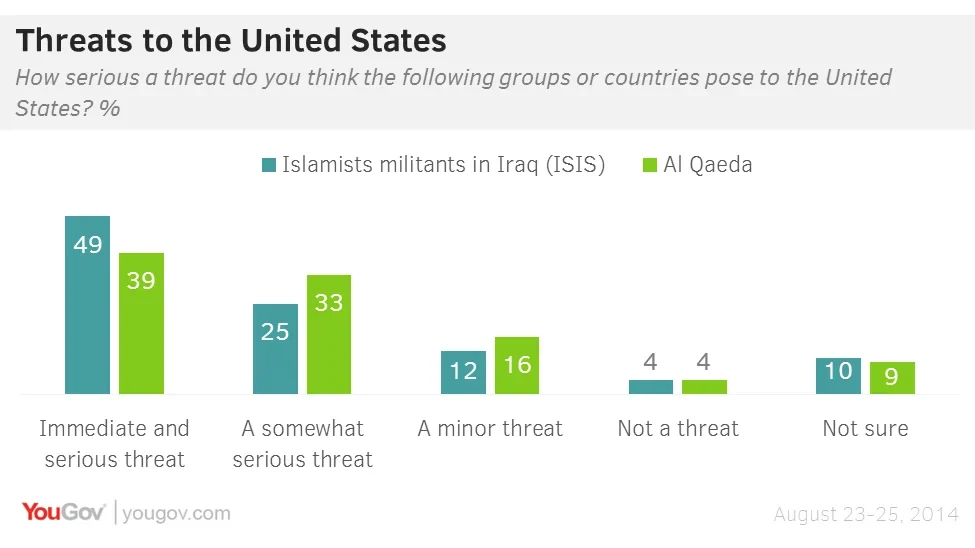 All groups see the threat from ISIS, though more Republicans are worried. In fact, Republicans are more concerned than Democrats about several foreign threats, including Al Qaeda and Iran. The parties differ little about the severity of any threat from several other state and non-state groups, like Russia, North Korea, Ukrainian separatists, and Hamas.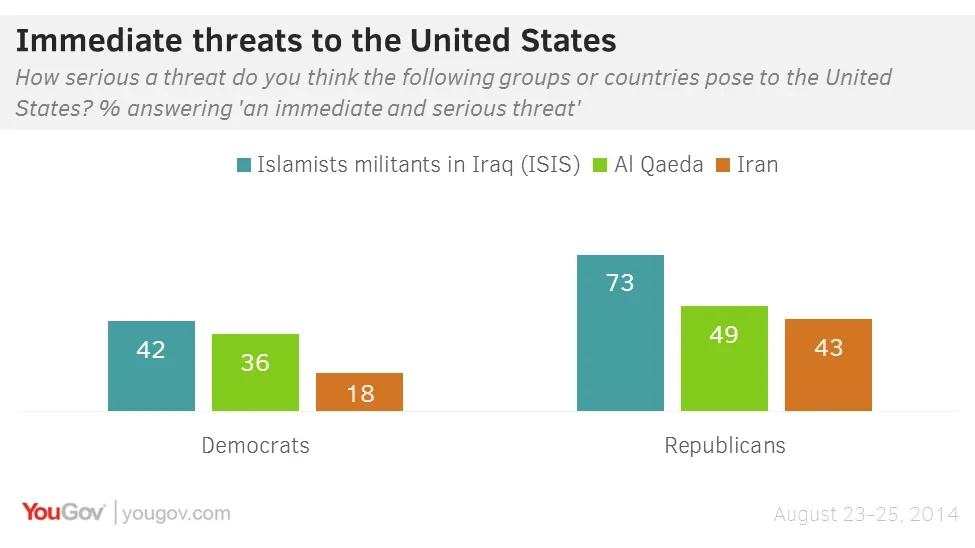 In recent years, Americans have shied away from military actions, and continue to applaud the 2011 end of a U.S. military presence in Iraq. Today, just over a third of the public regards that withdrawal as a mistake, up only slightly since June.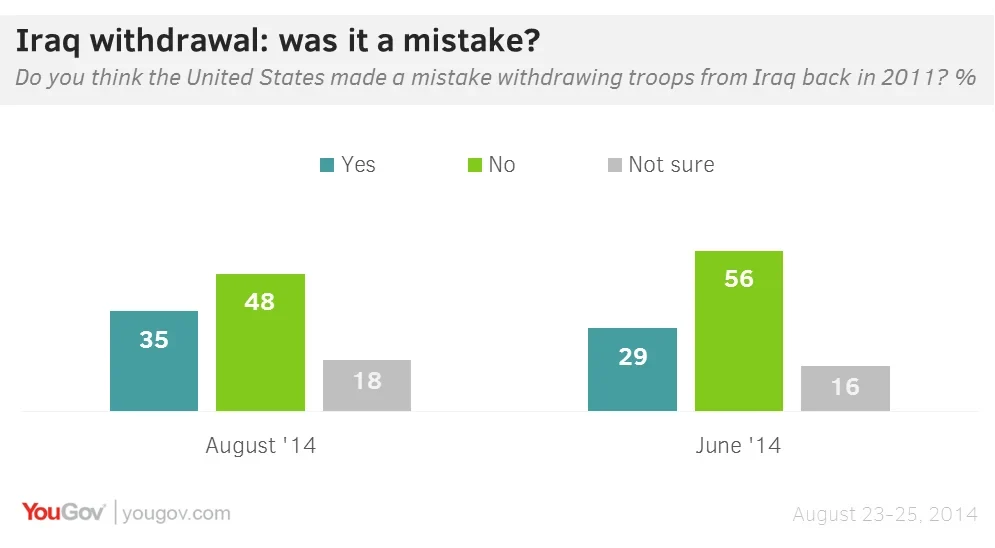 Most Americans still say it was a mistake to get involved in Iraq, invading it in 2003.
But the perception of a threat from the Islamic State has made many Americans view the current situation in Iraq as something the United States needs to pay attention to -- and perhaps get involved in once again. However, there is little support for putting boots on the ground. Just over one in ten would support that. Half support air strikes -- managed or drone -- against ISIS in Iraq; just over four in ten support air strikes against ISIS in Syria.
In fact, many Americans regard ISIS as a problem for the United States to solve. 45% believe it is the U.S.'s responsibility to destroy the Islamic State. One in four say this is a problem for the Iraqis to solve.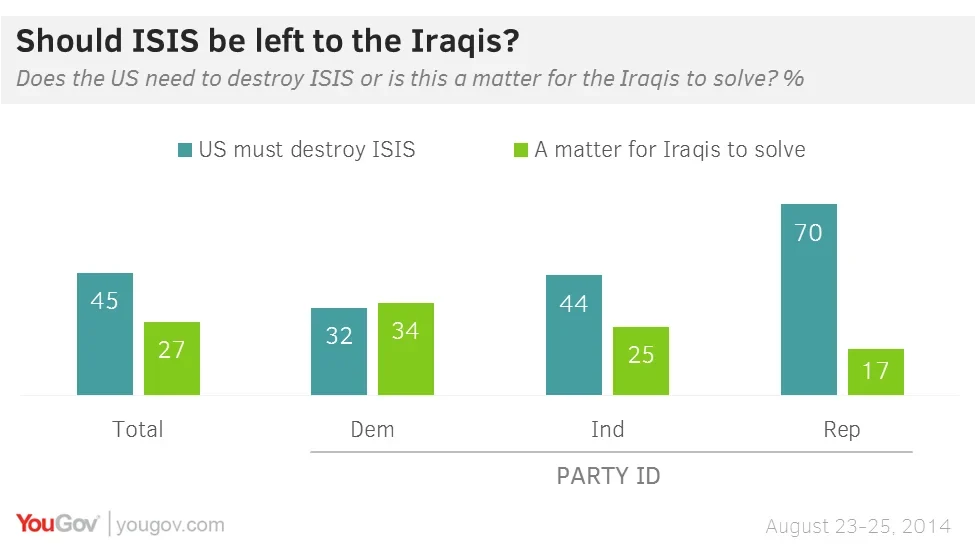 Republicans, most of whom also believe that the 2003 American attack on Iraq was not a mistake, are especially likely to say that destroying ISIS is an American responsibility. Democrats, on the other hand, who overwhelmingly continue to support the 2011 withdrawal, aren't so sure. Democrats also are less willing than Republicans to favor air strikes against IS in Iraq, though about four in ten Democrats support such actions.
The Islamic State's influence, of course, crosses national boundaries, and the Islamist group now controls parts of both Iraq and Syria. The Assad regime in Syria has offered to cooperate with the U.S. against ISIS. But the public only narrowly supports doing this, with many undecided.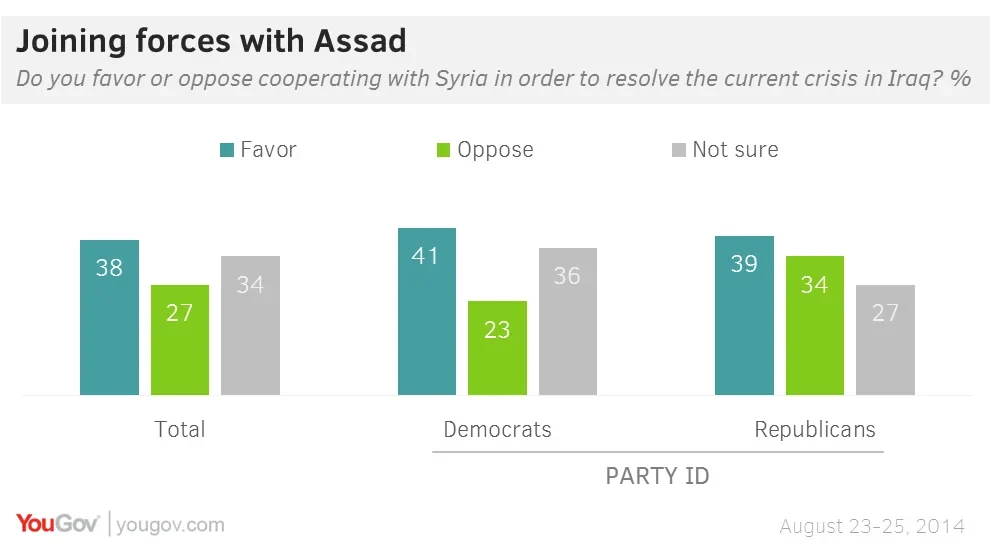 Democrats are less likely than Republicans to oppose cooperation, but only about four in ten overall support cooperating with a government many Americans dislike, and a conflict Americans want no part of. There has been consistent opposition in Economist/YouGov Polls to American involvement in the fighting between the Assad government and the competing rebel groups.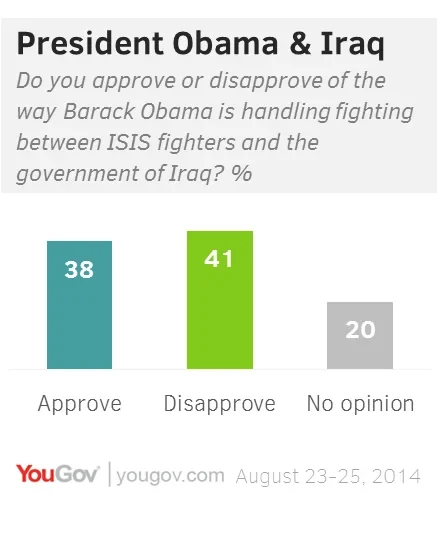 Americans are paying some attention to the current crisis in Iraq -- just 8% say they are not following news about Iraq at all, and two in three are following the news at least somewhat. There is no consensus about the President's handling of the situation, with just about as many disapproving and approving.
However, the President fares better with the public on his handling of Iraq than he does on his handling of various other foreign policy issues, like Ukraine, Syria, the Israeli-Palestinian conflicts his overall management of foreign policy.