With Scotland set to decide its future on Thursday, YouGov polling shows how support for independence has grown in the final weeks of the campaign
On Thursday voters in Scotland will head to the voting booth to answer a simple but momentous question: Should Scotland be an independent country? In the balance is the 307 year-old union between England and Scotland and the question of whether the United Kingdom will remain united. Holding a referendum on independence was a key pledge of the Scottish National Party, the pro-independence party that has governed Scotland by itself since 2011.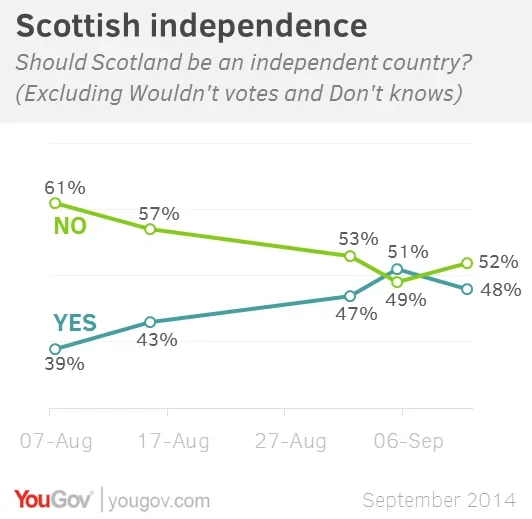 Led by the charismatic Alex Salmond, the 'Yes' campaign which wishes to see an independent Scotland have done better than most observers expected they would when the referendum was first scheduled in 2012. Even as recently as early August opposition to independence had been widespread, with YouGov research showing that 61% of Scots with an opinion opposed it while 39% supported it. Over the course of August and September, however, momentum for independence has grown significantly.
A YouGov poll from September 6 showed 'yes' ahead 51% to 49%, while the most recent poll from September 11th showed 'no' ahead by the narrowest of margin of 52% to 48%.
This change in fortunes prompted a major shift on the part of the British government and establishment, with promises of greater powers for the Scottish Parliament if they vote 'No'. YouGov's first poll showing a lead for 'Yes' prompted the pound to drop significantly in value, as markets reacted to the unexpected possibility of Scottish independence.
Full poll results can be found here.
Image: PA