Anthony Wells recaps how the YES campaign moved from 20-points behind, through a late surge in support, and finally to the 45%-55% tally announced today
- For most of the campaign our polls showed a large and consistent lead for the NO campaign, normally around 20 points.
- At the time events like George Osborne ruling out a currency union and questions over Scotland's future in the EU made little difference. Most NO voters believed the arguments, most YES voters believed they were bluffs.
- After months of a fairly static race, we recorded a sharp move towards the YES campaign during August. This was sustained over several polls, and later echoed by polling from ICM, TNS and Ipsos MORI.
- The narrowing of the race came after the second debate between Alex Salmond and Alistair Darling and after the Yes Scotland campaign had attempted to move the debate from Scotland's currency to whether the NHS would be safe if Scotland remained part of the UK. Our polling showed the biggest shift towards YES came amongst Labour voters and younger people
- In our poll at the start of September we showed the Yes campaign inching ahead. The poll electrified the campaign, dominated the media and resulted in the main party leaders abandoning PMQs to campaign in Scotland and making increased promises of devolution to try and save the Union.
- In the final days we showed NO regaining and consolidating a small lead. Our poll on the 15th-17th September showing NO ahead by 52% to YES on 48%
- We re-contacted respondents to our previous poll during the day on September 18th to ask how they had actually voted. We found a small movement from YES to NO, don't knows splitting in favour of NO, and NO voters being more likely to turn out. Altogether this represented a two point swing to NO, allowing us to make a final call prediction of YES 46%, NO 54% after the polls closed at 10pm.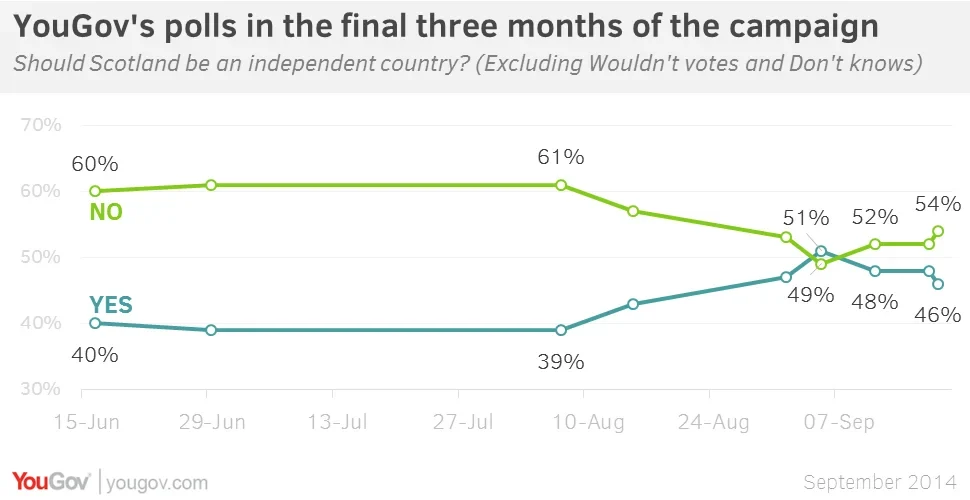 - Our final prediction of YES 46%, NO 54% was within one point of the actual result of YES 45%, NO 55%.
Image: PA