The recent climate change protest may have been a PR success, but divisions over climate science keep the issue from topping Americans' list of world problems overall
On Sunday, September 21st as many as 400,000 people turned out for the People's Climate March in New York City. Organizers aimed to raise the profile of climate issues ahead of a major United Nations summit later in the week. At the summit Barack Obama called climate change a "growing and urgent threat" and predicted it would be a defining issue for the next century.
A two-part survey conducted by YouGov reveals the protest reached a large number of Americans, but doubts about the facts of climate change among skeptics are keeping climate change from becoming a national priority overall. In the survey YouGov asked about the protest itself, but also about how climate change compared to other problems facing the world like international terrorism and the global economic situation.
Awareness of Sunday's march grew dramatically from the two days prior to the two days after. In advance of the protest, only 19% had heard anything about it, but afterwards half the country (51%) had.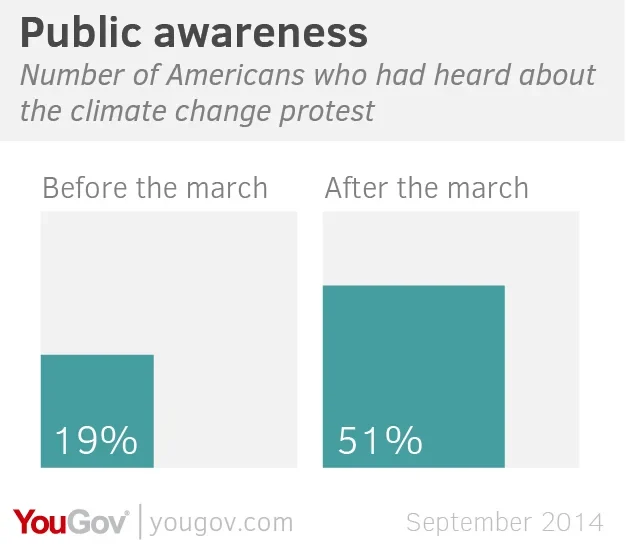 However, even after the event, climate change ranked well behind other problems facing the world like terrorism and the spread of disease – topics also at the top of the agenda at the week's UN meetings. 43% called climate change a "serious problem facing the world as a whole" compared to 75% for international terrorism, 65% for the spread of infectious diseases, 62% for poverty, hunger and lack of drinking water, 61% for the economic situation and 55% for armed conflicts.
But climate change ranks near the top of the list among the 54% of Americans who believe the climate is, in fact, changing, and that humans are responsible.
Among these climate change "believers", 72% see the issue as serious, placing it third among the issues on the list and only narrowly behind terrorism (75%) and problems relating to poverty (77%). Views among this group also may have been impacted, at least temporarily, by news about the protest: before the march 13% called climate change the most important problem facing the world; afterwards, 21% did – similar to terrorism (23%) and poverty (22%).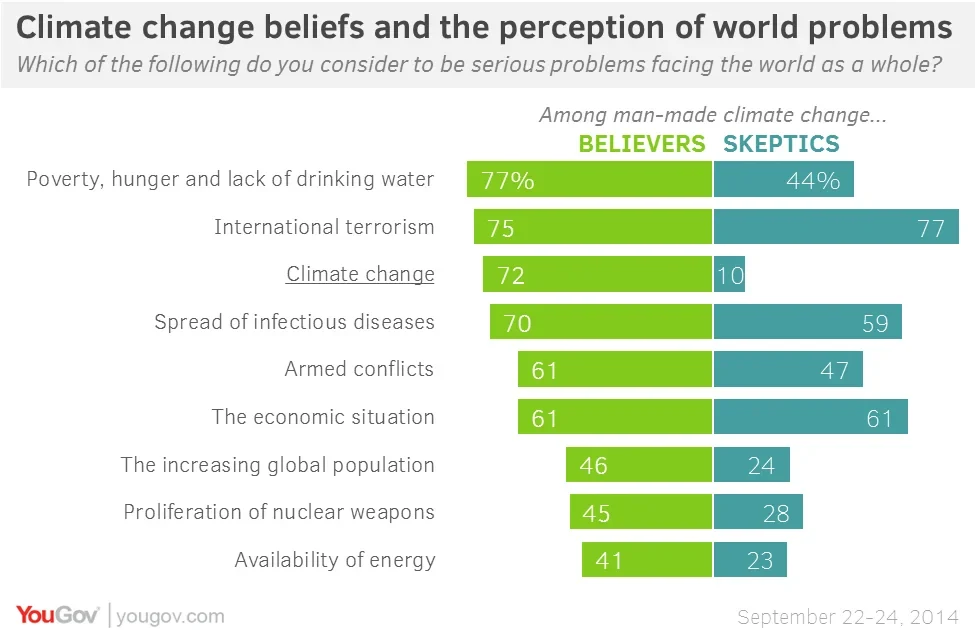 By contrast, only one in ten of the remaining 46% of Americans who are climate skeptics – those who either deny the existence of climate change altogether, deny that human activity plays any role in climate change, or simply aren't sure about it – think climate change is a serious issue. Concern about climate change is much lower among skeptics taken as a group than it is among other especially skeptical groups like Republicans or older adults. Effectively no climate change skeptics (0%) believe it is the most important issue facing the world, and views in this group were unchanged following the weekend's protest.
Image: PA
See the full results here.