The race for control of the Senate remains competitive, with candidates separated by only single digits in 12 of the 36 races. While a few key races have shifted in Democrats' direction, Republican candidates hold significant leads in 20 races, and are within one point of their opponents in two others. If the GOP win even one of those two closest races, the party would have a 51-seat majority in the next Congress.
YouGov's Senate model, which is based on the latest data from the Battleground tracker, finds a 51-seat GOP majority to be the most likely outcome of this year's midterm elections.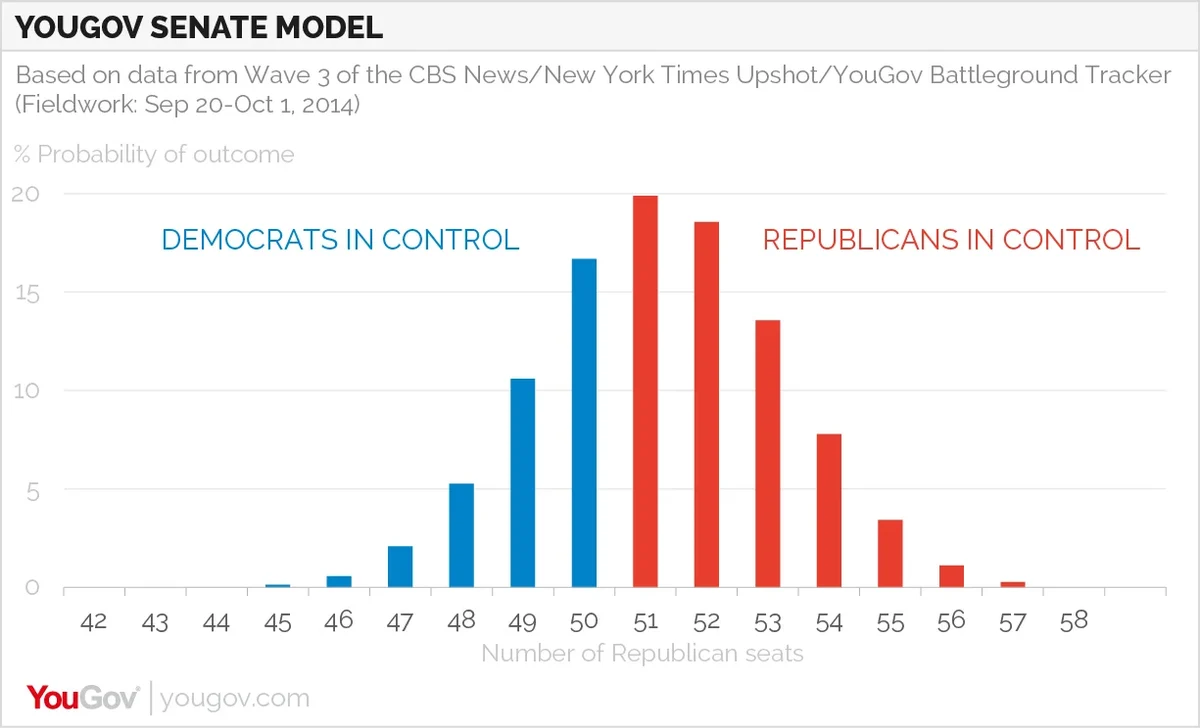 The latest batch of data does hold some good news for Democrats. Sen. Kay Hagan (D) now holds a nominal lead of one point in North Carolina, after trailing Thom Tillis by one point in the previous survey. Democratic candidates have also held onto a small, 3-point lead in Colorado and moved to a more comfortable 8-point lead in New Hampshire. In traditionally Republican territory, the last month has seen one race tighten in the Democrat's favor (Georgia), but another threaten to slip away (Kentucky).
Most of these shifts are slight, and in two cases (North Carolina and Colorado) the Democratic lead remains within the margin of error. The most favorable change for Democrats has taken place in Kansas, albeit in circumstances they can at best take only partial credit for, at best. The Democratic candidate in this deeply red state recently dropped out of the race, allowing investor Greg Orman, an independent, to draw even with 17-year incumbent Republican Sen. Pat Roberts. While some commentators – and the Roberts campaign – have argued Orman is a better ideological fit for the Democratic Party, he has said he will caucus with whichever party holds a clear majority. But assuming Democrats win in all the states where they currently hold leads plus Iowa (which is by no means given – see more below), they will have 49 seats total – meaning control of the Senate could turn on the race in Kansas (if Orman won and caucused with Democrats, Vice President Joe Biden would provide the tie-breaking vote). In YouGov's Senate model, a win for Orman is treated as a win for Democrats.
These complicated counterfactuals point to the more sobering reality facing Democrats: even with modest gains, their grasp on the upper house of Congress looks tenuous at best. GOP candidates hold leads that exceed the margin of error in no fewer than 20 states. Republicans are poised to defeat incumbent Democratic senators by substantial margins in West Virginia (R+23), Montana (R +21) and South Dakota (R+15). In Alaska, Republican businessman Dan Sullivan retains a 6-point edge over Sen. Mark Begich (D), after trailing by 12 earlier in the summer, and in Arkansas, US Congressman Tom Cotton leads Sen. Mark Pryor by 5 points (after rounding), up from 4. In Louisiana, where the candidates enter a December run-off if no single candidate wins at least 50% of the vote, Democratic Sen. Mary Landrieu holds a 4-point lead over Republican Bill Cassidy that dissolves into a 6-point deficit when the race becomes a head-to-head.
Iowa also continues to be a bright spot for Republicans. The state went for Obama by over 5 points in 2012 and was not expected to be competitive, but State Senator Joni Ernst is in a statistical tie with US Congressman Bill Braley (D). The topline results find Braley with 44% and Ernst with 43%, but even this barely-there lead is deceptive: the difference between the two candidates before rounding is closer to zero than one.
The bottom line is that because of Republican candidates' competitiveness in a greater number of seats, and the size of their leads, the GOP is still the favorite to take the Senate. But October can bring surprises, and the Democrats cannot be counted out yet. In the past month alone President Barack Obama escalated a new war in the Middle East, evidence gathered that the economic recovery is accelerating and the Ebola virus reached U.S. shores, so it's not hard to imagine unexpected events making a real difference in the next – and even if they don't, the race for the Senate could still be up for grabs.