In 43 states, likely voters tend to disapprove of Barack Obama's job performance, and disapproval is especially high in several states with competitive Senate races
The latest wave of the New York Times / CBS News / YouGov Battleground Tracker gives Republicans a slight edge in the battle to win control of the Senate back from the Democrats. But the panel developed for the Battleground Tracker reveals much more than just the state of play in all 36 Senate races: likely voters in all 50 states were also asked for their views on a number of other issues, including their assessments of the way Barack Obama is handling his job as president.
While it's not news that Barack Obama is unpopular (YouGov's weekly presidential approval tracker has found Obama's ratings underwater with US adults every week since May 2013) the Battleground Tracker reveals just how much dissatisfaction there is in each state – even in states Obama won handily in 2012, not to mention states with competitive Senate races.
Indeed, likely voters tend to disapprove of the president in 43 states, and approval exceeds 50% in just three. Obama's net approval rating (percentage approve minus disapprove) ranges from +13 in Maryland to -55 in Wyoming.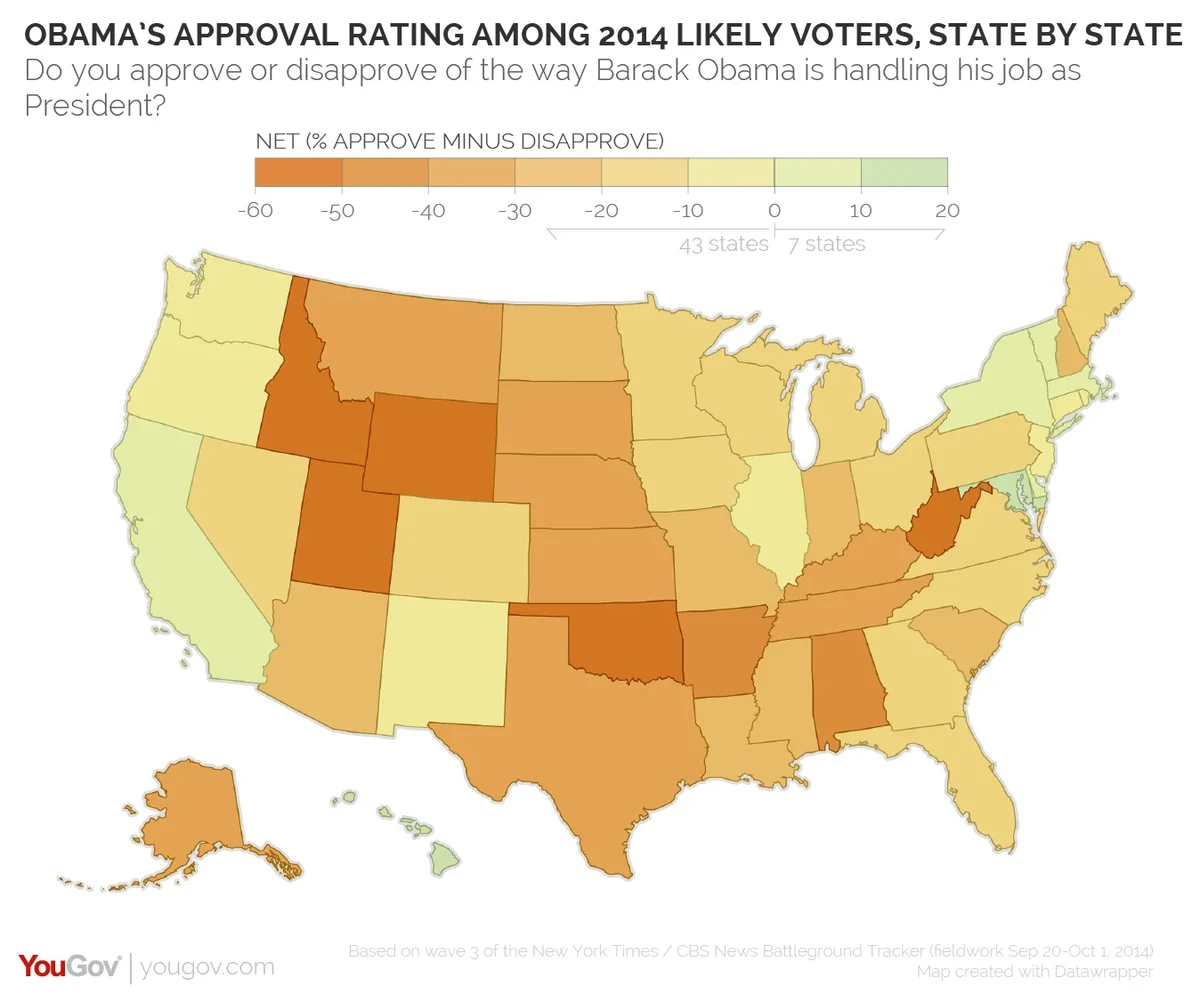 Nationally, 40% of likely voters approve of the way Obama is handling his job as president, while 57% disapprove. The 17-point deficit is slightly worse than his recent performance among all US adults, a younger and more ethnically diverse and group.
Obama's unpopularity in some states should not come as a surprise. In 2012, only 28% of Wyoming voters pulled the lever for Barack Obama, not far off the 21% who approve of the president today. The six states where likely 2014 voters are least likely to approve of Obama (Wyoming, Idaho, Oklahoma, Utah, West Virginia and Arkansas) are the same six states where voters were least likely to pick Obama over Republican nominee Mitt Romney two years ago.
However, the results also find that Obama can no longer rely on his positive ratings in deep blue states to outweigh his unpopularity elsewhere. The president won 26 states (plus the District of Columbia) in 2012, but today voters in only six – Maryland, Hawaii, Vermont, New York, Massachusetts and California – give him more positive than negative ratings. In another, Delaware, voters are evenly divided. Obama won at least 60% of the vote in six of these states in 2012 (in Delaware he won 59%). Elsewhere, the deficit between votes won and current approval is much larger: his approval rating is now eight points underwater with likely voters in Rhode Island, a state he won by 27 points, and six points underwater in New Jersey, where he won by 18.
See the data for each state...
What it means for the 2014 Midterms
It's worth noting that 2012 voters and 2014 likely voters are not completely overlapping groups. The likely voters in the 2014 Battleground Tracker skews older, more male and whiter when compared to the 2012 electorate, meaning several groups that broke for Obama in 2012 take up a smaller proportion of voters in the survey.
Even so, Obama's low approval numbers in states with competitive Senate or gubernatorial races like Florida and Iowa (in both, 40% approve) cannot be comforting for Democrats. Some of the states with the most competitive Senate races are also some of those where Obama gets the lowest marks, including Arkansas (27% approve), Alaska (31% approve) and Louisiana (34% approve).
If there is a silver lining, it's that Barack Obama's name is not on the ballot in any state this time around, and many of the Republican candidates in close races are winning a much smaller share of voters than disapprove of the president.
Of these close races, the state where the Republican candidate is running closest to the numbers who disapprove of Obama is Colorado, where U.S. Representative Cory Gardner is at 45% in a relatively Obama-friendly state (only 56% disapprove). Gardner nevertheless trails his opponent, Sen. Mark Udall, by three points.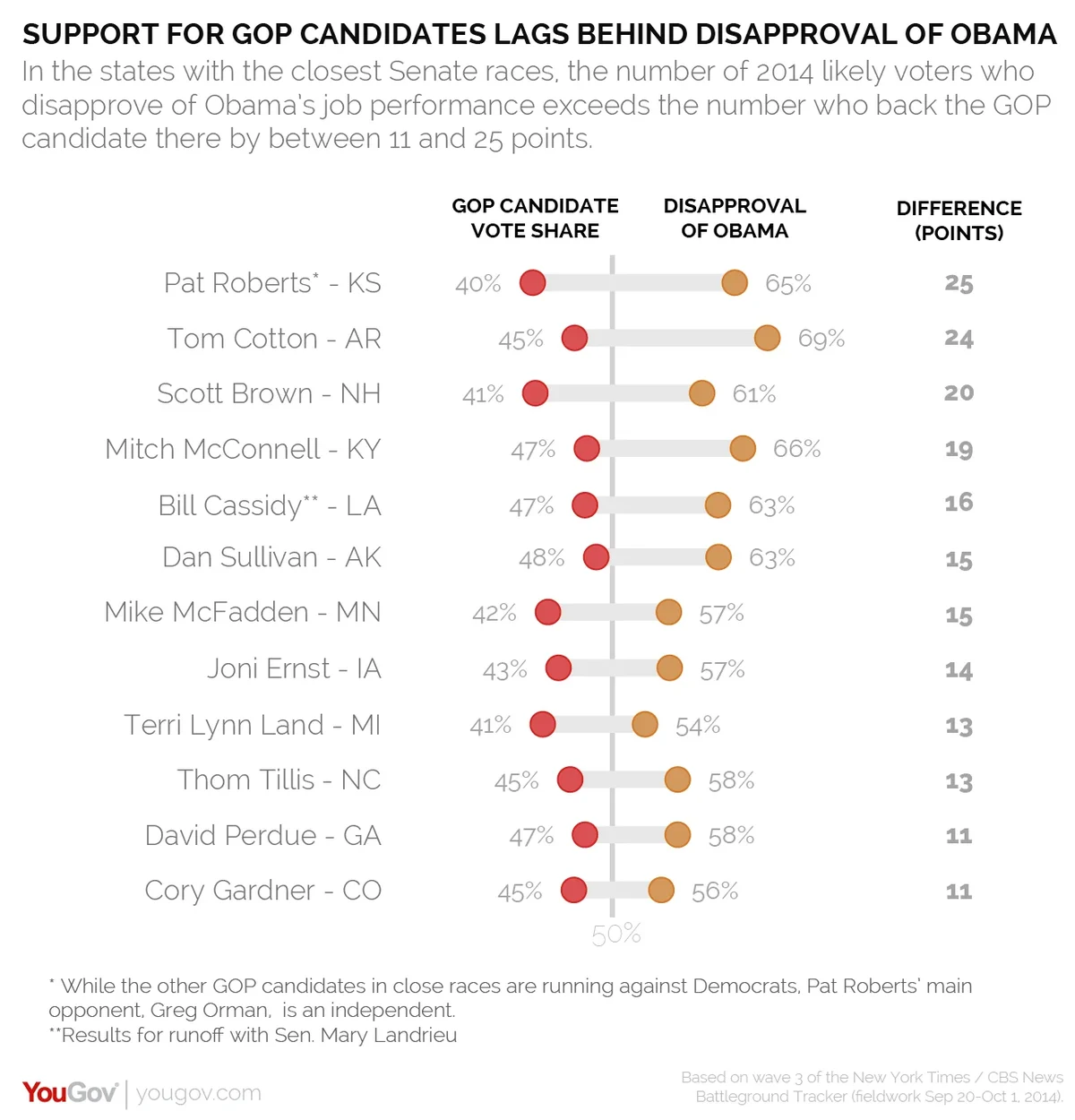 The biggest gap between public disapproval of Obama and the share of voters who intend to vote for the Republican candidate is in Kansas, where fully 65% disapprove but only 40% backed Sen. Pat Roberts – a 25-point gap. It's probably not accidental that this is also the only close race where there is no Democrat on the ballot: Roberts' opponent, Greg Orman, is running as an independent. Kansas is also a case where more than half of likely voters strongly disapprove of the president. This means that Roberts would be heading for victory if he had the backing of every voter who strongly disapproves of the president. This fact highlights his poor standing in the current poll (he is tied with Orman), but could actually provide a boost for his campaign, which only recently started TV advertising against Orman and is now trying to define him as an ally of the president.
In Arkansas and Kentucky, states where campaigns are well underway, disapproval is above 65% and strong disapproval above 50%, the GOP candidates, Rep. Tom Cotton and Sen. Mitch McConnell, appear to be underperforming even though they both have solid leads. Alternatively, by this measure the Democratic candidates in these states, Sen. Mark Pryor of Arkansas and Alison Lundergan Grimes of Kentucky, are both performing surprisingly well.
Perhaps the most frustrating case for Republicans will be the performance of their candidate in New Hampshire, where 61% of likely voters disapprove of Obama but only 41% intend to vote for the Republican candidate, Scott Brown. Unlike in Kansas, both sides have been campaigning vigorously for months, and both candidates were already familiar figures: Scott Brown was previously the junior senator for neighboring Massachusetts, and incumbent Sen. Jeanne Shaheen, the Democrat, is a former three-term governor.
PA image
See the latest data on all 36 Senate races here.
See more state-by-state results from the Battleground Tracker here.
NoneNone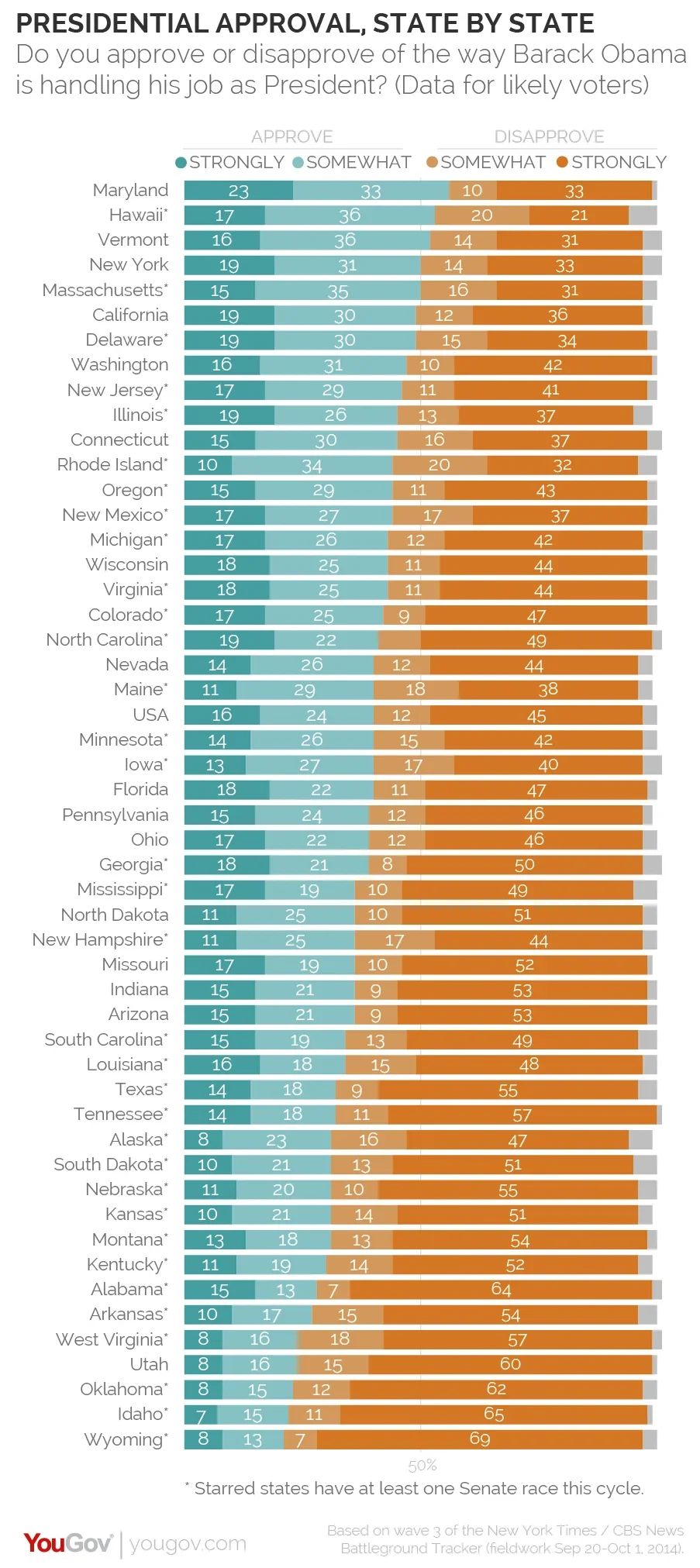 NoneNoneNone