13 races for governor's seats across the country are separated by five points or less, with many incumbents at risk
The latest set of results for all 36 gubernatorial elections from the New York Times / CBS News / YouGov Battleground Tracker finds over a dozen close races across the country, including 9 that are within the margin of error. Many of the tightest races involve incumbent governors, and they can be found in swing states, blue states and red states.
More than a third of the races this year – 13 in total – have candidates separated by five points or less among likely voters, including eleven races where incumbents are fighting for re-election. Add into this mix Pennsylvania governor Tom Corbett, a Republican who has been well behind since the beginning of the campaign, and Gov. Neil Abercrombie, who lost the Democratic primary in Hawaii, and an historic number of incumbents are at risk of losing their seats.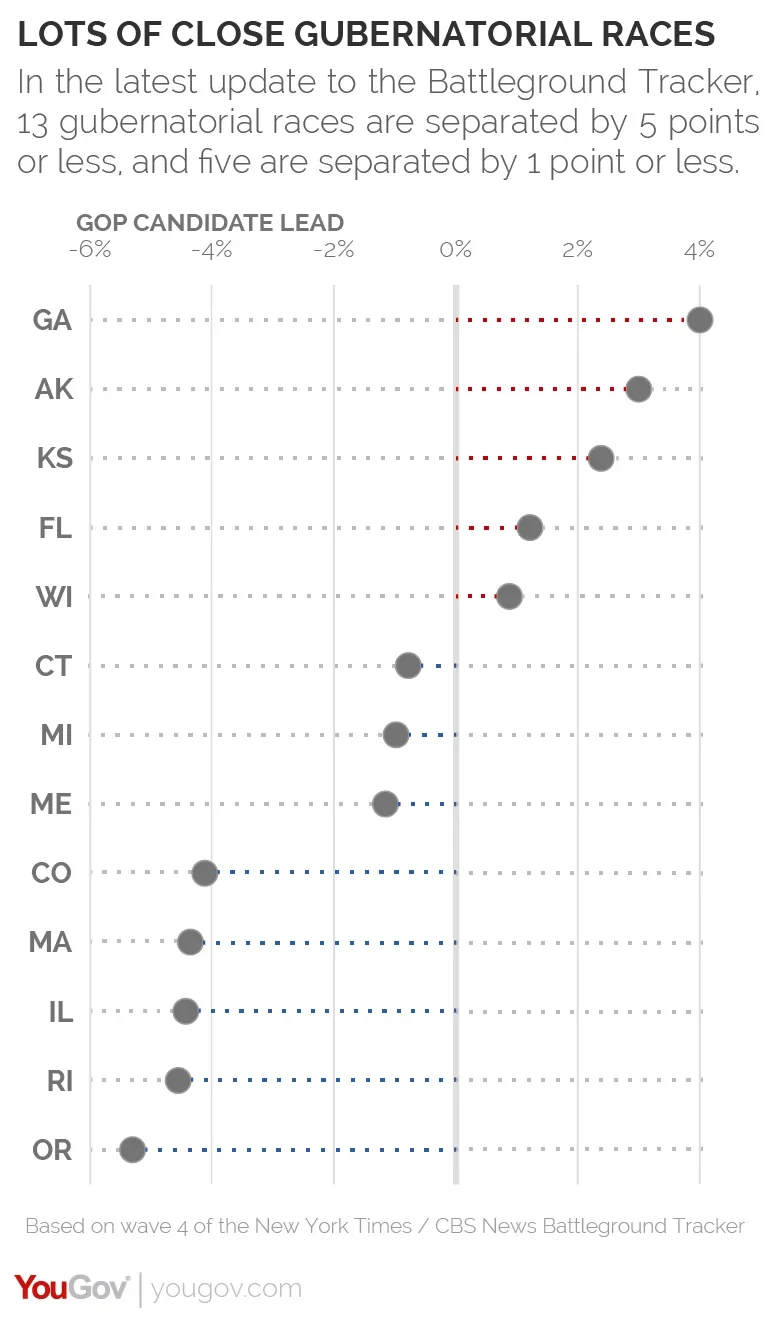 Some of the closest races are found in states that have been competitive in recent elections. Potential Republican presidential candidate Scott Walker leads Democrat Mary Burke by only one point in Wisconsin. Voters in the state broke for Barack Obama in 2008 and 2012, but elected a number of Republicans to statewide office in 2010 (including Walker). Part of Walker's advantage is rooted in his four-point edge with independents who are likely to vote, but 13% in this group remain undecided. Another close race is in the perpetually competitive state of Florida, where the Republican governor, Rick Scott, holds a one-point edge over Democrat Charlie Crist. Giving the race a twist, Crist himself was governor of Florida until 2011, and a Republican until 2010 (he joined the Democratic Party in 2012).
Other close races are found in ruby-red states like Georgia, Arkansas and Kansas. Of these, Sam Brownback, the governor of Kansas, holds the narrowest lead. Brownback has faced some bipartisan criticism for his handling of the state budget, and he trails by 10 points among independents who are likely to vote. 12% of Republicans also go for his opponent, Paul Davis – twice the number of Democrats who pick Brownback – but the strong GOP tilt of the state continues to give the incumbent a narrow advantage. Brownback's lead is with in the margin of error.
A handful of Democrats are also on the defensive, even in some blue states. Gov. Dan Malloy, a Democrat, is tied with his Republican opponent, businessman Tom Foley, in Connecticut. Democrats Martha Coakley in Massachusetts, Gina Raimondo in Rhode Island and Pat Quinn in Illinois are also in close races.
Meanwhile, possible GOP presidential candidate and Ohio governor, John Kasich, has a 19-point lead over his Democratic opponent in a race that was once considered a potential pick-up opportunity for Democrats. In Texas, the much buzzed-about Democratic candidate, Wendy Davis – though always a serious longshot – now trails Texas Attorney General Greg Abbot by an especially decisive 20-points. However, Democratic governors Jerry Brown in California and Andrew Cuomo in New York also appear to be coasting towards big wins.