The newly-elected Congress, even with single party control, probably won't get much more accomplished than the current one, according to most Americans.
In the latest Economist/YouGov Poll, just 35% believe the new Congress will pass more legislation than the current one, which – so far in its two-year term – had passed fewer than 200 pieces of legislation.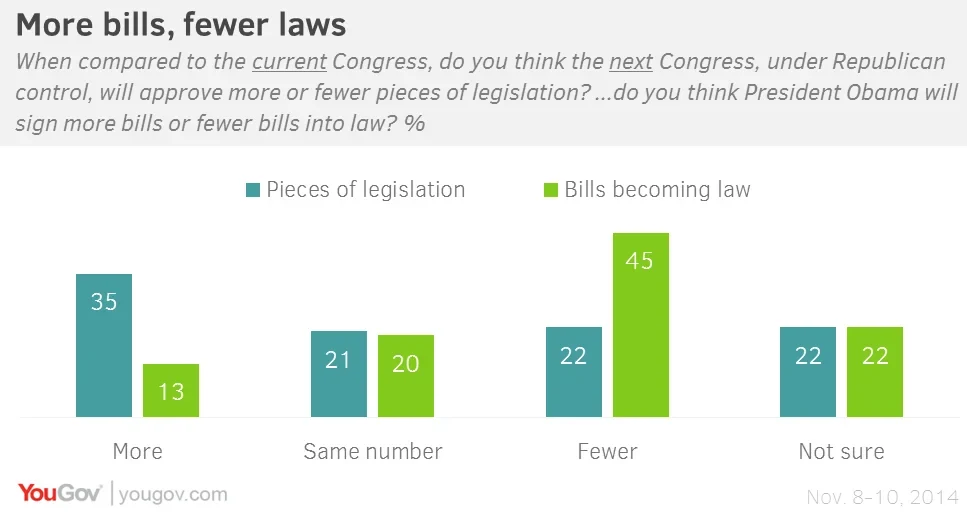 And 45% think President Obama will sign fewer bills into law than he has for this Congress, split between the Republican House and the Democratic Senate.
The public is divided on the results of the midterm: about a third are happy, but nearly a third are unhappy. As might be expected, 73% of Republicans are happy, while a majority of Democrats, 53%, are unhappy. 39% of men say they are happy with the outcome, ten points higher than the percentage of women who say that.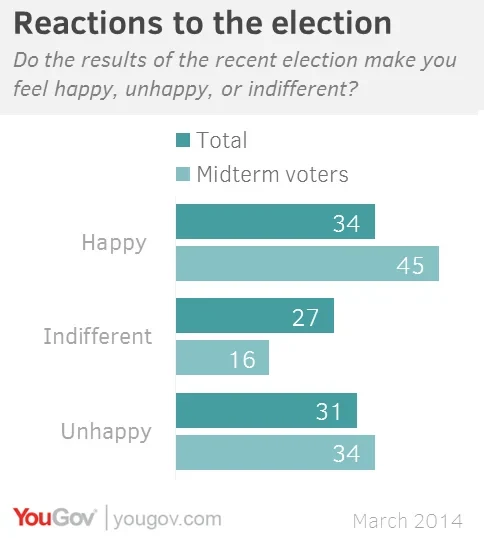 Those who say they voted in the election are happier. They are also more Republican. While voting is always over-reported in polls conducted after the election, the self-reports of voting by Republicans and Democrats in this poll vary dramatically, with GOP-leaning groups much more likely than Democratic groups to claim they had voted. In this poll, Republicans were 19 points more likely than Democrats to say they voted in the midterm election this year. Whites were 11 points more likely than blacks to report voting, those 65 and older were twice as likely as those under 30 to say they cast a ballot this year, and men were seven points more likely than women to report voting.
Voters are not just more attentive to the election than the public overall. They took the election personally. 49% of the public think the election results will affect them personally. 60% of those who voted believe that. The groups most likely to think the election would have an impact on them personally are those with family incomes of $100,000 or more a year. Three-quarters in that group say the election will affect them personally.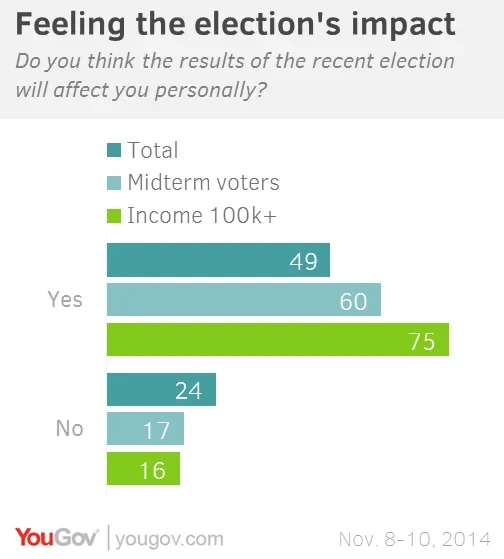 Majorities would like to see laws on tougher border security, a higher minimum wage, lower income taxes and a balanced budget passed next year. But they expect Congress to pass legislation only on one of them: border security. Fewer than half think there will be legislation raising the minimum wage, lowering income taxes or balancing the budget. More people (59%) say the new Congress is likely to lower corporate taxes than think it will lower individual taxes (41%).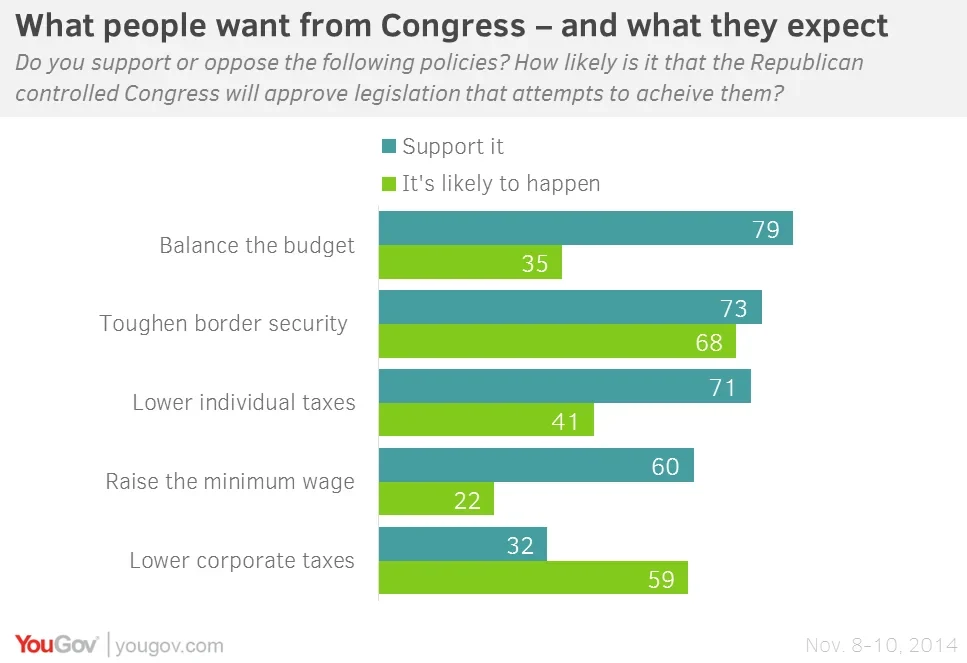 And even if Congress should pass some of these desired items, many expect President Obama could veto them. For example, 28% think he would sign legislation toughening border security, but 39% think he would veto that.
Two thirds of Americans expect that there will be more votes to repeal Obamacare (as the House did multiple times this Congress) – and that next year, the GOP-controlled Senate would pass that repeal. However, more than three in four expect the President would veto repeal. So that would not happen. Obamacare remains divisive, with about as many saying expand or keep it, as wanting it repealed.
Expectations of gridlock may have motivated some – but not all – to seek compromise. And, as has been the case in Economist/YouGov Polls all year, Democrats are much more willing to seek compromise. 67% of Republicans want Congress to pass legislation it wants to regardless of whether President Obama will veto it. And if Congress passes legislation that the President will not sign, it will continue the trend towards fewer and fewer bills passed and signed into law.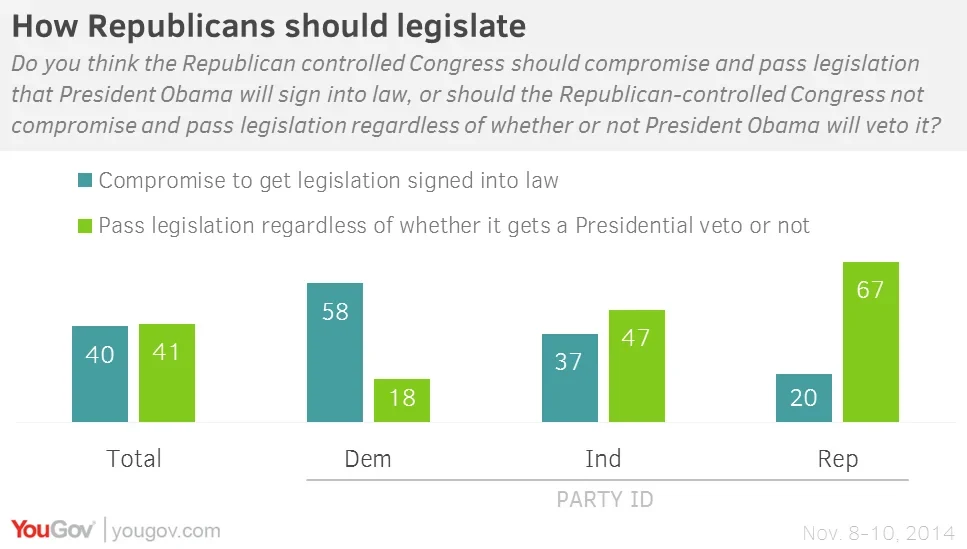 Economist/YouGov poll archives can be found here.