The public is noticing the signs of economic recovery, but people also say that things are only improving slowly
Friday's good economic news clearly came too late to help Democratic candidates – if it even could have – as the latest Economist/YouGov Poll continues to find Americans slow to accept that things are getting better. Only about a third of Americans – both Democrats and Republicans – can state that the unemployment rate is now below 6%.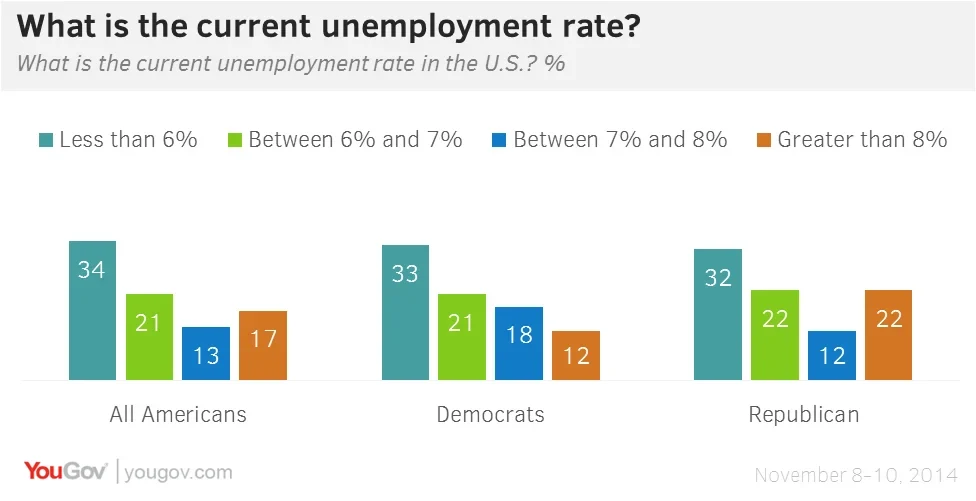 There are nearly twice as many Republicans as Democrats who put the current jobless rate above 8%.
Americans are ever-so-slowly accepting the data that shows the jobless rate lower today than it was when President Obama took office. For the first time, more than half say it is. But fewer agree that there are more jobs today than there were before the start of the Great Recession. Only a third believe that, and just as many say there are fewer jobs today than there were then.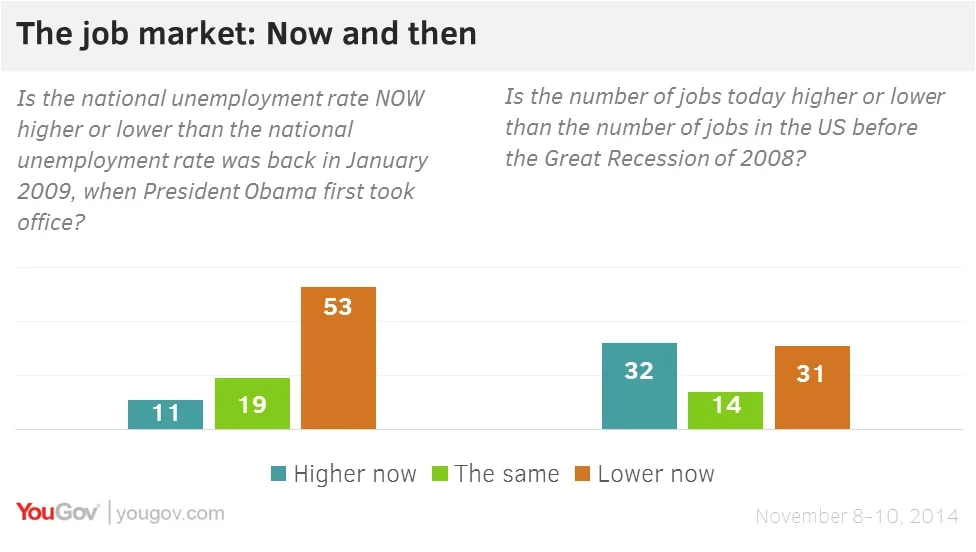 Again, Republicans are the least willing to believe the numbers. Less than half -- 41% -- of Republicans say the jobless rate is lower today, and only 18% of Republicans agree that there are more jobs today than before the Great Recession.
Republicans and Democrats have different sources of news. And their perceptions of the economy and media reports about it may be different because of that. Democrats are divided on whether they have heard mostly positive or mostly negative news about the economy; Republicans are not. Four times as many Republicans report hearing more negative news than say they have heard more positive news.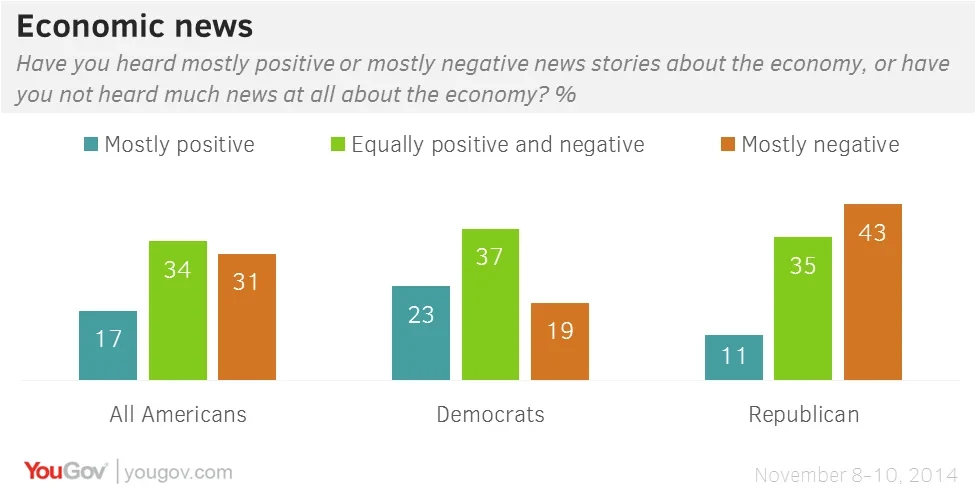 Whatever news they hear, Americans still mostly badmouth the economy in their private discussions with friends and family. Just 10% say their discussions have been mostly positive, while 44% say they have been mostly negative.
There are hopeful signs. This week, as many say there will be more jobs in six months as say there will be fewer, a slight improvement from just a week ago. And there is more optimism than pessimism about the longer term, both one year and five years from now.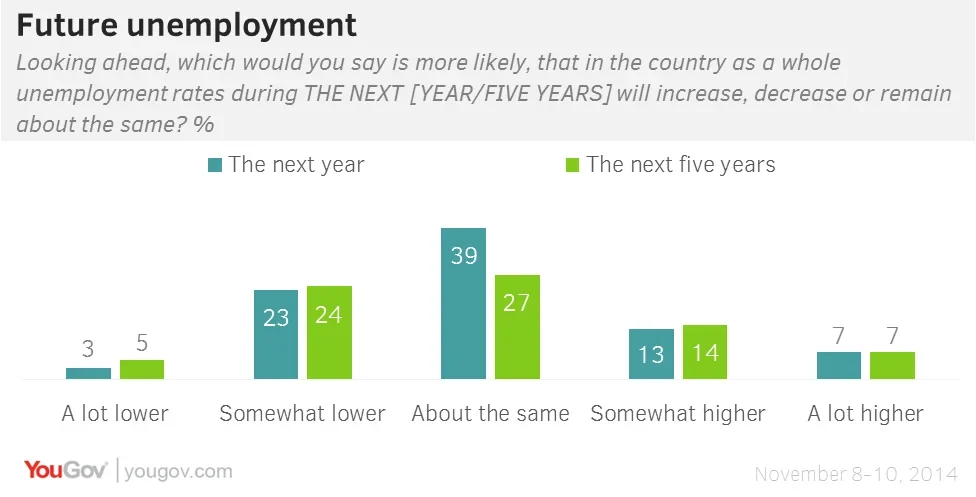 The overall assessment of the economy still is, at best, mixed. But there is a much smaller gap between the percentage that believes the economy is getting worse and the percentage that thinks it is getting better. In fact, this week, this measure looks more positive than it has in more than a year.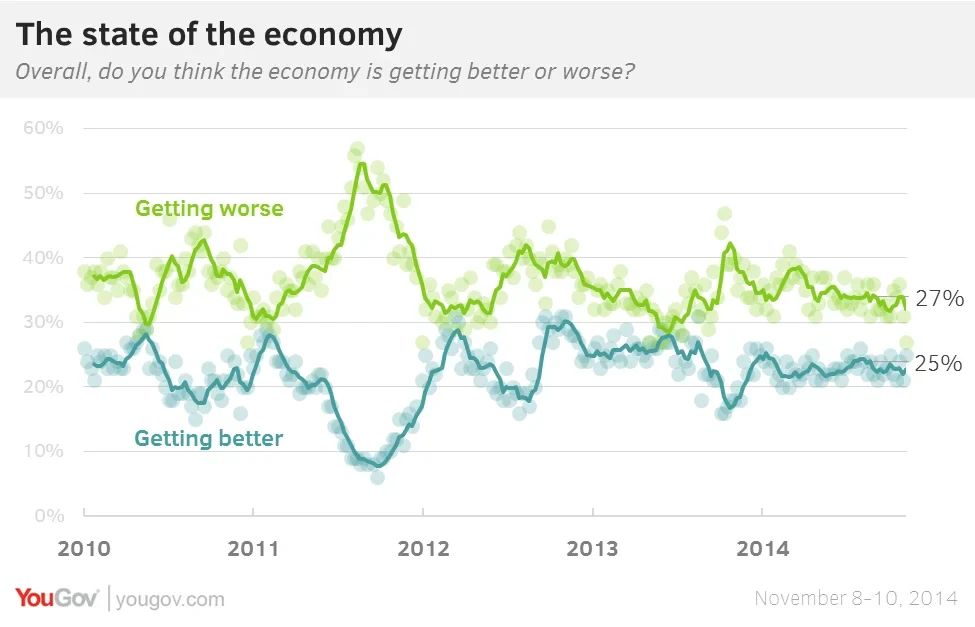 Although Democrats are the most positive, six in ten Independents and Republicans agree that the economy at least is not getting worse, though most of them believe there is not much change occurring.
Economist/YouGov poll archives can be found here.