Republicans tend to favor arming Ukraine against separatist rebels, but Democrats and independents are both against
President Obama said Monday that his administration would think about sending weapons to the Ukrainian government if the latest round of peace talks fail. The provision of "lethal defensive weapons", such as anti-tank missiles, was recommended in a new report and has been advocated by some members of Congress.
New YouGov research reveals stark division on the issue among the U.S. public. 32% support sending weapons to Ukraine, 37% oppose the idea, 30% aren't sure.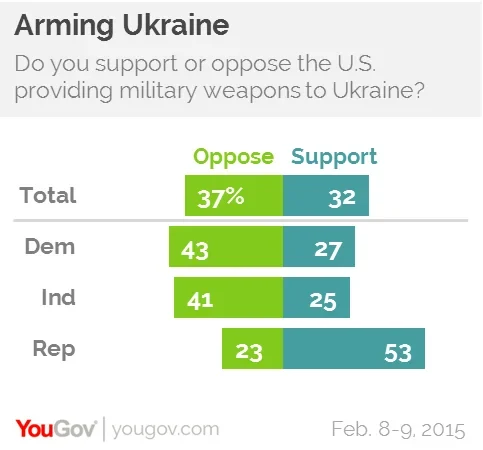 There is a large partisan divide on the issue, with 53% of Republicans in favor of sending weapons compared to just 27% of Democrats and 25% of independents. There has been a marked shift since a July survey found Americans in all three political groups opposed giving military aid to Ukraine.
Republicans in Congress, such as Sen. John McCain and Sen. Ted Cruz, have been especially vocal in their support of arming Ukraine, though some Democrats and Obama allies have expressed interest in the idea, including the president's nominee for Defense Secretary.
The overall findings closely resemble a YouGov poll recently conducted in Britain, where 34% oppose sending "large-scale military equipment" to the Ukrainian army and 26% support it.
Other options
There is much wider public support for the other non-military options included in the survey.
Holding diplomatic negotiations with Russia is most popular, with 55% in favor and 18% against, followed by imposing greater economic sanctions, with 51% in favor and 18% against. 46% support giving economic aid to Ukraine, while 28% oppose it.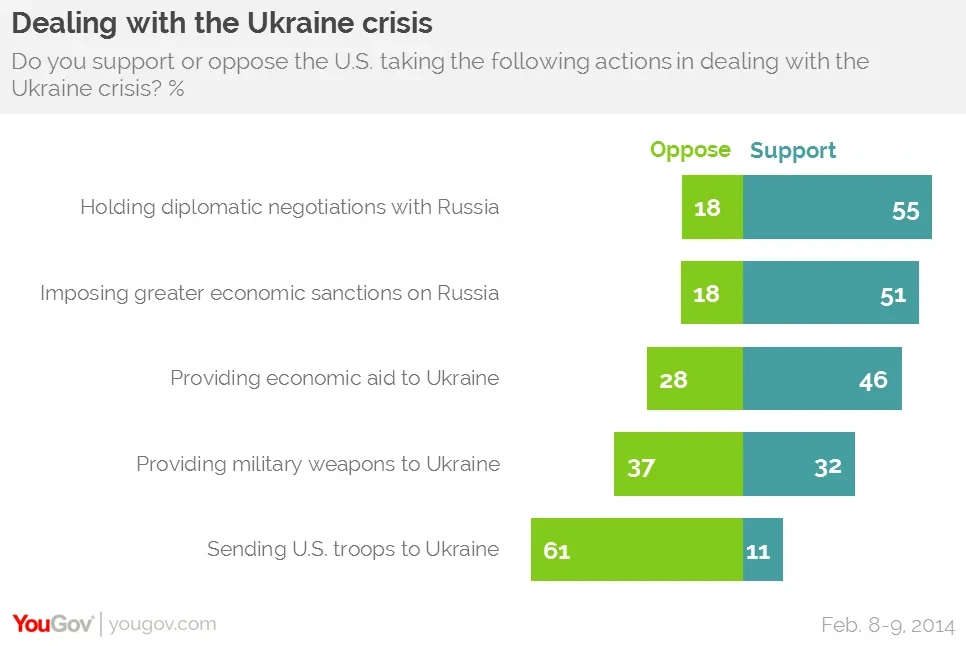 All of the actions that the Obama administration already has, to some extent, taken – sanctions, diplomacy and economic aid – receive bipartisan support.
Sending U.S. troops to Ukraine, on the other hand, is overwhelmingly opposed by Republicans and Democrats alike.
PA image
Full poll results can be found here and topline results and margin of error here.